Asphodel Meadows / Enigma Variations / Gloria
Choreography by Liam Scarlett, Frederick Ashton, Kenneth MacMillan, music by Francis Poulenc and Edward Elgar
Royal Ballet
Royal Opera House
(2011)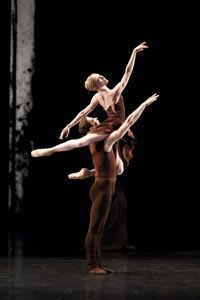 Only six performances of this sombre and serious, elegiac and epic triple bill, but what a cleansing of the palate between Tchaikovsky's sweet ballets, the Royal Ballet's seasonal gift to its audience, The Sleeping Beauty and The Nutcracker.
Three grown-up one-act ballets confronting mortality and that 'undiscovere'd country, from whose bourn. No traveller returns...' To inspiring music...
Liam Scarlett's Asphodel Meadows, which premiered to great success only last May, is back in a sensitive unifying triple bill. Francis Poulenc provides the music for this and for MacMillan's Gloria, whilst Edward Elgar is the filling in between.
Twenty-five-year-old Scarlett, who also dances in MacMillan's Gloria, was attracted to Poulenc's 1932 Concerto in D minor for two pianos and orchestra in three movements because of its range of moods and emotion.
One hears the modernism of Stravinsky—Poulenc moved in the Ballets Russes milieu—the jazzy Ravel, the romance of Hollywood's silent movie era, but also the classical in its slow movement.
And one hears Poulenc's spirituality. 'Saint and sinner' paradox, his works intrigue with their changeable nature. Music hall and melancholy rub shoulders, as in life itself, the sacred and the profane.
John Macfarlane's abstract black and white set—Barnett Newman stripes and Cy Twombly smudges—is atmospheric. A glowing low strip of light, the dancers back away, long black shutters slide across. The crossing of the Styx?
An abstract ballet without a narrative, yet the chosen music invites one. The dancers' personalities escape into the dance, intense and serene, sassy and mature, all so personal, all so evident in the way the body moves. A narrative forms, spirited, dreamy, individual and private.
Sarah Lamb and Johannes Stepanek, Leanne Cope and José Martin, Yuhui Choe and Steven McRae the principal three couples, as different and as similar as the muted muddy aubergine colours of their costumes. Last year's dancers brought their own singular dynamic. Interesting, hmm?
Neo-classical with the odd modern sharp right angular elbow, and a flick of the hand, is Scarlett a Frederick Ashton in the making?
If Scarlett provides the hors d'oeuvres, then Ashton's 1968 Enigma Variations is a real repast, and MacMillan's Gloria the bitter pill.
Ashton brings his supreme 'narrative through gesture and body language' skill to Elgar's 1898 Variations on an Original Theme ('Enigma'), Op. 36, or Enigma Variations (My Friends Pictured Within), a genre painting in music of his friends and family full of witty character study. Ashton must surely have seen Ken Russell's 1962 BBC film on Elgar. The passing of time. A snapshot of an era.
Falling leaves, mists, bicycles and tricycles, cheeky telegraph boy, and a cast galore on Julia Trevelyan Oman's realistic late Victorian sepia inside / outside set, all lengthening shadows, bustle, anxiety, family country life, who else but the most British of choreographers to create this Worcestershire portrait of the most English of composers?
Iohna Loots as bubbly Dora Penny, Paul Kay as bouncy GRS, Thomas Whitehead as WMB, Ricardo Cervera as Troyte, and especially Bennet Gartside as Nimrod, stand out in a fine cast. Christopher Saunders's Elgar is authoritative, and Christina Arestis as his wife is simply lovely, willowy, elegant, graceful arms and wonderful épaulement.
Bursting with life, but what followed soon after? The loss of promise and innocence, a whole generation of young men wiped out, a way of life gone. Elgar, apparently, declined to write a Peace Anthem on the Armistice, so appalled was he by the carnage of the First World War.
Kenneth MacMillan confronts just that with his 1980 Gloria, inspired by the poem The War Generation: Ave from Vera Brittain's autobiography Testament of Youth. His own father, gassed in the war, had been much affected by the experience.
Poulenc's Latin Mass Gloria in G major (1959), sung here by soprano Madeleine Pierard, was MacMillan's choice for his deeply felt work honouring the dead of his father's lost generation.
Men in tattered, stained, red and rust leotards and tin helmets, women in white bodies and cloche hats, dusty ghosts of the past, angels of mercy, rise from behind a red mound, framed by stark wooden posts—Goya and Blake, songs of innocence betrayed.
Andy Klunder's simple design concept and John B. Read's lighting, war red and sepulchre white, the simple imagery of war. A group sacrificial rite, a stone carving of the dead, huddled brothers-in-arms in no-man's land, stiff bodies.
A Madonna in procession, borne aloft and on men's backs, Leanne Benjamin in silver costume, a glowing vision, carried into battle and in their prayers. Edward Watson contorts in death throes. Women pick their way through corpses.
Are these souls writhing in hell, drawing together, pleading for mercy? Fingers point accusingly at us—yes, we are implicated. Boys are still going to war—for us?
A holy trinity of dancers, two men and one woman—Watson, Nehemiah Kish and Benjamin receive loud vocal approval after the stunning end—a solitary Watson toppling backwards into the hidden trench. Powerful, moving, and dramatic, it was MacMillan's favourite of his ballets.
Reviewer: Vera Liber