Assassins
Music and lyrics by Stephen Sondheim, book by John Weidman
Menier Chocolate Factory
–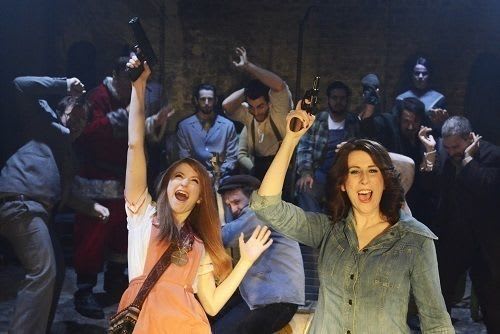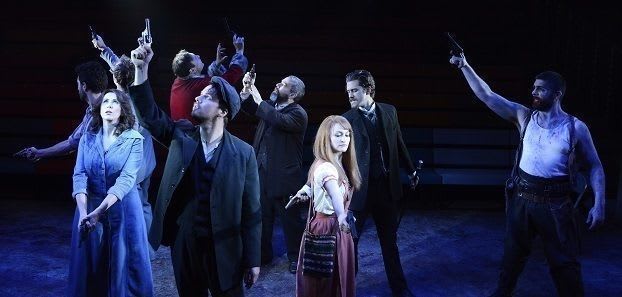 The Menier's Christmas musical has become as much a seasonal tradition as the mince pie or cracker but frequently gives far more enjoyment.
This year, the company has teamed up with Jamie Lloyd who seems to like his musicals dirty, having already had a big hit with Urinetown this year.
While everyone else is desperately looking for cheesy schlock to buy into the Christmas spirit, Lloyd goes in the opposite direction, choosing Stephen Sondheim's dark musical celebrating the careers of some of history's most notorious bad guys (of both genders).
The stars of Assassins have one thing in common: their collective desire to kill a President of the United States.
What the evening proves is that there are as many reasons to carry out an attempted assassination as there are people willing to try the deed.
The drama takes place in a derelict, Soutra Gilmour-designed, amusement park presided over by a symbolically fallen clown's head and a Proprietor to die for played powerfully by Simon Lipkin.
In the traverse staging, the ranks of the hitters and missers are led both chronologically and theatrically by Aaron Tveit as John Wilkes Booth, the actor who shot Lincoln in the interests of political justice (as he saw it).
The litany then runs through a wacky procession of gun-toting outsiders. Some, like Mike McShane's charmingly nutty Sam Byck or Harry Morrison's more sinister John Hinckley are sad and mad, while Andy Nyman's Charles Guiteau whose own ballad is the pick of the evening's songs, took action to advance his career (at President Garfield's expense).
Others are misguided or misled, with Carly Bawden in the role of Manson disciple Lynette 'Squeaky' Fromme partnering TV favourite Catherine Tate in the role of dim housewife Sarah Jane Moore in the vanguard.
By the time that the 1¾ hours end on a high as Jamie Parker, equally good as the strumming, bluesy Balladeer, and the best of breed assassin, Lee Harvey Oswald, shoots JFK and the motorcade rolls on, a few home truths have been established.
First, the job of President is not for the faint hearted, secondly, assassins are a strange and varied breed and lastly, America may be the home of the free (to shoot the President) but also of many who take fatal action when they decide that the Great American Dream has failed.
Jamie Lloyd directs an enthusiastic cast in a darkly funny evening packed with gallows humour and enough drama to please any lover of murder mysteries. There is also a stream of the trademark Sondheim songs to keep the story moving and crowds happy.
Reviewer: Philip Fisher