Urinetown the Musical
Music and lyrics by Mark Hollmann, book and lyrics by Greg Kotis
St James Theatre
–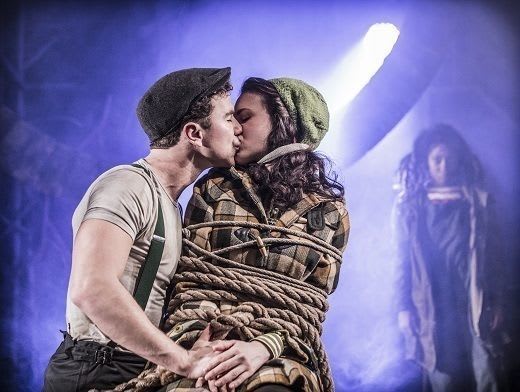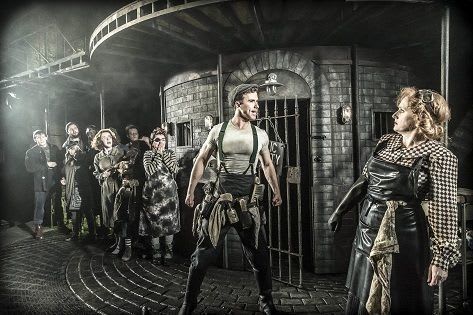 Urinetown the Musical was a big hit off-Broadway almost 15 years ago and then moved to the Great White Way, garnering considerable acclaim and a number of awards en route.
It is therefore hard to understand not only why what is billed as the UK première (patently ignoring repeated productions on the Edinburgh Fringe) of this dark, edgy musical had to wait until 2014 but also that no other work by either of its creators, Greg Kotis or Mark Hollmann, has previously made it across the Atlantic either.
It has to be said that this comically allegorical vision of totalitarianism is a dark eco-musical that will not be to the taste of those that like their entertainment sugary.
The most obvious influences might be Sweeney Todd, Little Shop of Horrors and, more unexpectedly, The Wizard of Oz.
The post-modern deconstructions starts early, as Jonathan Slinger's narrator / copper Officer Lockstock (with equally Dickensian nomenclature for his partner Barrel) joins forces with Karis Jack playing Little Sally. Together, they set the scene and take the [subject matter] out of the ensuing proceedings.
For 20 years, this benighted town, deliciously visualised on two levels by designer Soutra Gilmour, has been so short of water that evil tycoon Caldwell B Cladwell, played with cruel relish by Simon Paisley Day, has become rich by overcharging for public amenities (toilets).
He rules the roost with help from the law and a team of cronies including Jenna Russell, who is the most prominent as Miss Pennywise.
After an old man is sent to mythical Urinetown, seemingly a cross between Hell and Oz, by the cops for illegally relieving himself when he hasn't a penny to spend, his son, Richard Fleeshman's muscular, toilet-cleaning Bobby Strong, starts a rebellion. In doing so, the hunky lad with a strong voice inexplicably kidnaps his new squeeze, Caldwell's innocent daughter Hope, portrayed by the sweet-voiced Rosanna Hyland.
By this stage, a full-scale war is in the offing as the forces of good march on to the beat of their joyous gospel anthem, "Run, Freedom, Run" to the rapturous delight of the audience.
It would be unfair to give the plot away but this is no common-or-garden musical as it constantly confounds preconceptions with plot twists that would not fit comfortably into a typical rom com.
As such, lovers of black comedy accompanied by a series of good tunes, many of which appear to be deliberately pastiching stage music of the period, will have a whale of a time.
They will also come out at the end of 2¼ hours humming, since in addition to "Run, Freedom, Run", "Follow Your Heart" and the "Act One Finale" are also rousing, while who could resist a musical in which there is a song entitled "It's a Privilege to Pee"?
Jamie Lloyd has done a good job of bringing the show to the British stage for its belated debut and this enticing production should prove a big hit for St James Theatre.
Urinetown the Musical should also have everything that it takes to become a cult musical hit like The Rocky Horror Show. However, whether there is a producer enterprising enough to chance their arm on a long West End run for something quite so off the wall might be doubtful in the current economic climate.
Reviewer: Philip Fisher