Awakening
Marcos Morau / Fernando Melo / Caroline Finn
National Dance Company Wales
The Riverfront, Newport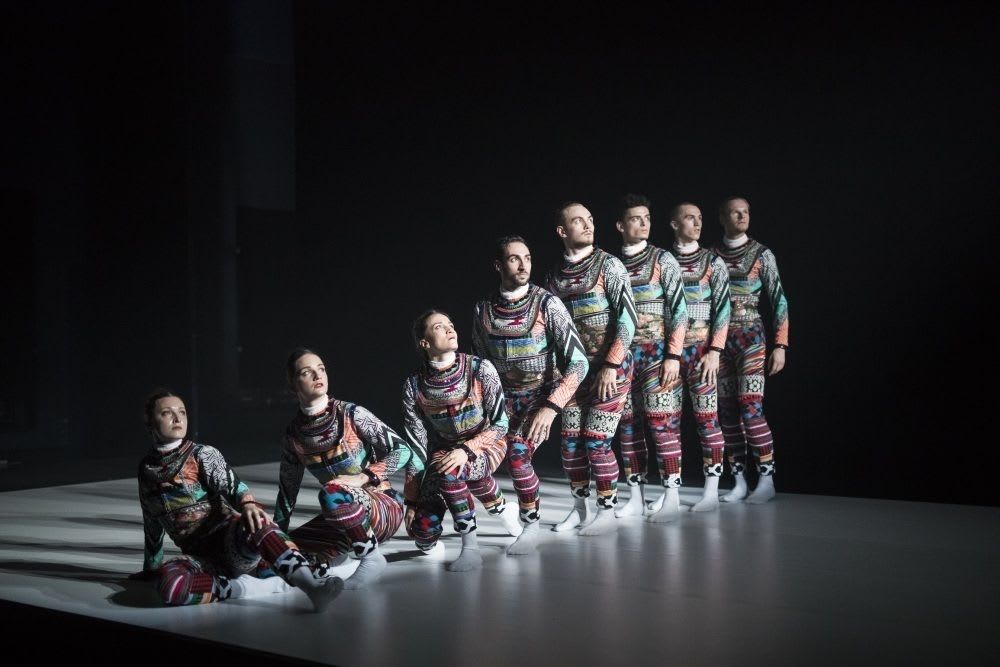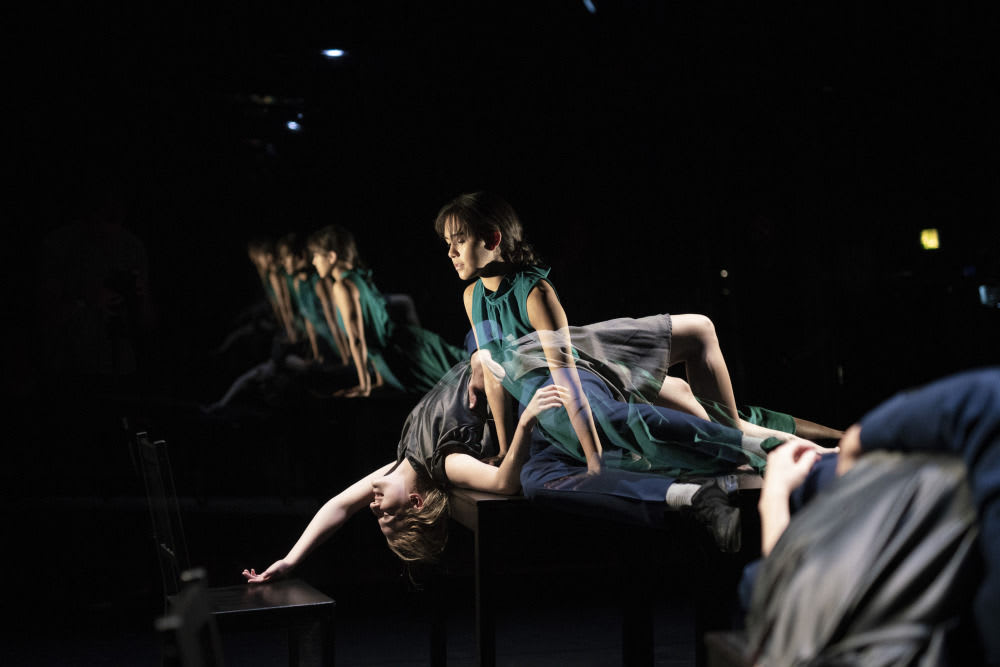 It was a busy St. David's night at the Riverfront in Newport. Not only did it host the first night proper of the tour of Hijinx's Into The Light in its studio space, but the main auditorium saw National Dance Company Wales launching its new season with Awakening: a trilogy of short works, comprising two world première performances and one old favourite.
While on some dates of their upcoming tour the company will perform Lee Johnston's relationship-oriented duet, They Seek To Find The Happiness They Seem, this opening night show began with Marcos Morau's Tundra, a piece which, as artistic director Fearghus Ó Conchúir noted in his introduction, has become something of a worldwide hit.
Tundra begins with a faceless figure, clothed in a vaguely Inuit style, slowly revolving as a tribal chant plays. S/he is quickly replaced by a troupe of eight dancers in flowing blue skirts, gliding magically in formation, as though on ice—a sequence which, even on my third time of experiencing it, remains breathtaking.
Presently, the skirts are discarded, to reveal snug, pyjama-type costumes (designed by Angharad Matthews), the rest of the performance seeing the dancers move in flowing lines, as though connected, in a manner which calls to mind footage of penguins making their way across the ice. There are occasional instances of individuals seeking to be outliers, but these quickly reintegrate themselves into the group, in a piece which seems to be a celebration of interdependence.
Magical is a word which also applies to the next segment: Afterimage, choreographed by Fernando Melo.
The audience is immediately wrong-footed when the curtain rises to reveal a large mirror, in which they can see themselves. A man then comes to sit at a table, which is on one side of a looking-glass, so that we can see his reflection. Presently, as he moves, it becomes clear that someone has joined him—but only on the other side.
Theatre scholars will be aware of Pepper's Ghost, a means of using mirrors to simulate spectral apparitions; the Marx Brothers' famous mirror gag also comes to mind as various combinations of performers come together at the table, their reflections not matching apparent reality, with eerie electronic music sound-tracking what may be consultations with fortune tellers, communications with the deceased, or miscommunications between lovers.
Afterimage is thoroughly confusing—one asks oneself not only "What does it mean?", but also "How are they doing that?" It is also utterly mesmerising; lighting designer Peter Lundin surely deserves a particular mention. Come the curtain call, I'm sure I wasn't the only audience-member to be surprised that there were only six dancers involved.
Revellers' Mass, the final piece, from the company's resident choreographer Caroline Finn, is the most conventionally balletic in terms both of showcasing the virtuosity of its performers and boasting some kind of narrative.
We begin in darkness, as modernistic but solemn choral music plays. Candles are lit one by one on a long table and reveal a number of mannequins, as well as people interacting in twos and threes.
Presently, a priestly figure—all of the costumes, designed by Gabriella Slade, are redolent of the exotically clerical—seems to call proceedings to order, before the orgy of ritualistic movement commences, in a manner reminiscent of The Rite Of Spring.
Needless to say, by the end of this thirty-minute piece, not all of the mannequins remain intact. As it concludes, however, and the clean-up commences, Piaf's "Je Ne Regrette Rien" plays, suggesting that these rites are a regular occurrence—a societal pressure valve.
The dancers—Cyril Durand-Gasselin, Nikita Goile, Mathew Prichard, Ed Myhill, Julia Rieder, Elena Sgarbi, Marine Tournet, Tim Volleman and apprentices Aisha Naamani and Queenie Maidment-Otlet—are to be applauded for the skill and stamina exhibited across all three of these diverse, but startlingly beautiful pieces.
National Dance Company Wales continues to display its commitment to both excellence and accessibility; Awakening is as entertaining as it is aesthetically rigorous.
Reviewer: Othniel Smith