Awake and Sing
Clifford Odets
Almeida Theatre
(2007)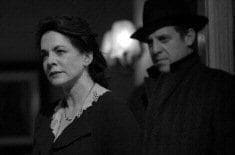 Clifford Odets' family drama set during the Depression varies between the Chekhovian and the melodramatic. It also has many parallels with the last play that Michael Attenborough directed at the Almeida, Theodore Ward's Big White Fog.
The period is the same, a family desperately struggles to make ends meet, a girl gets into trouble and a rich uncle coldly observes. There are more too, but the most instructive point to draw is that Jewish and Black families both led similarly precarious existences in America during the Thirties.
Chekhov wins out over melodrama in a play in which the younger generation eventually throw off the shackles imposed by a fearsome matriarch from whom even the Iron Lady Thatcher might have learned a few lessons.
Stockard Channing's Bessie terrorises three generations of menfolk in her family - and probably a good few on the other side of the fourth wall. She has come to the Bronx from immigrant stock and is one tough cookie who always gets her way.
The American star, still remembered for her starring role in Grease, has done a wonderful job of learning the Germanic idioms that still prevailed amongst these second generation immigrants. She also consistently exudes power until finally thwarted by an old Almeida favourite, Nigel Lindsay as mouthy Moe Axelrod, a war veteran with one leg but a great deal of cheek.
Odets' finest creation on this occasion is the wheelchair-bound grandfather Jake, marvellously played by John Rogan. This wise elder as easily quotes the Bible as Marx; and lives more for Caruso and his grandson than the generation in between.
It is hard to believe that such a humane man could have spawned Bessie and her odious brother, Trevor Cooper as rich sweatshop owner Uncle Morty, who would sell his granny for a few bucks.
The younger generation are chips off the old block. Jodie Whittaker, who is building a good reputation in film starring in Venus and the new St Trinian's, plays Hennie. At times the prematurely pregnant 24 year old is so like her mother that you fear for her spineless Russian husband Sam, a man so pathetic that she characterises him as an ice cream to his face.
While Hennie married the poor sap as Mother demanded, hope is injected by the devotion of Moe, though what their elopement will do to her husband and child is skirted over.
For much of the two-hour play, young Ralph (Ben Turner) is as weak as his pinny-wearing father, Myron (Paul Jesson). Rather than assert himself and whisk his girl off her feet, the boy whines and prevaricates and it is only a supremely selfless gesture from the heroic Jake, plus some of Moe's finest sleight of hand, that frees him forever.
Awake and Sing has some moments where Odets tries to entertain too hard but for the most part, it is a well-crafted play that entertains both with its colourful characters and their predicaments. This revival is greatly to be welcomed and perhaps it is time for somebody to launch a more substantial retrospective of a writer who knew how to combine drama that addresses both political and human issues with great use of language.
Reviewer: Philip Fisher