Bad Jews
Joshua Harmon
Theatre Royal Bath Productions
Arts Theatre
–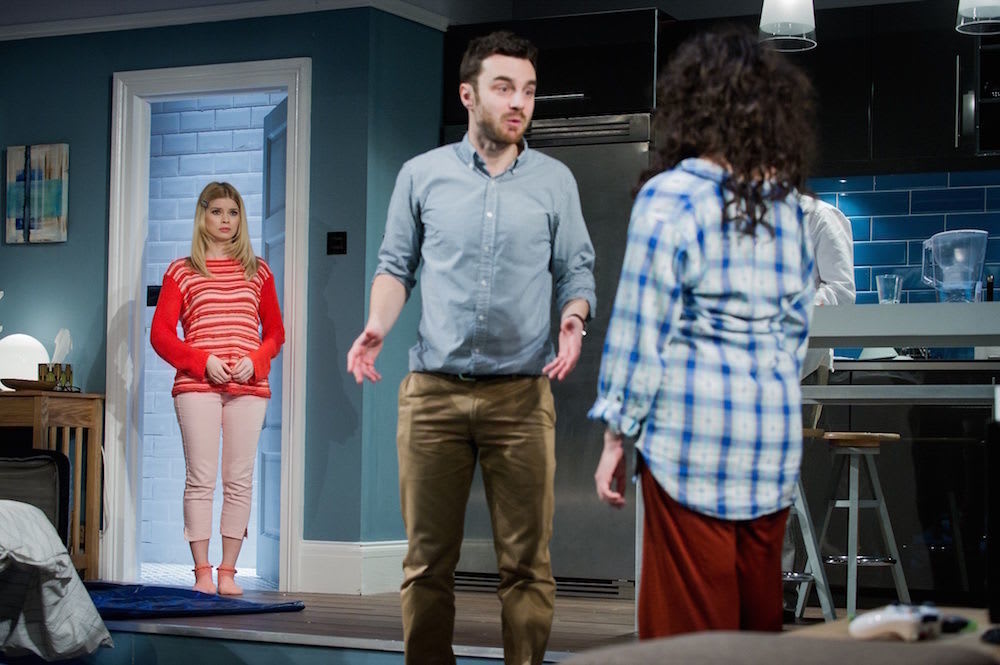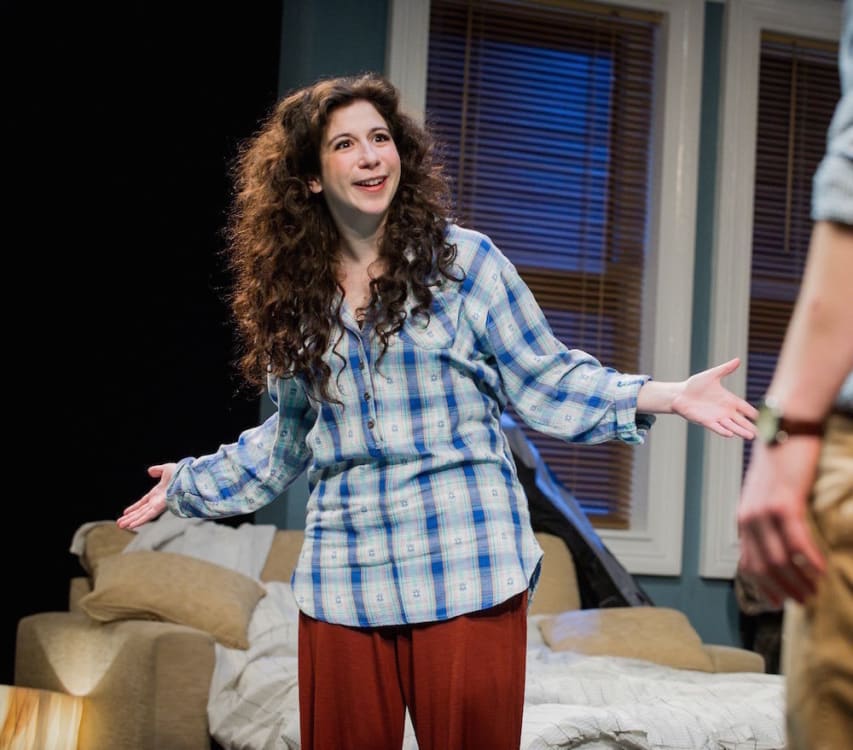 Four characters in a pressure cooker situation, three are family, one an outsider—brothers Jonah and Liam, their cousin Daphna, and Melody, Liam's WASP girlfriend with her treble clef tattoo (did you know it is against the law for Jews to have tattoos?—me neither).
A studio flat overlooking the Hudson River, mattresses strewn on the floor: the monosyllabic Jonah is ignoring domineering Daphna, who has a mouth on her and doesn't care who is on the receiving end. She wants him onside, but he wants none of it.
Liam arrives stressed from a curtailed skiing holiday in Aspen where he was going to propose to Melody. He has missed his beloved grandfather Poppy's funeral that day: bad mark. And, he loathes Daphna. The scene is set for a fight to the death—well, Daphna sees it that way.
Give them a boxing ring and have done with it. The vitriol pouring out of both their mouths is jaw-droppingly fierce and surprisingly funny—laughter through tears. If only they could hear themselves in this rancorous if stereotypical comedy drama.
An only child, Daphna wants the amulet their grandfather inherited from his father and which he in turn gave to his wife when he proposed to her. Liam wants it to give to Melody in place of an engagement ring, as his popular Poppy did before him.
Daphna, strictly observant of her strong Jewish faith, feels she is the only one worthy of having the symbolic 'hai' (meaning life or living) on its gold chain, which their grandfather, sole Holocaust survivor of his whole family, managed to hide—under his tongue—for the two years he was in the camps.
His children should surely inherit it, but this third generation Holocaust-proud grandchild sees it as a proxy badge of honour. She wants it for its religious and memorial weight; Liam because it signifies love to him.
Both concerned with tradition if only they could see that. But if it goes to Melody it goes to a gentile… Imagine that. Even I, a gentile, baulked at that: strange thing our individual sense of justice. Maybe the quiet Jonah should have it, but he has something else up his sleeve.
Neither boy is as fanatical as Daphna about their faith. Liam significantly is a PhD student of Japanese Culture, whereas Daphna plans on going to Israel on graduation.
She doesn't think Liam deserves the amulet. He calls her 'a Nazi', an 'Über Jew', a 'Super Jew', for her racial purity tendencies—yes it gets that vicious. She humiliates Melody. It all leaves a nasty taste in the mouth.
A specific family drama that by extension questions universal themes in a global planet: do we hang on to our culture and traditions or are we citizens of the melting pot world now? The replies will be as varied as the number of people in the theatre.
Vassar student Daphna is a character one could love to hate, so doggedly and deviously inflexible is she—the play is more character- than idea-driven—but there is a vulnerability and insecurity there too, which Jenna Augen almost misplaces in her ferocious performance.
Liam is no different—another side of the same coin. Neither is prepared to yield. Ilan Goodman's shrill diatribe when Daphna is in the bathroom brings the house down. As does former opera student Melody's attempt at singing "Summertime" from Porgy and Bess.
One can sense the audience taking sides, and it is hard not to at a boxing / wrestling match. Poor Jonah and poor Melody: he is suffering silently, and she doesn't see why they can't all just be human beings. That gets a laugh…
Coming into a household where there are no verbal holds barred, she is shell-shocked, but All-American Gina Bramhill is not as ditzy as her blonde hair and pink outfit suggest, though she has her sticking point too.
But is Bad Jews only about faith or being a good Jew? Many families must have experience of this sort of division of sentimental belongings or legacy after a passing away of a loved one whatever their faith. And many have trauma in their background.
I do, and empathise with them all. We are all 'bad' something or other, and probably just as undeserving as Liam and Daphna. Or we back away like Jonah.
Bad Jews is a provocative title, but playwright Joshua Harmon says he had no such intention when the title just popped irrationally into his head some ten years ago whilst still an undergraduate student. He'd heard it so often lightly self-ascribed by Jews when breaking or infringing Jewish law.
The family plot came to him much later: it was six years before he penned the play that got him into the Juillard in New York. First produced by Roundabout Theatre Company in 2013 to rave reviews, more productions followed.
Theatre Royal Bath Ustinov Studio had a huge success with it in August 2014; it transferred to London's St James Theatre in January 2015, and is now having an eleven-week run at the Arts Theatre in the West End. Not bad for a young man starting out.
100 minutes with no interval, Bad Jews under Michael Longhurst's direction steams along like a runaway train—with significant breathing space moments along the line. Apparently it holds the record for being the best-selling play to date at both the Ustinov Studio and St James Theatre.
There are currently twenty-four different productions playing or in preparation across America alone. It has captured something in the zeitgeist.
Reviewer: Vera Liber