Bakkhai
Euripides, in a New Version by Anne Carson
Almeida Theatre
–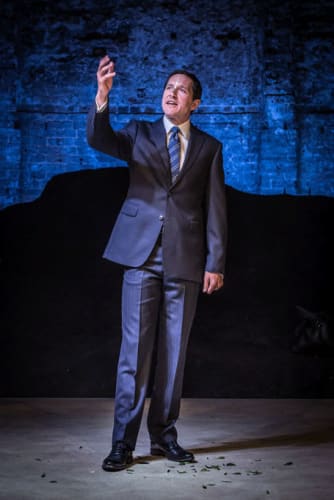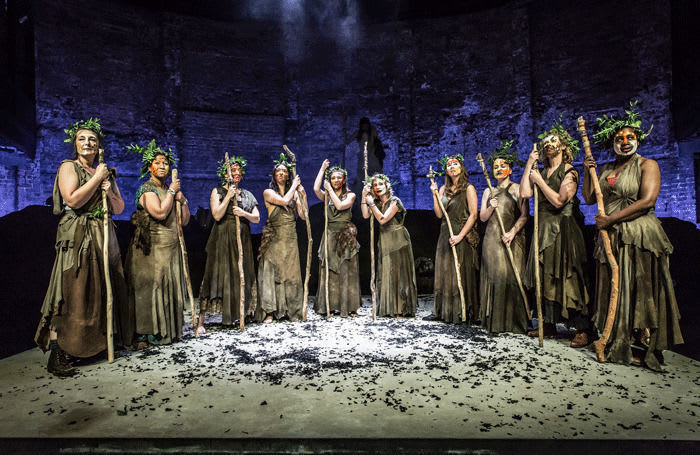 The second play in the Almeida Greeks Trilogy is a stunner in every sense of the word.
Director James Macdonald has created a visually and aurally striking production that capitalises on Anne Carson's poetic, modern version of Euripides's tragedy of a ruling family brought to its knees at the hands of "women and wine—toxic combination".
The evening, which runs at just under two hours without an interval, comprises two elements.
First, a trio of actors shares the leading parts and helps to tell the story of the disasters that befall the Theban house of Cadmus when his grandson, Pentheus takes on Bacchus/Dionysos.
He does so by challenging the androgynous (and in this version possibly messianic) mortal's claim to be the divine offspring of Zeus, rather than merely a human with a high opinion of himself.
As Bacchus, film and TV favourite Ben Whishaw opens the evening with a relaxed prologue that sets the tone of the two-hour performance nicely.
His modern dress makes a statement that is later contradicted by more traditional Grecian garb but not before a sharp-suited Bertie Carvel in the role of Pentheus delivers a dismissive speech in Tony Blair style, thus prefiguring his humiliation and downfall.
The three men are outnumbered on stage by a ten-strong, tuneful chorus of female maenads or Bakkhai , who advance the action as skilfully as their equivalents on an operatic stage.
They sing a capella with great beauty but, at the same time, keep the story moving along apace. This makes for an unusual but deeply satisfying and haunting evening, making the most of a series of gorgeous, minimalist compositions by Orlando Gough.
The key plot elements are shared between this chorus and the leading trio, which is completed by Kevin Harvey, most significantly playing Kadmos who painfully but helplessly watches his dynasty blighted.
As the evening builds towards its inevitably bloody and tragic climax, there are key speeches that showcase the talents of the actors.
Whishaw not only makes his mark in the leading role but also delivers a fine, doom-laden speech as a herdsman.
Carvel does his own share of doubling, and is particularly memorable when playing Agave, the mother of Pentheus and ultimately the trigger for the worst depravities that this gory play can offer.
Before that, as Pentheus, he is persuaded to don female garb, with the potential risk that the actor might incongruously remind some viewers of his most successful role to date playing Mrs Trunchbull in Matilda the Musical.
On Anthony McDonald's simple set, Peter Mumford's lighting becomes an integral part of the performance, consistently creating exactly the right mood on cue.
This is a gripping, unsettling evening that not only shows off the acting and singing talents of the ensemble but also gives an old play new resonances with the possibility that modern conflicts might spring into the minds of viewers as they watch a tragedy from the past unfold.
Reviewer: Philip Fisher