Battlefield
Based on the Mahabharata and the play by Jean-Claude Carrière, adapted by Peter Brook and Marie-Hélène Estienne
Young Vic Theatre
–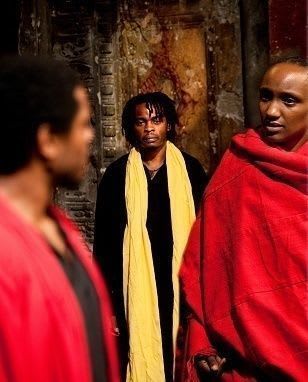 He may be a year or two younger than Franco Zeffirelli, whose legendary production of La Bohème is still going strong at the Met, but at 90 Peter Brook is a veritable and venerable phenomenon.
His creations are still effortlessly able to entrance young and old thanks to a mixture of simplicity and erudition, which combine with theatre craft that has been honed over a period of 70 years.
Battlefield is a reworking of Brook's vision of the Mahabharata but where the original lasted for a full day and well into the night, this condensation of the Hindu epic runs for little more than an hour.
Featuring the trademark Brook setting, which is almost non-existent, with costumes by Oria Puppo and props that scream simplicity, it is left to a quartet of actors aided by little more than long scarves to weave tales of great beauty and meaning.
The starting point is the aftermath of a great internecine civil war that ended in massacre. This leaves the warrior Yudishtira to follow his destiny as King, despite his guilt over the deaths of vast numbers on both sides.
Soon enough, in true mythic fashion, the new King discovers that his greatest triumph, in killing a sworn enemy, simultaneously ended the life of a man he did not know to be his brother.
Yudishtira then sets off on a long journey in search of inner peace and redemption and that forms the basis for this adaptation by Brook and Marie-Hélène Estienne (who co-direct) from the longer work by Jean-Claude Carrière, itself based on an epic that runs to many volumes.
What starts out as a simple narration from a devastated, blind old man soon gets carried forward by all four members of the cast.
The storytelling quickly dissolves into gripping parables that say so much about life, death and our earthly existence, all based on an underlying Eastern philosophy that is so different from our own.
The key message is that life repeats itself through the generations, while predestination ensures that wars, peace and everything in between are inevitable.
In order to pull off a staging of this type, it is necessary to cast exactly the right team of actors and that is one of this director's great skills.
This latest team of nations comprises Carol Karemara, Jared McNeill, Ery Nzaramba and Sean O'Callaghan and, in addition, one must not acknowledge the mesmerising Japanese hand-drumming of composer-musician Toshi Tsuchitori.
On the basis that Peter Brook's career cannot go on forever, anyone who loves simplicity in theatre and epic storytelling should hustle along to the Young Vic for a deep but gentle and at times amusing treat.
Reviewer: Philip Fisher