Bella Figura
Yasmina Reza
Schaubühne
Schaubühne, Berlin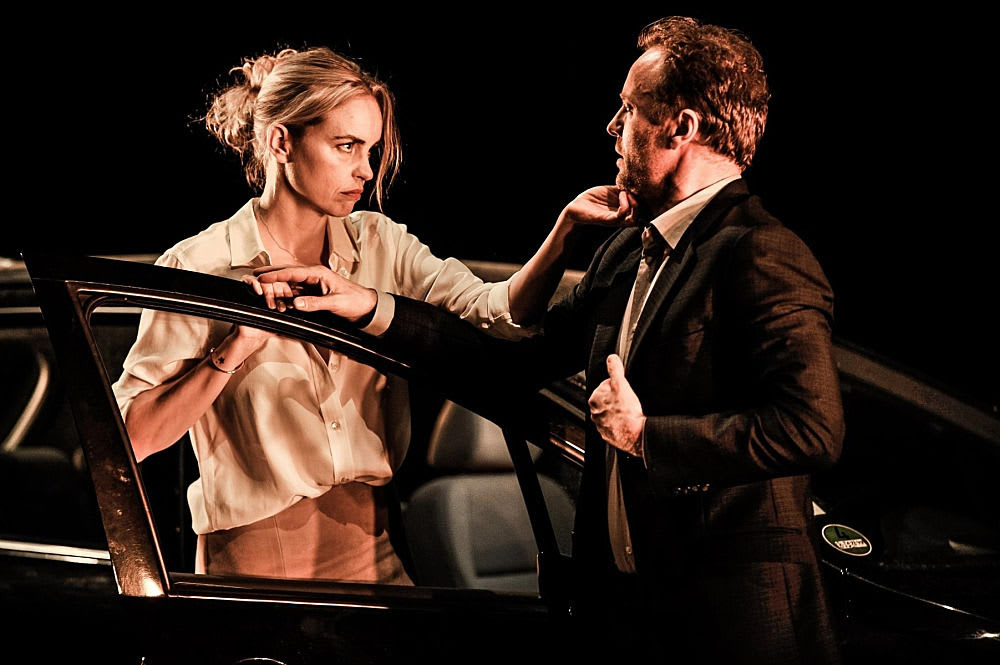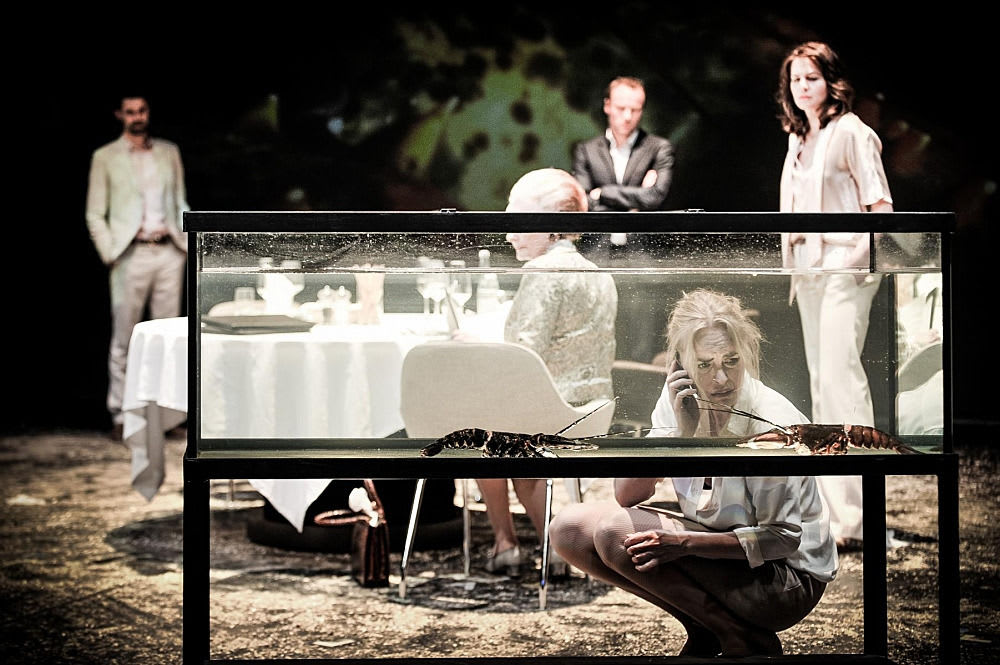 Given her popularity in the United Kingdom, it is strange that this 2015 play from the creator of Art and God of Carnage has not made it to these shores, other than via this very brief web outing, which was only made available for a few hours.
Bella Figura enjoyed a première in Germany rather than the writer's native France, primarily due to her admiration for Schaubühne's Artistic Director, Thomas Ostermeier, who directs in German with English subtitles.
The piece is a typical Yasmina Reza comedy of manners dissecting a series of relationships that constantly threaten to get out of hand through the 100-minute running time.
It opens on a spare, voyeuristic set on a slow revolve, with a comic scene set in and around the car belonging to Mark Waschke's Boris. He is a middle-aged French businessman whose empire is threatening to collapse, which will cost the harassed entrepreneur not only his career but also his house.
In an attempt to forget his woes, he has invited his lover of four years, pharmacist Andrea played by Nina Hoss, for a night out at an expensive restaurant. However, since the culinary recommendation came from Boris's wife, the evening does not get off to the romantic start that he had planned.
After the couple argue and drive off in a collective huff, they literally bump into Lore Stefanek memorably portraying ageing birthday girl Yvonne.
As is the way in comedies, there is a coincidental connection, which might take a bit of explaining. Yvonne is the mother of Renato Schuch's Eric, whose partner, Stephanie Eidt playing Françoise, just happens to be a good friend of Patricia, Mrs Boris.
The possibilities in the hands of a competent playwright seem endless and, given this material, Yasmina Reza manages to explore a series of uncomfortable interactions, thereby shining a light on the human condition but also the complications of 21st-century relationships.
It helps that every one of the characters has some eccentric traits, both good and bad, meaning that viewers' sympathies will easily shift around as the evening progresses.
Given the embarrassing circumstances, it is inevitable that Boris finds himself torn between self-pity at the threat to his marriage and self-pity at the threat to his business (despite the efforts of corporate lawyer Eric to provide succour), not to mention guilt at his tricky relationship with Andrea.
The lady, in turn, combines boldness with resigned acceptance that the kind of flighty life that she has enjoyed as the other woman doesn't fit well with her advancing age, nor the need to provide a stable home for her nine-year-old daughter.
Initially, the second family seems far better grounded but looks can be deceptive. Calm Françoise has a difficult relationship with her bumbling mother-in-law, while even calmer Eric, who loves pouring oil on troubled waters, struggles when those waters threaten to drown all concerned.
With wildlife impinging, particularly some particularly evil mosquitoes, shown massively enlarged during scene breaks, not to mention a noisy group of frogs, a message suggesting that human beings are not as far above animal life as they might like becomes clear.
In addition to the philosophical underpinning, there are some particularly funny scenes, especially one that takes place in a cramped restaurant washroom that has to be seen to be believed.
The pick of a strong cast is Nina Hoss, who impressively conveys the depths of sad Andrea at the same time as wringing every ounce of both the comedy and pathos inherent in her character.
Bella Figura is a satisfying play that must surely reach a British stage at some point before too long.
Reviewer: Philip Fisher