Beneath The Streets
Punchdrunk Enrichment
Punchdrunk, Hijinx
Castle Arcade, Cardiff
–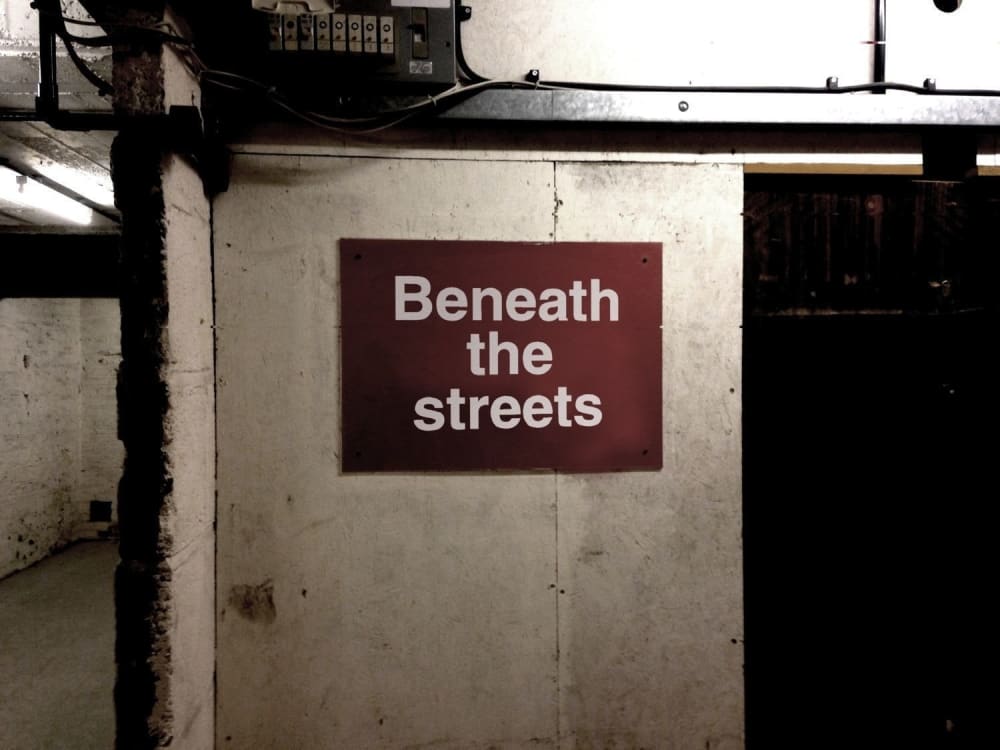 I've managed to live quite happily in Cardiff for over 30 years without once venturing into its murkier depths. This innocence has been brought to a perturbing end by Beneath The Streets, which literally takes its audience down into a dark, subterranean world.
Punchdrunk is the London-based company which specialises in creating immersive, site-specific theatrical experiences (their The Drowned Man: A Hollywood Fable is currently running in conjunction with The National Theatre). Cardiff's Hijinx specialises in work which is inclusive of performers and audiences with learning disabilities and hearing impairments.
This collaborative production is the result of a two-week training residency, involving members of the Hijinx Academy, who make up much of the 25-strong cast.
Our journey begins as we wait outside the rendezvous point, opposite Cardiff Castle. Our group (of around 20 apprehensive souls) is led into one of the historic Castle Arcade's several cafes, where we are invited to sample a special blend of coffee. Having been thus tricked into a hypnotic trance, we are then ushered downstairs, into the maze of dark, underground corridors.
This is a world of Lost Things. Doors are labelled: Lost Keys, Lost Teeth, Lost In Music, Lost Train Of Thought, Lost Sight. Some of these doors are locked, obviously leading nowhere. Behind others, strange events occur. Audience members wander along, choosing either to follow the performers into various spaces, or simply to observe from as much of a distance as is possible.
A young woman takes my hand and leads me seductively into a small room (sadly not a common occurrence). This is the room of Lost Love, where she tells a tragically ironic tale of wartime romance.
In the room labelled Lost In Translation, an obscure dramatic tableau unfolds in front of an artfully tattered pile of torn-out pages. In the room of Lost Memories, whose shelves are laden with vials of fluorescent substances, two women clad as gypsy fortune-tellers ask us about past kisses and long-lost Christmases.
In the ill-lit passageways, some performers stand mute, while others play out a scenario involving running away, carrying battered items of luggage, calling to mind tales of escaping refugees. This is the set-up for the play's climax, in which we all gather as some residents of the underworld are given the opportunity to return to their former lives via a portal ingeniously disguised as a pile of suitcases; only they have to leave their baggage behind.
The steampunk-inflected design is a vital element of the show, although Julie Landau can't have had much difficulty making the streets beneath the streets seem eerie. Director Matthew Blake creates a world of regret and outsiderdom, without altogether denying us lighter moments.
The action is inevitably unfocussed, and one is constantly torn between the fear of missing something and relief at not being drawn into someone's personal nightmare. For while Beneath The Streets contains no overt "horror" elements, it's certainly creepy, and not recommended for those who suffer from claustrophobia.
Each performance lasts a little over half an hour; during this run, there were eight, over two nights. While the location—beneath one of the city's most characterful precincts—adds to the ambience of the piece, the themes are universal. If this experiment is repeated, either here or elsewhere, I would certainly recommend experiencing it.
Reviewer: Othniel Smith