Betty! A sort of Musical
Book by Maxine Peake & Seiriol Davies, music & lyrics by Seiriol Davies
Royal Exchange Theatre
Royal Exchange Theatre
–

Listing details and ticket info...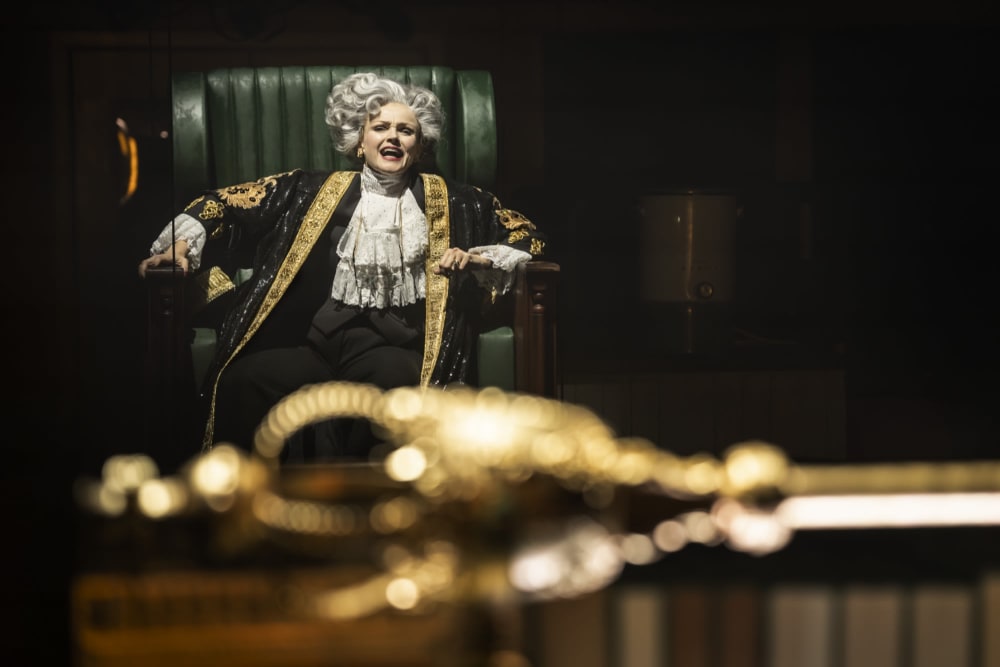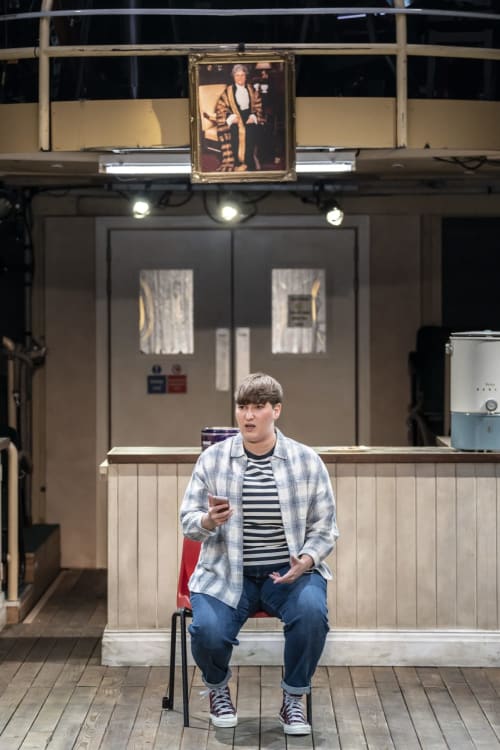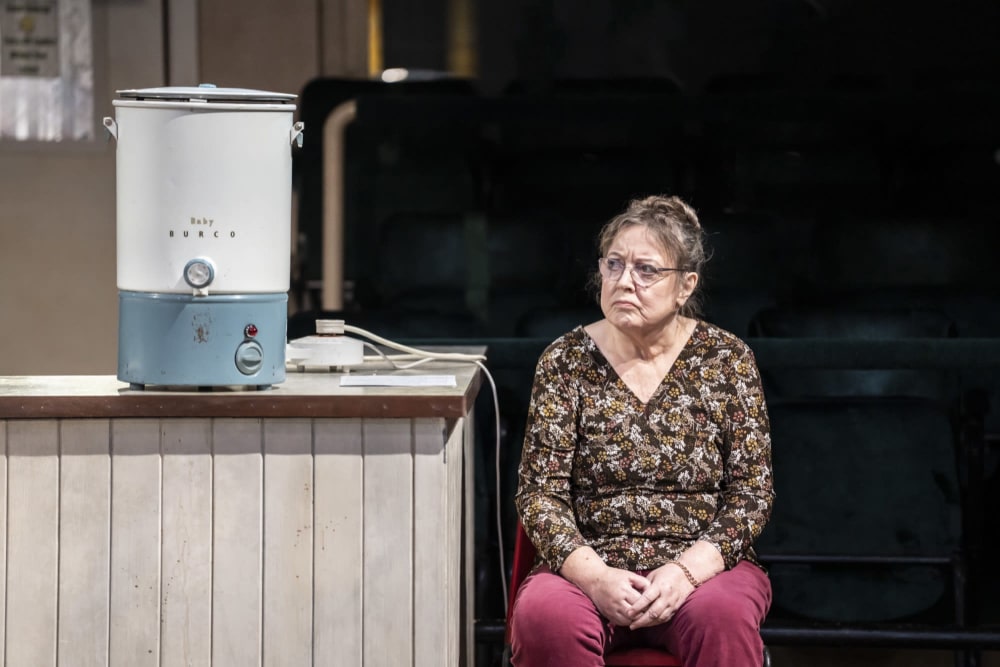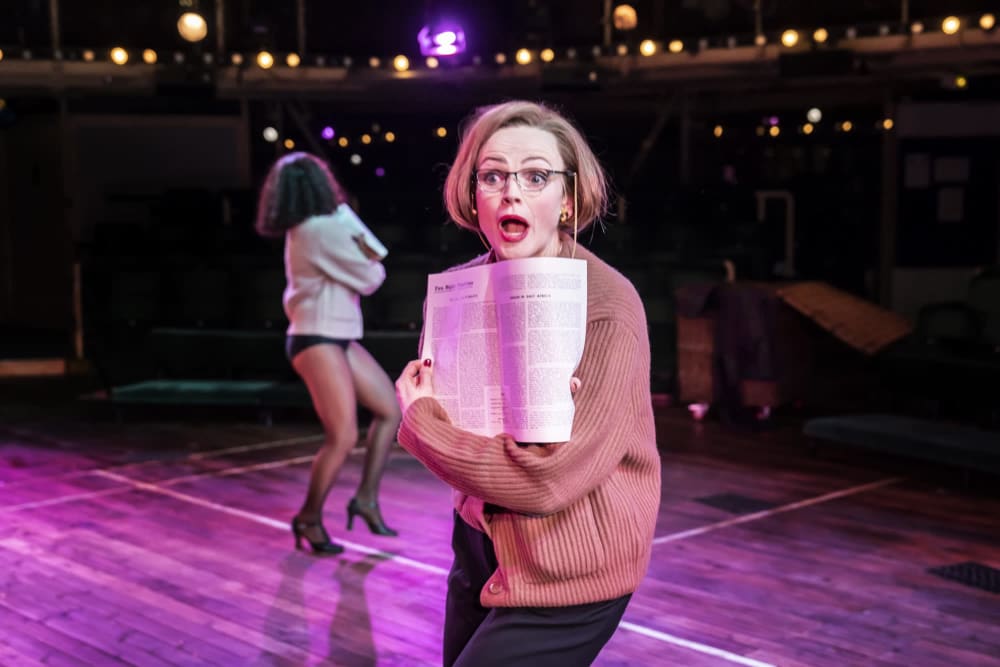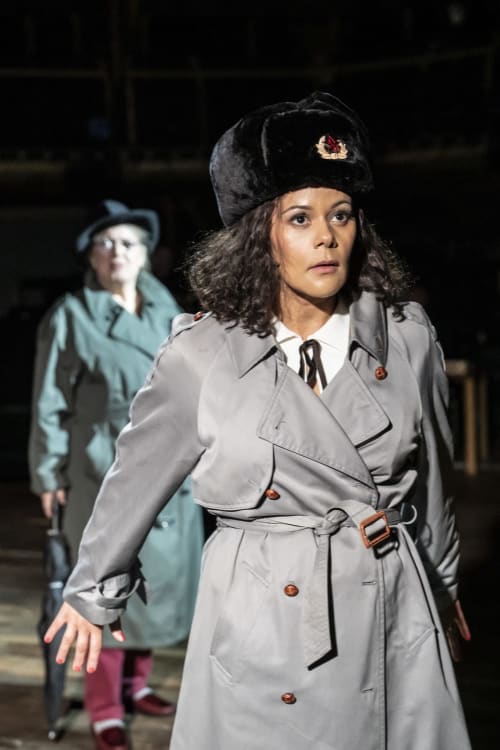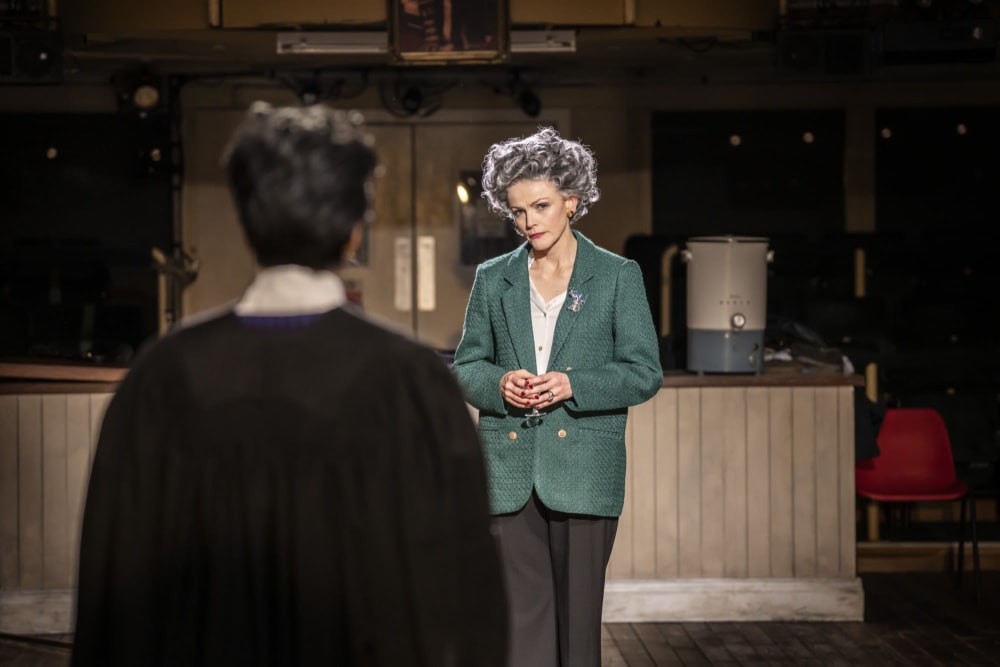 The festive offering from the Royal Exchange gives Maxine Peake top billing both as writer and actor, but the style seems to owe a lot to effervescent Welsh writer, composer and performer Seiriol Davies, if my colleagues' reviews of their previous shows (Milky Peaks at Theatr Clwyd earlier this year; Mission Control at Principality Stadium, Cardiff in 2019; How to Win Against History at the Young Vic in 2017) are anything to go by.
The basic set-up is an old-fashioned village hall comedy—with some old-fashioned jokes to match—the sort Richard Harris used to do so successfully (Stepping Out, Outside Edge), maybe with a touch of Tim Firth's Calendar Girls, or perhaps Alan Ayckbourn's Chorus of Disapproval would be closer as it also involves putting on a musical. This sometimes erupts into cabaret numbers with even a bit of call-and-return audience participation, straight out of panto. Designer James Cotterill has produced a wonderfully authentic-looking set, with slightly uneven floorboards with a badminton court marked out in white paint under a stained, tiled suspended ceiling with fluorescent tube lights. The set becomes rather more spectacular in the second half.
Peake plays Meredith Ankle, the bossy one who always takes charge, in a performance that seems to be paying tribute to various Julie Walters characters. Eva Scott is her cowed daughter, Angela, who has not pursued her own dreams for fear of incurring her mother's wrath. They are putting on a show about the life of former Speaker of the House of Commons Betty Boothroyd as she is a local hero to this Dewsbury society. Also in the group are Hazel Mears (Joan Kempson), the older grumpy one with the comic put-downs, and Tracy Brassington (Carla Henry), who used to be on the West End until she got married, plus Davies as Calvin, the token male.
Meredith has lied on an application for a BBC scheme, Work It Out, supposed to help disadvantaged groups, and Adrita Chatterjee (Lena Kaur) comes from the BBC to see their rehearsals; it turns out that Angela and Adrita—or Rita as she used to call herself—were very close at school and have since lost touch. The long first act intersperses highlights from their show with banter amongst the group. The show touches on points in Betty Boothroyd's life in a comic cabaret style, including a spoof Northern flat-cap scene to represent her childhood, a bit about her time as a Tiller Girl dancer and a James Bond parody scene and song for the Cold War.
The second half goes into a fantasy sequence, which is visually impressive, that perhaps owes something to Jerry Springer the Opera, where Betty is set three challenges as the new Speaker, personified by Dennis Skinner, Ian Paisley and Margaret Thatcher. It ends, back to reality in the hall after a power outage, with an overlong scene that tries to give some rather thinly drawn characters serious themes about friendship, following your dreams and parents and children, which don't fit comfortably.
It's hard to know how to categorise this show, which isn't necessarily a bad thing, but the various styles and genres that it draws from could be utilised and combined better. As a biographical story, its subject is dealt with very superficially (you could learn more from her Wikipedia entry); as political satire, there are a few lines that take a dig at certain politicians or their policies, but it's all familiar territory, like most of the jokes; as cabaret, there is a nice variety of song styles with some well-written, if not particularly memorable, numbers; as a comedy, it seems to owe a debt to Wood and Walters but is nothing like as sharp, original or funny.
What the show lacks in substance, the talented cast make up for with their energy and their total commitment to the chaotic style. There's plenty of silliness, some decent comic characterisations and big song and dance numbers with a live band. Some in the audience on press night were lapping it up, but I found it all rather hollow.
Reviewer: David Chadderton