Aladdin
Choreography by David Bintley / Music by Carl Davis
Birmingham Royal Ballet
London Coliseum
–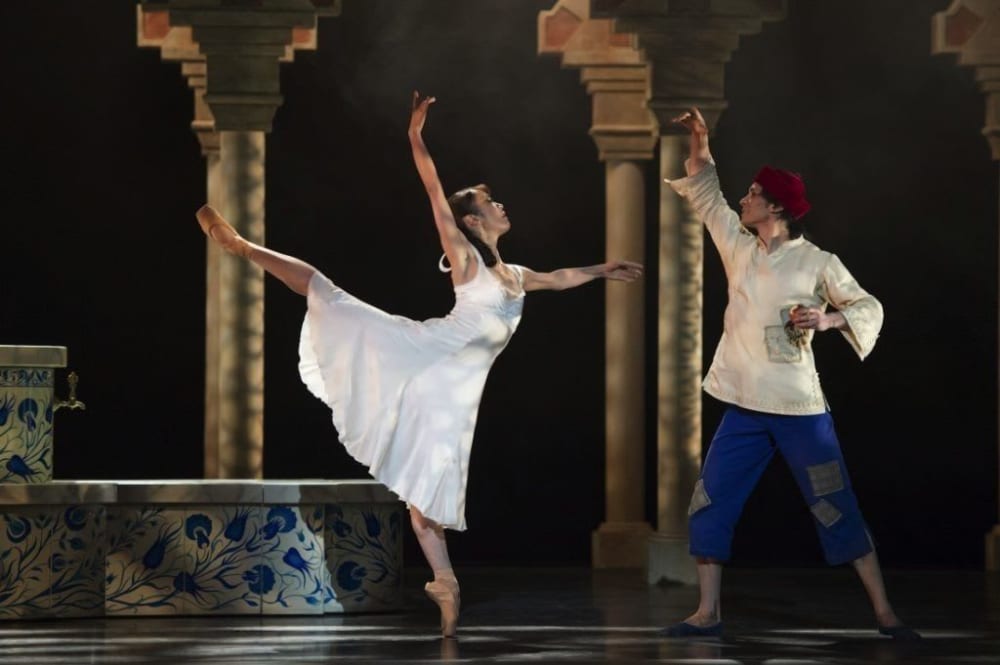 Birmingham Royal Ballet's Aladdin made its world première in Tokyo in 2008. Choreographed "very quickly" by BRB's artistic director David Bintley for the National Ballet of Japan, whose artistic director he also is, Aladdin is recycled for this new production with few changes.
Premièring in Birmingham in February 2013, this uncomplicated energetic family dance show, has travelled to Salford, Plymouth, Sunderland, and now settles in London for only seven performances, two of which are matinées.
Carl Davis's music is also a recycling of a score written for Scottish Ballet in 2001. As Davis puts it himself, "the score travels too": a mix of Western and Eastern rhythms, it is lush, epic, 1950s Hollywood. My companion spent the evening trying to identify the influences and echoes from music across the board.
One of the most popular British Christmas pantos (and one of the best known of The Tales of 1001 Nights), Bintley has chosen to present his Aladdin ballet out of season. What foresight—to see that winter would continue into March…
There are flying carpets, flying puppets, a panto horse—in this case a wonderful white and gold Chinese lion (James Barton and Mathias Dingman)—a genie, the Djinn of the Lamp, appearing in a puff of smoke, suspended over the action, and a classic villain, the Mahgrib, Iain Mackay weighed down by elaborate costume.
Eight Desert Winds, and the jewels in the cave—six Onyx and Pearls, five Sapphires, three Emeralds, two Rubies, a clutch of Diamonds, and a Gold and Silver pas de quatre—provide dance divertissements.
Not Balanchine jewels in this case, but Natasha Oughtred is a dazzling Sapphire, Céline Gittens glitters as lead Diamond, and the Ruby pas de deux from Ambra Vallo and Tyrone Singleton is brilliant.
There is much doubling in this crowded busy ballet—bustling market place, the sultan's court and the Djinn's entourage—that demand swift backstage changes, which must be exhausting, but the dancers deliver with aplomb.
Tzu-Choa Chou, the blue painted Djinn, deploys his familiar cheeky ballon to effect; César Morales is a charming light-footed boyish Aladdin, and Nao Sakuma an exquisite Princess Badr al-Budur. Bintley's generic choreography runs on smooth castors, but when it makes demands the dancers rise to them.
A pantomimic pleasure, Marion Tait, Aladdin's mother is a tiny comical figure who punches above her weight, and brings the Sultan, a padded Jonathan Payn, under her control with force of character and a pointing finger.
Sue Blane's costumes and Dick Bird's sets deserve a special credit, and indeed it is their work that makes the three-act, nearly three-hour-long show the spectacle it is. The giant ribcage staircase down into the cave, its stalagmites and stalactites changing colour with each jewel, the hammam with its beautiful Turkish tiles and mosque arches, the black silhouette house of the young married couple.
Bintley has evidently borrowed from Petipa and his classical ballets—ballet is a continuous chain of influences and cross-fertilisation—but he brings his gentle wit and charm to bear on Aladdin, witness the scene where a married Aladdin wants to go hunting with his friends, but his wife forbids it, only to weaken in the end.
A co-production with Houston Ballet Foundation, BRB's Aladdin London season is also a launch of their Campaign for the Future. In the present economic climate ballet, as well as the arts in general, more than ever has to seek philanthropic support. Christopher Barron, BRB's chief executive, asks us to visit www.brb.org.uk/SupportUs…
Reviewer: Vera Liber