Bon Voyage, Bob
Direction and choreography Alan Lucien Øyen
Tanztheater Wuppertal Pina Bausch
Sadler's Wells
–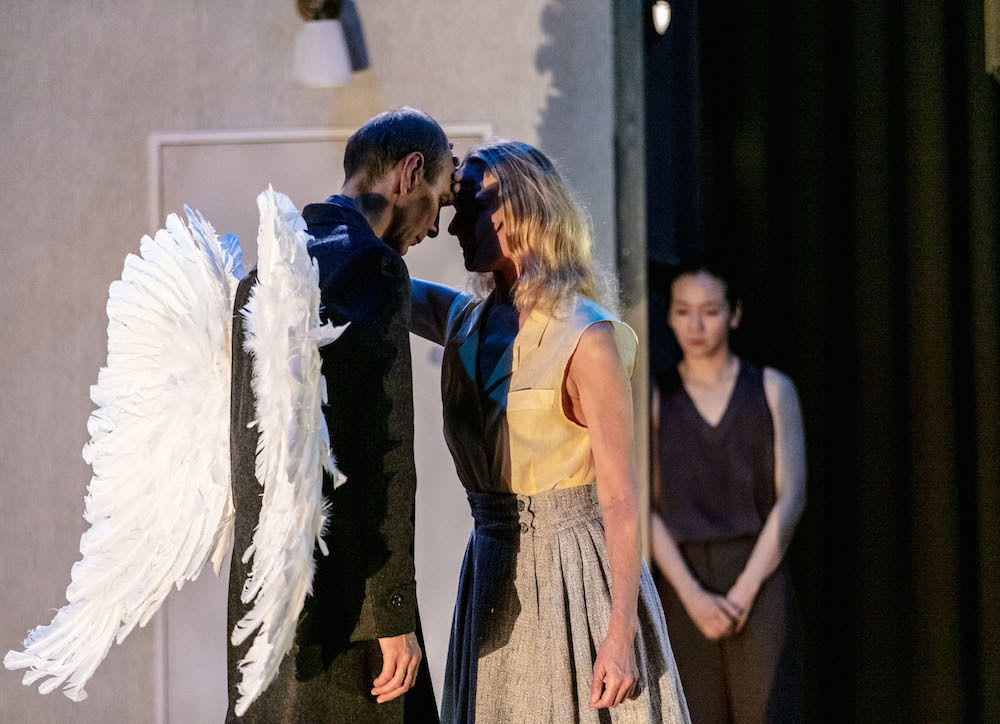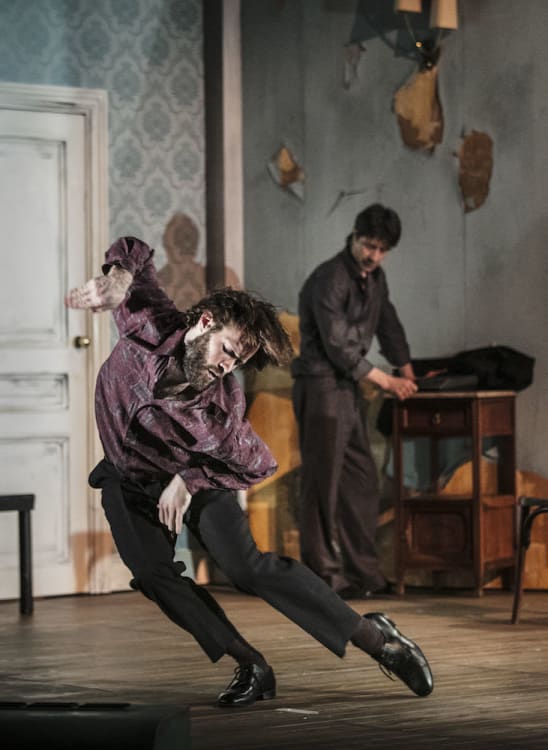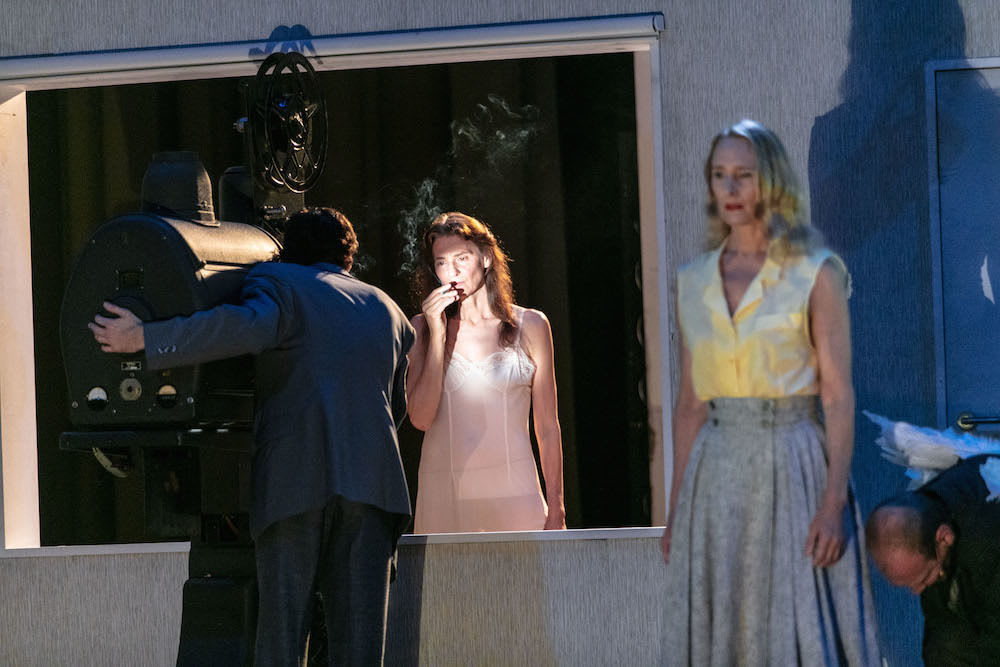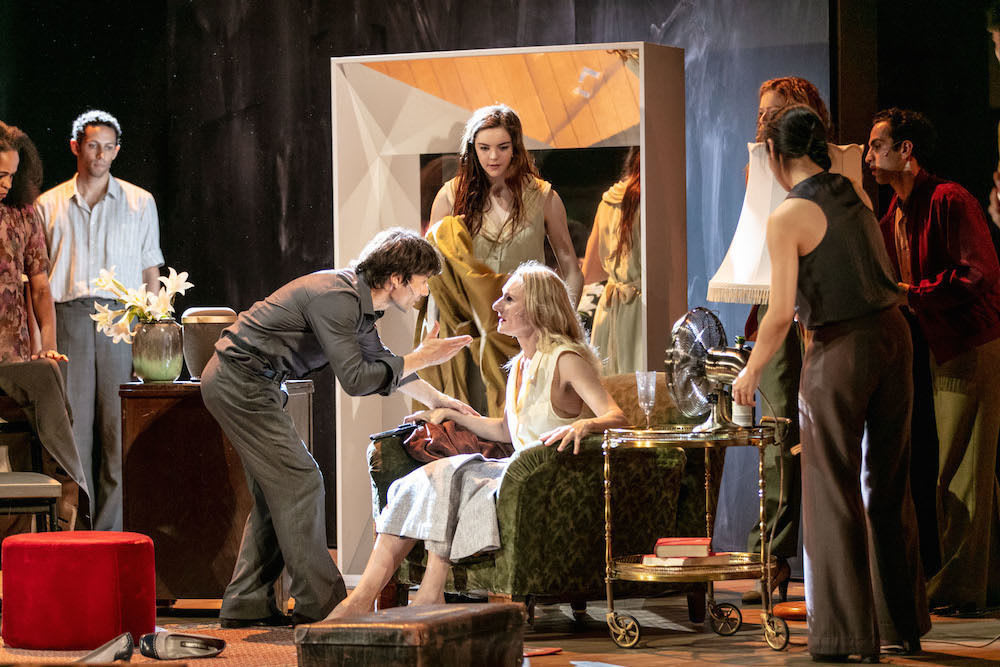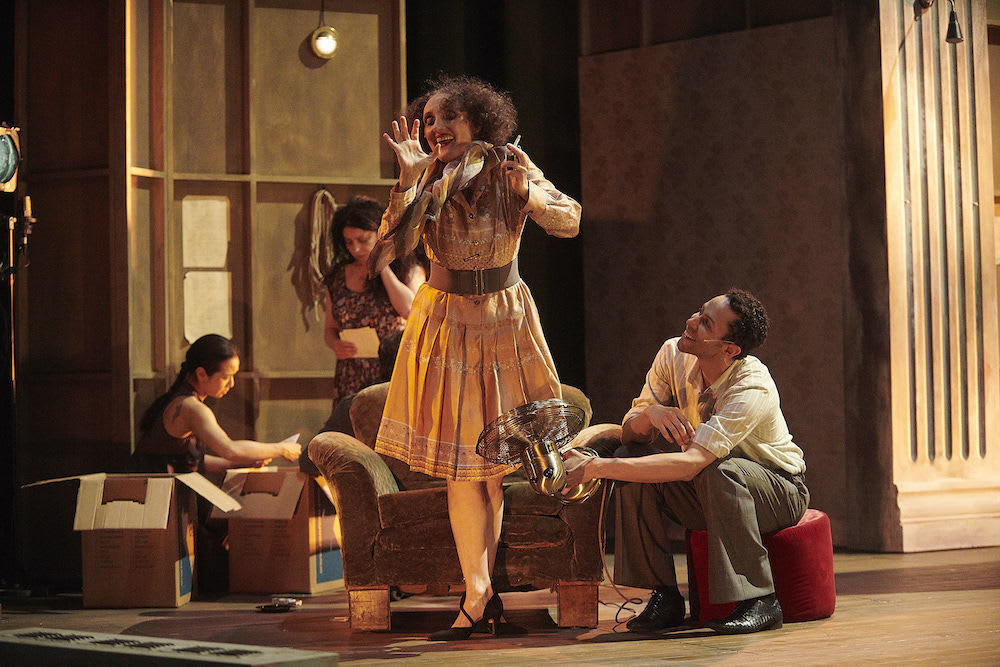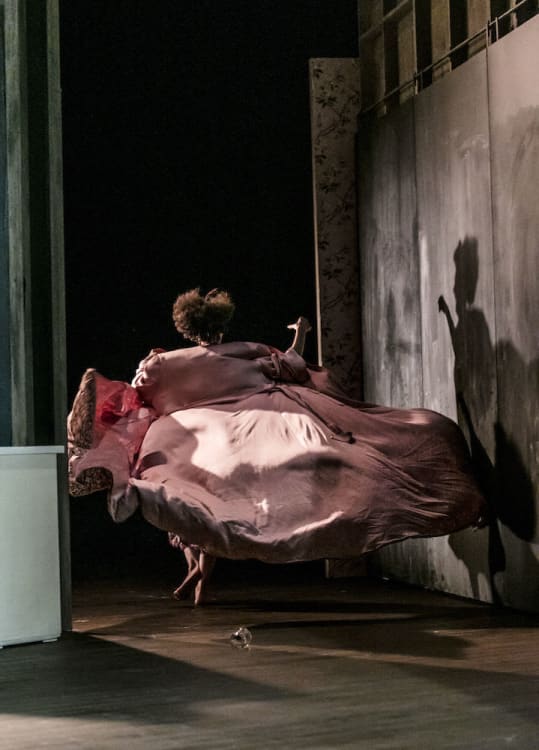 Nat King Cole sings "There Will Never Be Another You". The audience chatters before lights down. Andrey Berezin is already on stage ten minutes before curtain-up (a stage clock shows real time) and slowly the stage is peopled. In casual clothes, they are here for a rehearsal on a makeshift shifting set. Regina Advento dances a solo whilst the others chat. Old friends gather, drink, and Nazareth Panadero steps forward and asks us not to phone her… photos are OK.
Anticipation is high; there are many loyal fans (I include myself) in the auditorium. Music plays and Pau Aran Gimeno dances, beautifully, gracefully as shadows fall on the walls: muscle memory of Pina Bausch's choreography in his soft arms and twisting torso. Pina has undeniably left a permanent trace on all their bodies.
After Dimitris Papaioannou's ninety-minute love letter to Pina Baush, Since She, comes Norwegian choreographer, director and playwright Alan Lucien Øyen's three-hour commemorative cinematic compilation. Ten years late, but at least there is some actual dancing as opposed to mere movement. Interestingly, his process, as described in Sarah Crompton's programme notes, is similar to Bausch's—interrogation of the dancers.
"Resident choreographer of the Norwegian National Ballet and for his own company winter guests, Øyen seeks to reflect the human experience using dance and text." Out of this talk, a cacophony of voices, come narrative snapshot-short scenes, tongue-in-cheek role-play and expressive movement.
It's good to talk and they do talk—not always audible in the first circle (I gather in the stalls it is clearer)—in English and in German. Héléna Pikon tells of her brother's sudden death. Einsam / lonely is one word I recognise. One does feel einsam / alone after a lifetime with someone when they are gone. It is well known that the company misses Pina. Rainer Behr in particular seems very agitated. I am still here, he writes in chalk, imprinting his mark in the face of erasing death.
A matter of life and death and postcards: crime scenes, memories (as solid as water in a suitcase) and conflicted emotions, anger and grief, desolation and black humour. There's a blackboard, for sketches, words and angel wings. We play Hangman. It's a name, but not Pina's. No need for that, her spirit infuses everything down to the usual front row engagement: Advento, a cinema usherette, comes down amongst them with her tray of goodies.
Øyen has taken the memories entrusted to him and with sixteen of Tanztheater Wuppertal dancers, both from Pina's day and since—I spot nine of her original company—has created a series of voyeuristic scenarios on what looks like a film studio set with moveable walls and scenery.
As if from dreams or a childhood past, fragmented incidents, mostly to do with family, death and dying, its rituals and balm, recur and accumulate. I wish I'd told him I loved him… Suicide (Julie Shanahan needs a couple of takes to get that right on a hotel room film set), telegrams, brutal announcements of death over the telephone, house clearance, funeral parlours, platitudes, ceremonies, talking cures, talking corpses, morgues, a surreal surgical meal and lots of chairs.
Eddie Martinez morphs from mortician to grieving son delighting in seeing that he has his mother's legs, but they've given her corpse too much lipstick… she sits up and says there's never too much lipstick. How we need to laugh in the face of death. Aida Vainieri makes death look easy in her hospital bed, her final words calm. Don't we all want to believe this fiction?
"Are you scared of dying? I'm scared of living. It's the same thing?" Is it? We will all lose loved ones but how many of us will actually witness a person die? Death has been sanitised and kept at arm's length in the Western world. And religions with consoling words for the living, angels and promises of an afterlife make it bearable for believers.
Andrey Berezin in a full set of angel wings looks as if he's stepped out of Wim Wenders's 1987 film Wings of Desire. Wenders, a friend of Pina's, famously made the 2011 tribute film Pina about her. It was meant to be made with her, but he was too late. Pikon seems to be a stand-in for Pina herself, smoking a cigarette in camera close-up.
Dingy rooms with peeling wallpaper and an Edward Hopper transitory world speak of a European post-war life intermingled with American 'fifties noir. But the lengthy and uneven sequence of vignettes, mysterious, puzzling, tedious (a silent couple sits and stares as plumbers repair), fractious duets and heartfelt solos, miss Pina's astute choice of music, incisive editing and firm grip, the tension slack.
Øyen's cinematic influences, I imagine, must include Ari Kaurismäki or Fassbinder or maybe even Roy Andersson's A Pigeon Sat on a Branch Reflecting on Existence. Reflecting on Pina, on what she meant to them, on the droll banality of the human condition, the impossible notion of not being.
A funeral service in black attire then vivid dresses and men in evening wear in Kontakthof ballroom dance. This is echt Pina Bausch. And curtain down. A spotlight on an empty chair—the ultimate cliché—and the audience goes wild. It is wonderful to see the company again, old familiar faces, but this sincere reverential pastiche doesn't quite hit the spot for me.
Reviewer: Vera Liber