Boys Will Be Boys
Melissa Bubnic
Headlong Theatre
Bush Hall, Uxbridge Road
–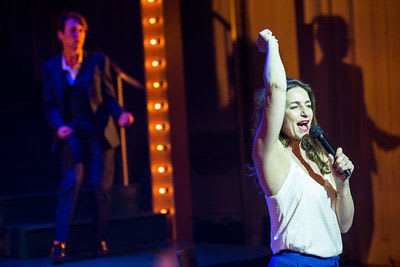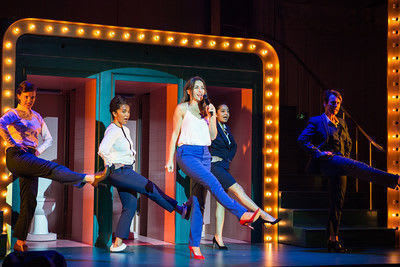 Many would agree that Headlong's finest hour came with their ruthless dissection of American financial power brokers, Enron. Laura Wade has since portrayed English puppies of the same pedigree in Posh.
Boys Will Be Boys explores very similar ground to those two pieces but injects a feminist edge.
Its hard-as-nails protagonist Astrid Wentworth, portrayed with a mixture of enthusiasm and resignation by Kirsty Bushell, is the only female broker in a company that excels at ruthlessly turning random bets into untold wealth.
While using her looks as a hook for clients, Astrid outdoes the boys when it comes to business, not to mention ingesting intoxicating substances.
The opening of the Bush Theatre's temporary home just along the road at Bush Hall, better known as a music venue frequented by, amongst others, Morrissey, Lily Allen and Judie Tzuke, initially suggests a variety show or cabaret.
The 100-minute performance commences as pianist Jennifer Whyte accompanies Miss Bushell through the first of a series of torch songs, broken with comic patter designed to establish her character's equality with the lariest of lads.
In business mode, she interviews Priya Sen Gupta, a doubly disadvantaged candidate as a woman from an ethic minority. Ellora Torchia's character rather inexplicably passes the test and becomes a talented protégée.
The problem in this industry (like politics) is that talent takes second place behind breeding and gender. As the performance pans out, we see that in reality, despite protestations to the opposite, Astrid is little more than one of the boys, even favouring a personal relationship with a glamorous prostitute, Chipo Chung as Isabelle.
Eventually, Priya's chance to climb a greasier pole than any that even Disraeli could conjure up comes along but at a cost.
In true Faustian style, she is asked by Helen Schlesinger's Arthur, the big boss, to sell her soul for promotion and the chance of some serious excitement.
It soon becomes clear that, despite the young aspirant's evident skill set, in this environment, nobody can win for long, though there may be a great deal of explosive fun to be enjoyed before the inevitable fire burns out.
Amy Hodge's production drifts seamlessly between the variety elements and the plot but fails to cover the thinness of the latter.
At its best, Boys Will Be Boys both highlights the talents of Kirsty Bushell and in a lesser role Ellora Torchia, while demonstrating the predicament of aspiring career women even in these post-feminist days.
Reviewer: Philip Fisher