Buried Child
Sam Shepard
The New Group
Trafalgar Studios
–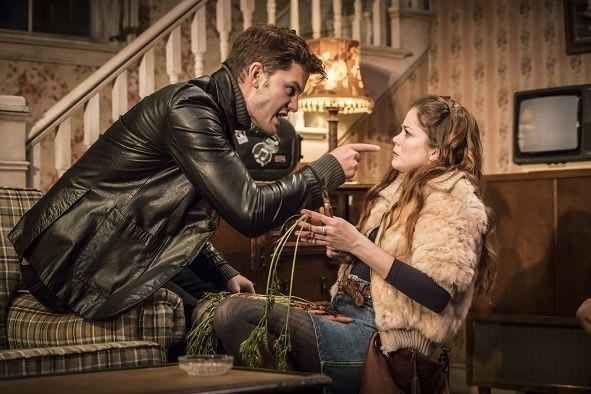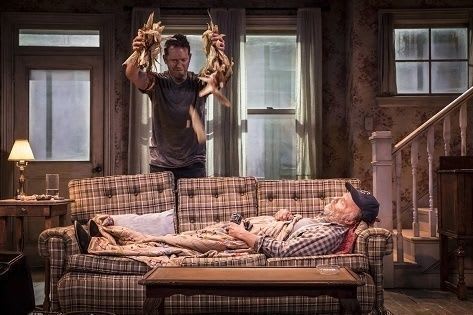 The Sam Shepard oeuvre is filled with plays that make little sense on the surface but usually have their own internal logic. Buried Child, first produced in 1978, fits perfectly into this class.
The New Group's revival originated in New York and has now been transported to London with a few cast changes, though utilising the same central performers and backstage team under director Scott Elliott.
The evening is set in a Derek McLane-designed tawdry family living room and built around an earthy but totally intoxicating performance from Ed Harris as Moody Dodge, a man who spends his time drinking, smoking, getting high on prescription drugs—and dying.
In the wilds of Illinois, he torments the younger generation, themselves middle-aged and fights with wife Halie, a born again Christian played with gusto by Amy Madigan, who gives as good as she gets.
The dysfunctional family starts out looking as if they might be participating in a downmarket tribute to Long Day's Journey into Night. However, when War Horse movie star Jeremy Irvine as grandson Vince arrives from New York with his cute girlfriend Shelly, given great depth by West End debutante Charlotte Hope, it begins to feel a little more like an American version of The Homecoming, admittedly reimagined by someone on some pretty hard drugs.
In reality, it is best to go with the flow and watch as prone Dodge manipulates his two sons, Barnaby Kay as Tilden, a man who has lost his marbles in New Mexico but found vegetables as a compensation and Gary Shelford's violent Bradley, short of no more than a leg that he chopped off with a chainsaw and temper.
Whenever it looks as if one has got the drift, Shepard leads the action off in a different direction, as this creaking dynasty fights and pontificates, seemingly heading nowhere in particular.
However, in the final stages of a 2¾-hour production containing two short intervals, sense suddenly begins to emerge in a work that explores the failure of The Great American Dream but also takes a cold look at the ways in which families, albeit only the most extreme and disappointed, can behave when the going gets tough.
Buried Child does not always make for easy viewing but Scott Elliott's production is beautifully acted and compelling, demanding that viewers think as they relish the bad behaviour.
Finally, the air of dazed, drunken confusion begins to lift a degree or two as a secret's finally brought to cathartic closure allowing the evening to take on some of the nuances of a Shakespeare history play, with elements of Henry IV Part One that bring it to an unexpectedly dignified and satisfying conclusion.
Reviewer: Philip Fisher