Henry IV
William Shakespeare
Donmar Warehouse
King's Cross Theatre
–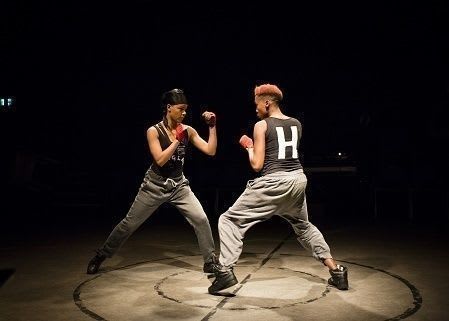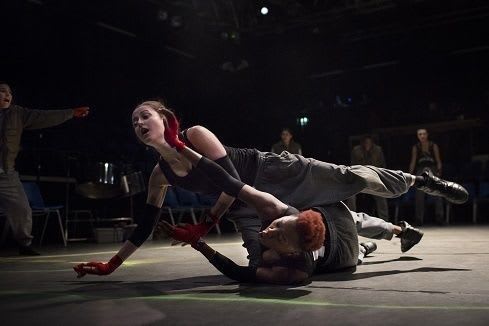 The middle presentation of Phyllida Lloyd's all-female Shakespeare Trilogy mixes ancient and modern with great dexterity.
Once again, the setting is a women's prison, set out in-the-round. This means that no audience member is any significant distance from the action.
The opening is prefaced by Clare Dunne's character, an Irish drug addict (like over half of female prisoners in Britain today), who will swiftly and ironically become the coke-snorting Prince Hal. Thus, the wastrel heir to the throne immediately takes on a contemporary relevance.
In the eyes of the King, Hal is far too matey with a brazen, cockney Falstaff, brought to robust comical life by Sophie Stanton.
This pairing is always funny and at times hilarious, particularly in a delightfully conceived robbery scene, complete with model car, bear and real, imitation Americans.
However, Hal's antics consistently irritate his stern, kingly father, once again Dame Harriet Walter ruling the roost in the person of a particularly humourless monarch.
While the intoxicated young man is gallivanting around sowing his wild oats, the country is in a state of turmoil, as a northern faction fronted by Jade Anouka as a super-fit, Hotspur begins to plot a bid for supremacy and the Crown.
For much of the two-hour running time, the company deftly balances a heavily cut version of the text, mostly drawn from Henry IV Part One with contemporary references, even dear President-elect Trump getting a mention that scholars might assert was not inserted into the original by Shakespeare. Then again, it has already been hinted by some that his character would make more sense written as a Bardic anti-hero than a real life character.
Increasingly through the day, the inter-relationships between the prisoners and those that they portray are allowed to develop, even to the extent of periodically interrupting the text.
This reaches a poignant peak when Zainab Hassan playing Mistress Quickly tearfully rushes from the stage after an accusation to many of loose living, presumably reflecting the reason why she is in prison to start with.
The afternoon (on a marathon day) builds to three showdowns, all involving a swiftly-maturing Hal. The first between Hal and Hotspur dramatically takes place on the battlefield (using the imagery of the boxing ring), while the second with Falstaff out on the street and the last at his dying father's s deathbed are each deeply moving in different ways.
Henry IV is the pick of a very strong day's theatre, forming a splendid construction that works on many levels and owes a great deal to a well-balanced and dedicated cast, at the head of which Clare Dunne, Sophie Stanton and Jade Anouka are all outstanding.
See also reviews of Julius Caesar and The Tempest.
Reviewer: Philip Fisher