La Cage Aux Folles
Music and Lyrics by Jerry Herman, Book by Harvey Fierstein, based on the play by Jean Poiret
Playhouse
(2008)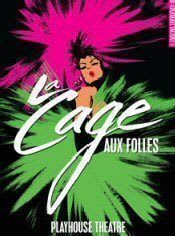 The latest West End transfer from that new theatrical powerhouse, the Menier Chocolate Factory might have surprised some who saw the original production. The underpowered Southwark production was fun but did not necessarily seem to have that extra something that it takes to draw in West End audiences.
The star, Douglas Hodge, twice delayed the original opening due to illness. He is now right on the top of his game and with the razzmatazz spruced up by director Terry Johnson and his creative team it is a sure-fire hit.
At this time of year, stars are often tipped by journalists to sweep the board at the impending round of awards ceremonies. For his performance as Albin aka Zsa Zsa, Hodge might be an each way bet to carry off both Best Actor and Best Actress prizes in the musical categories, so mincingly transvestite is he in trousers and glam when he dons a frock.
While at times the lead carries this musical comedy, there is an awful lot more to a show that now has great production qualities.
Courtesy of Harvey Fierstein, best known for his Torch Song Trilogy, there are lashings of incredibly camp, tongue in cheek humour, centring on the high class St Tropez drag club of the title. La Cage also follows a romance featuring a young couple trying to allow love to conquer excessive pride and a bigoted politician as increasingly farcical problems get in their way.
Denis Lawson makes a good straight(er) man as night-club owner Georges, though he is not a singer to compare with Philip Quast who originated the part for Johnson. The supporting cast, including TV stars Paula Wilcox and Tracie Bennett, ensures that the laughs flow thick and fast.
These newcomers to the cast are all frequently overshadowed by Jason Pennycook once again playing the butler/maid Jacob. He is a real scene stealer, flouncing around camp as anything, mirroring and sometimes outdoing his temperamental master.
After a first half of risqué comic cabaret and scene setting, everyone peaks in the set-piece meeting between opposites. Then, the straight-laced parents (a proud, spluttering Iain Mitchell and meek Miss Wilcox) of the putative bride Anne (Alicia Davies) are forced to meet their counterparts and put-upon prospective son-in-law Jean-Michel (Stuart Neal). This clash of cultures takes place first in the sanitised and almost sanctified boudoir that had previously exuded Albin's sensitive personality but also great love for his family, and eventually the club next door.
Jerry (Hello Dolly) Herman's music is generally jazz-influenced and contains a series of showstoppers, often at their best in solo and duet form, especially the rousing We Are What We Are but periodically encompassing the whole cast for example in the rousing final rendition of the title song.
The costume budget is patently lavish and it shows, while Lynne Page's choreography is now brilliant, primarily in the hands and twinkling feet of a perfectly-drilled sextet of exotic drag dancers. This team manages far better on a relatively narrow proscenium with depth than at the wide, shallow Menier.
This remake of a much-loved French film classic is supposed to be a limited 12-week booking but even in a credit crunch, provided that Douglas Hodge does not have any prior commitments, has the (expensively-waxed) legs to last a lot longer.
Visit our sponsor 1st 4 London Theatre to book tickets for La Cage Aux Folles
Reviewer: Philip Fisher