Calendar Girls The Musical
Tim Firth, Gary Barlow
David Pugh, Dafydd Rogers, The Shubert Organisation
Donald Gordon Auditorium, Wales Millennium Centre
–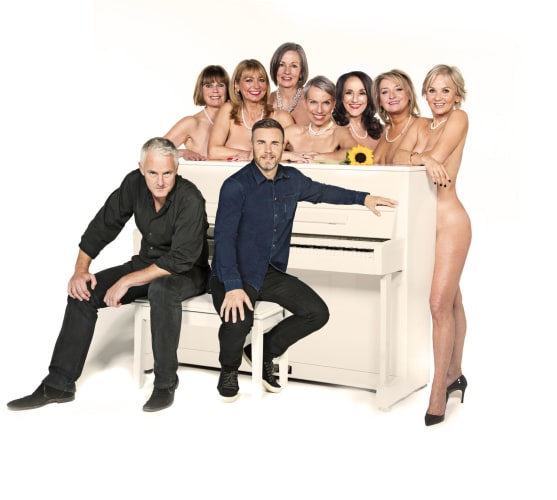 It was in 1998 that the events occurred which led to the inception of the real-life Calendar Girls phenomenon. Following the death from non-Hodgkins lymphoma of one of their husbands, a group of Yorkshire-based Women's Institute members came together to create a tasteful nude calendar in order to raise funds for their local hospital.
When the calendar sold in huge quantities, the women became a worldwide media sensation and their story was turned into a hit movie in 2003, following which co-screenwriter Tim Firth adapted it into a successful West End play. This musical version, with tunes by Gary Barlow and initially entitled The Girls, opened in 2017 and has been similarly popular in London and nationwide. It arrives in Cardiff in the middle of a UK tour which will take up most of the rest of the year.
Matt Ryan's lively production starts with a fast-moving evocation of village life featuring most, if not all of the ensemble cast, on Robert Jones's set, dominated by a rural backdrop which, it transpires, is ever-present. We are introduced to loving couple Annie and John—Sarah Jane Buckley and Phil Corbitt; although it quickly becomes clear that the latter is having health problems.
Annie is a member of the Knapely WI, which also includes her spirited best friend Chris, played by Rebecca Storm; as well as Sue Devaney's Cora (single mother and church organist), Lisa Maxwell's Celia (cosmetically enhanced former air hostess), Lesley Joseph's Jessie (ostensibly stern retired teacher), Julia Hills's Ruth (mousy with a serially unfaithful husband), and spinsterish sisters the Misses Wilson (Claudia Bradley and Ellie Leah); all overseen by officious WI chair Marie (Judy Holt).
The younger generation is represented by Tyler Dobbs and Danny Howker as Cora and Chris's would-be laddish sons and Isabel Caswell as Marie's rebellious daughter. Talented and likeable as they are, though, they are inevitably overshadowed by their older cast-mates.
The first act of Calendar Girls sees the community coping gamely with the slow deterioration in John's condition; thus despite the chirpiness both of the characters and Barlow's score, it is inevitably something of a downer. Chris's calendar inspiration, then, based on a promotional item sent to her florist husband Rod (Ian Mercer), comes as a welcome boost.
Act two focusses on the build-up to the photoshoot, with much self-doubt and official disapproval in evidence. In contrast to the film, which lost focus towards the end by depicting the Calendar Ladies' media prominence, the musical climaxes with the session itself (coordinated by Derek Elroy's hospital porter / photographer), which is something of a comic set-piece (Jos Houben is credited with comedy staging).
Firth's script is replete with Northern grit and humour and, if Barlow's tunes aren't the most memorable (there's nothing as strong as Take That's "Patience" here), they at least serve to foreground the witty lyrics, which inevitably call Victoria Wood to mind; the live band, led by Nick Pinchbeck is excellent.
Buckley and Storm are powerful, effortlessly sympathetic leads, but comedy veterans Hills, Joseph, Devaney and Maxwell each get a chance to shine in solo spots; Ruth's poignant ode to the Russian friend (in a bottle) who keeps her sane being perhaps the musical highlight.
In common with another Yorkshire-set production The Full Monty, Calendar Girls has a heartening focus on community solidarity, personal empowerment through body-confidence and seizing the day in the face of adversity. It certainly struck a chord with the largely female audience in a pretty much full Donald Gordon auditorium.
Reviewer: Othniel Smith