Can't Buy Me Love
Kate Edgar (musical director)
Salisbury Playhouse
Salisbury Playhouse
–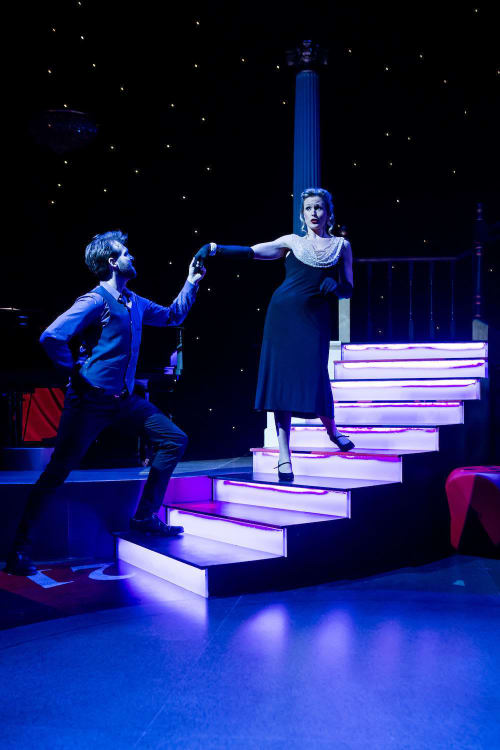 You've got to hand it to Gareth Machin, artistic director at the Playhouse. He's not generally short of ideas and he had a particularly good one about this time of year in 2013.
Look, you've got the pantomime in the main house, so what about making the show in the Salberg, the Playhouse's studio theatre, somehow related?
In 2013, the panto was Dick Whittington and his Cat, marking Dick's painful but ultimately triumphant rise to the London mayoralty, so the Salberg had London Calling, a lovely programme of music and dance, all with a London theme. In 2014 it was Mother Goose, so they rather ingeniously came up with Come Fly With Me where we were transported, through dance and song, around the world to sunny places where we could forget that it was actually December in Salisbury, with its grey skies and icy pavements.
This year they've chosen Cinderella, the familiar story of aspiration and ultimate achievement. So what's their chosen theme for their show in the Salberg? Money, of course, and sets don't convey a sense of affluence more convincingly than this one, with its impressive illuminated staircase, grand piano, downstage marble floor with roulette table markings and, above all the opulence, that vast starlit sky.
Just four actors, all versatile, talented musicians and dancers. Kieran Buckeridge, normally seen as the dame in the pantomime, who was in both Dick Whittington and His Cat and Mother Goose, together with Tomas Wolstenholme, play a variety of characters, both rich and seriously indigent, subtle costume changes indicating the difference. Who could forget Tomas's brash "It's Money That I Love" or Kieran's poignant "Brother Can You Spare a Dime?"?
Then there are the two girls, Christine Holman and Susannah Van Den Berg, both lovely. Susannah we remember with joy from A Man of No Importance, shedding her seven veils with hilarious effect, this time wheeling a supermarket trolley filled with household bills round the acting space. Christine, too, alternately feisty and seductive, but always glamorous, I certainly hope we'll see again.
There are plenty of other songs to play around with, twenty-four of them altogether, the obvious ones like "Who Wants to be a Millionaire?", "Big Spender" and "Diamonds are a Girl's Best Friend". And there's the Monty Python's "Sailing on the wide accountancy" and the show's title song, "Can't Buy Me Love", reminding us that there's a limit to what even billionaires can hope to achieve in terms of what's really worth having.
And full marks to the Playhouse for grabbing the opportunity—who could blame them?—to put out a plea for some special funding. We know the Salberg needs new seats. The stuffing's showing in the one I'm sitting on. So why not, while we've got the most lavish set the Salberg's ever seen, in contrast to the shabby furniture, set out your begging bowl?
But with all this concentration on money, and this being a rather expensive time of year, is there a single member of the audience, I wonder, who's not, at some time during the performance, silently calculating their own financial position? You too? Good. I'm not alone, then.
Still, there's only one problem left for Gareth to worry about, really, isn't there? And that's, now that he's established the tradition, finding a suitable show to team up with next year's pantomime, whatever that happens to be. But he'll do it.
Oh yes he will.
Reviewer: Anne Hill