Catch 22
Joseph Heller
Northern Stage
Richmond Theatre
–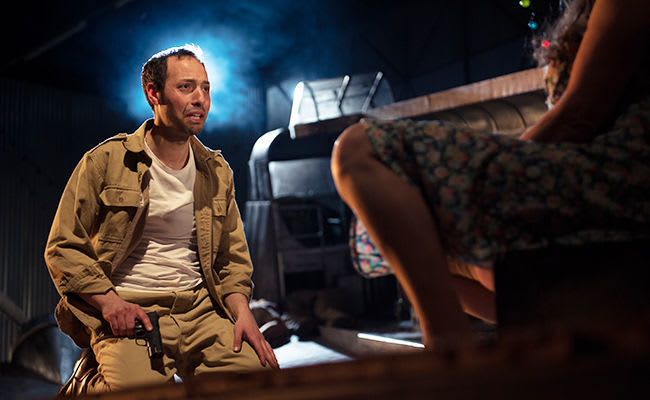 Back in the early 1970s, Mike Nichols attempted to deliver an impression of the rich joys of Catch 22 on film without really justifying the effort by illuminating or adding much to the original sublime experience.
Therefore, prior to seeing Joseph Heller's own adaptation of the World War II satire, it was hard to conceive how one of the greatest novels of all time would not be a disappointment on stage.
Weighing in at a slightly flabby 3¼ hours, this revival, directed by the ever-adventurous Rachel Chavkin of The TEAM for Northern Stage, manages to catch the anarchic spirit of the book and provide much rich entertainment.
It is graced by an outstanding set design by Jon Bausor, which forces the actors to clamber around a gigantic, symbolically cross-sectioned American bomber.
Catch 22 is a dystopian nightmare depicting the madness of war which became so iconic that it literally introduced a new concept to the language.
Philip Arditti wonderfully catches the mad sanity of its protagonist Yossarian, a flyer who wants out after risking his life for the 51st time due to the flagrant, murderous ambition of his commanding officer.
The airman swiftly encounters the first of the evening's numerous moral dilemmas. That is the most famous of them all, whereby to escape from the war it is necessary to be insane but, by definition, anyone who has the wit to request escape from the war cannot be insane.
From then on, his experiences are equally comic and tragic, which will set audience members thinking as they are laughing.
While Yossarian dominates the play, other characters have their moments. Ruling the roost is Michael Hodgson playing Colonel Cathcart, aided by David Webber's ineptitude in dual roles as Major Major / Doctor Daneeka.
The real power though lies with Milo Minderbender, the ultimate immoral capitalist, while Geoff Arnold turns Chaplain Taplin into a carbon copy of The Cowardly Lion from The Wizard of Oz.

Throughout the evening, Heller wryly amuses by making viewers think laterally about the horror and absurdity of wars and those who wage them. His repeated use of antithesis should wear thin but somehow, so surely does the writer hit his designated targets, it never does.
The simple measure of whether a play drawn from a classic book has been a success is that impetus to create an immediate desire to visit the nearest bookstore, library or cloud to pick up a copy of the original and start reading. Rachel Chavkin's cleverly thought-out and meticulously directed touring production does exactly that.
Reviewer: Philip Fisher