Charles Dickens and the Great Theatre of the World
Simon Callow
Harper Press
Released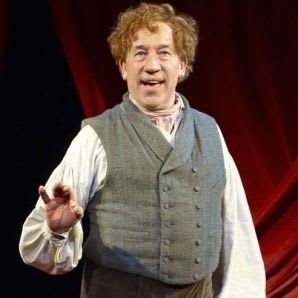 Simon Callow's take on Dickens's life makes a nice contrast with the biography written by Claire Tomalin. This is not wholly surprising, since Callow sets out from a different angle, that of an actor looking at an erstwhile peer.
As such, Charles Dickens and the Great Theatre of the World tries to achieve two different goals. First, it is a relatively lightweight but enjoyable biography. Secondly, Simon Callow concentrates to a significant degree on the acting, performing and playwriting aspects of the career of a man now remembered by the public purely as a novelist.
The biographical side does not go into nearly as much detail as Ms Tomalin but is written in a breezy fashion that either wittingly or otherwise can come across as akin to a high-quality Victorian novel about a novelist, utilising the style made so popular by its subject.
In this reading, Dickens is a truly Dickensian character who always worked himself into the ground but was not averse to enjoying pleasures.
In addition to being a journalist and novelist, he loved nothing better than to partake of fine wine and food, travel and go for long nocturnal walks to clear his head for the next burst of creative intensity.
As Claire Tomalin has discovered, the great British novelist was also a ladies' man who left his seemingly rather dull and lumpy wife for a glamorous teenaged equivalent, much to the shock and disgust of family and friends.
Where Simon Callow justifies yet another biography in the author's bi-centenary year is with his concentration on the other side of Dickens's existence.
In addition to falling in love with that young actress Ellen Ternan, Dickens was a performing star in his own right.
At a young age, he actually contemplated a career on the stage and only ill-health prevented him from attending an audition that could have changed his future. By then, he was already a big fan of Charles Matthews and soon to be a friend of William Macready, two of the best actors of their time.
Throughout his foreshortened life, he enjoyed amateur theatricals at home and also writing lightweight plays, often with his friend, The Woman in White author Wilkie Collins.
So successful were these ventures that Dickens found himself performing in front of the great and the good including prime ministers and Queen Victoria.
By any standards, this is a major achievement as a secondary activity and there were those who believe that he was as good an actor as anybody performing at the time, though this may have been fawning flattery rather than an objective view.
He then extended his talent by creating Readings (Callow is very keen on this capital R to emphasise the importance) of dramatic extracts from his novels that entranced thousands in both Britain and America. Indeed, so popular were they that the public could never get enough and ultimately it is argued over-exertion in this connection was a significant contributing factor to the novelist's early death.
Thanks to its unusual perspective, this is a fascinating book that sheds fresh light on a man about whom we all thought that we knew everything. It helps a great deal that Simon Callow is an actor himself and therefore recognises the many traits in Dickens that would be less obvious to the untrained eye.
Reviewer: Philip Fisher