Charlie and the Chocolate Factory – The Musical
Based on the novel by Roald Dahl, book by David Greig, music and lyrics by Marc Shaiman and Scott Wittman
Warner Bros Theatre Ventures, Langley Park Productions, Neal Street Productions
Theatre Royal Drury Lane
From

Listing details and ticket info...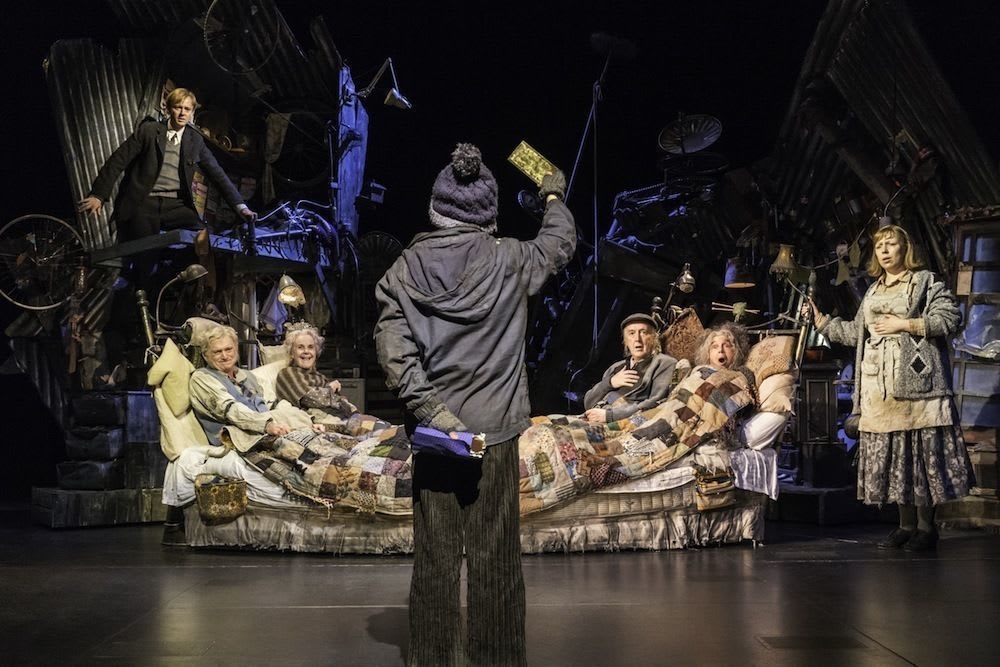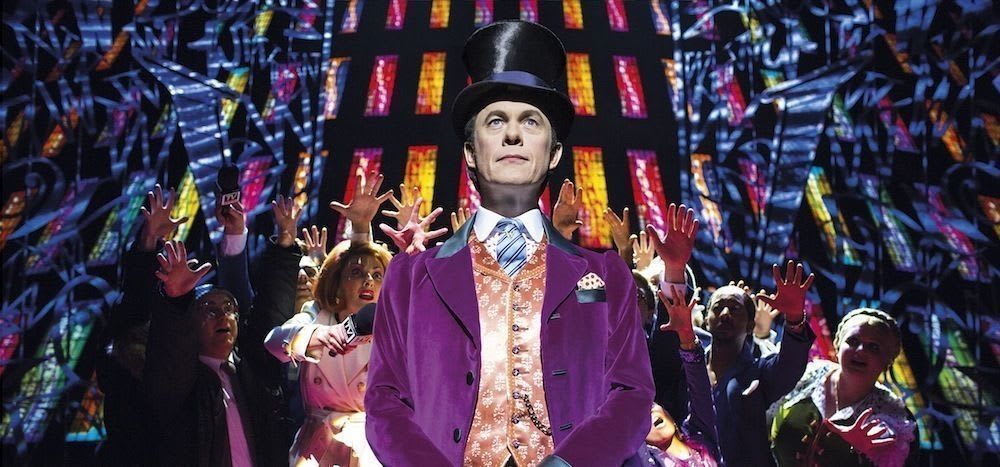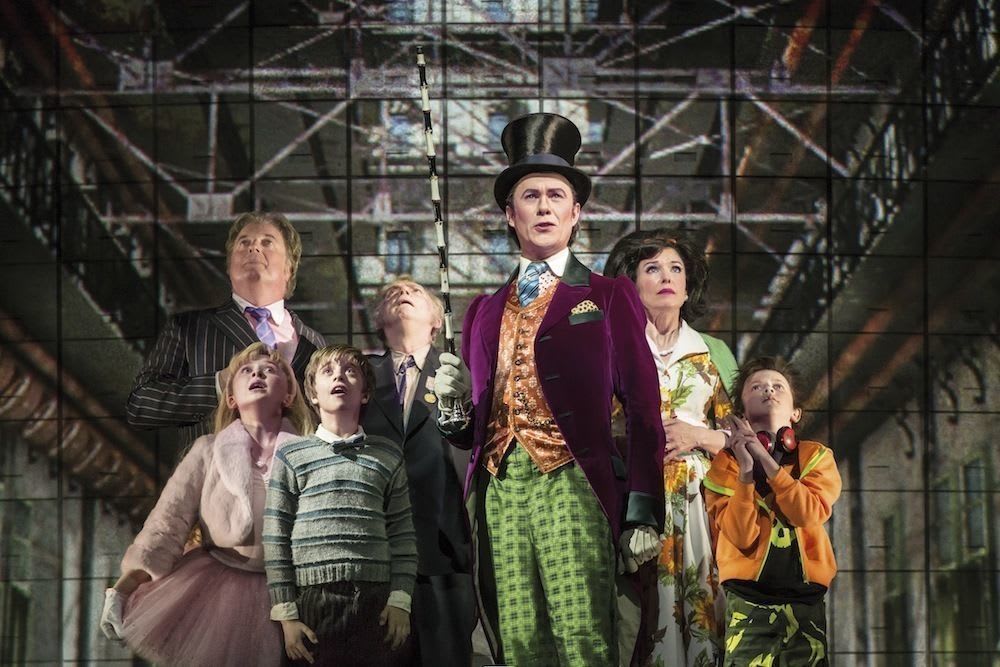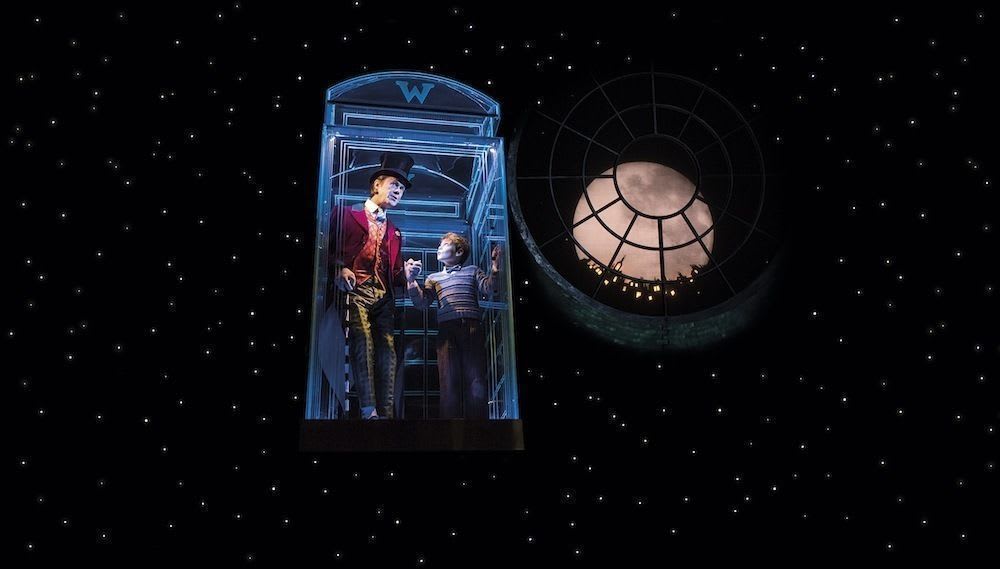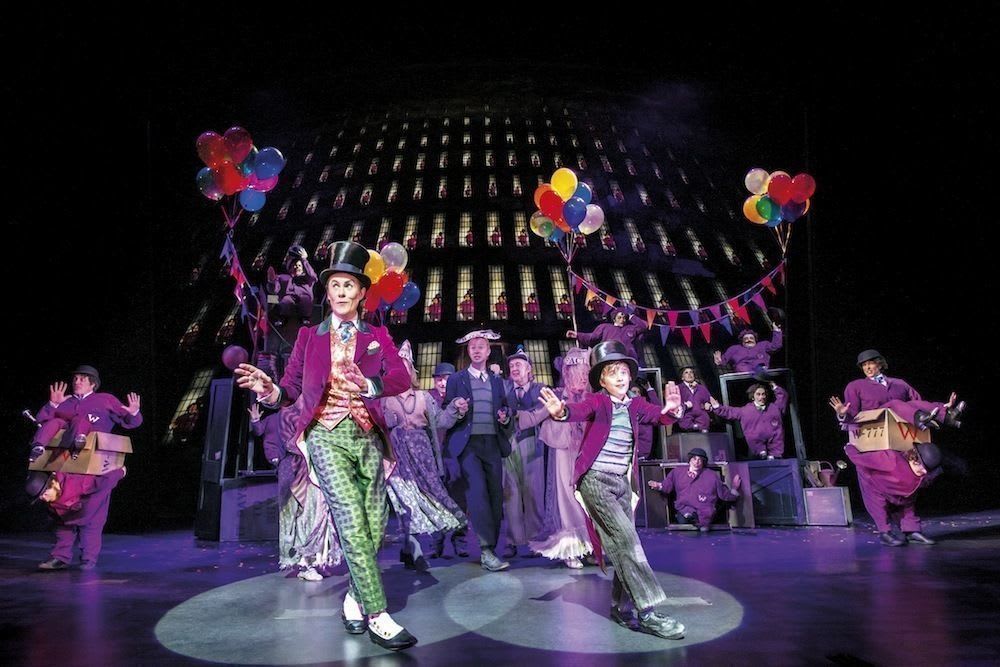 Warning: danger of too many superlatives for this five-star critic-proof show. Hard to please, especially when it comes to musicals, I can't believe I've just written that.
Playing to packed out houses for a year now to audiences prepared to pay West End prices, and loving it, Charlie and the Chocolate Factory, Roald Dahl's much-loved book, is transformed into a feel-good magical show, which has us rooting for poor Charlie Bucket living on cabbage soup, scavenging for scraps.
Will he, won't he, against ginormous odds, get that last Golden Ticket to visit Willy Wonka's Factory? And will he, won't he win the prize against four other obnoxious children? What do you think?
Charlie is such a good boy, and Sam Mendes with his amazing creative team is a good boy too, pulling off a tremendous triumph, satisfying finicky lovers of Roald Dahl's book, the child in every adult, the aspiring adult in every child.
Mark Thompson's set is a sight to behold: in the first half—and this is a show of two distinct halves—Dickensian rubbish tip which opens into a junk-filled Curiosity Shop Bucket household interior, and in the second a wacky Wonka world of underground passages, gondolas, glass sky lifts, Invention and Imaginary Rooms, colour and pizzazz.
And Oompa-Loompas—choreographed vigorously by Peter Darling with respectful nods to Busby Berkeley, Charlie Chaplin's Modern Times, Singing in the Rain. Cinematic references proliferate. See if you can spot them.
Music hall and shadow puppets, soft shoe shuffle and funky house, shooting stars and robots called Beryl and Bertha, hi and low tech special effects, detail so fine that in Mrs Teavee's (Josefina Gabrielle) suburban fifties house I spot a fondue set and cocktail shaker.
And the magic of stories, stories within stories that trigger memories (just like Grandpa Joe's)—why am I thinking of Mary Poppins, Bednobs and Broomsticks—and then there's Leslie Bricusse and Anthony Newley's "Pure Imagination" number that links us back to the 1971 Gene Wilder Willy Wonka film.
A clever complex weaving, a collection of visions and illusions, something for all ages, and the overseer of it all is Sam Mendes, who says he's only the yes and no man. What a team he's collected. Astounding: a huge unsinkable transatlantic liner of a show.
Paul Pyant's lighting, Jon Driscoll's video and projection design are crucial to the vast undertaking, but none so much as puppet and illusion designer's Jamie Harrison's. Willy Wonka pops up all over the place: like the Scarlet Pimpernel we spy him here, we spy him there.
The creatives are a constant, but the cast naturally changes. Like Dr Who, Willy Wonka is a time traveller and a shape-shifter. And as with Doctor Who I foresee a line of Wonkas stretching far into the future.
Alex Jennings, taking over last month from Douglas Hodge, brings a marvellous mimicry to Wonka, shifting his vocal chords from accent to accent. I even detected some Alan Bennett in there. And Professor Higgins and Peer Gynt and Two Clever By Half (all Best Actor Olivier Awards for him)…
In Mad Hatter top hat and vivid tailcoat, waistcoat and spats, enigmatic Cheshire Cat grin and arched eyebrows in place, he appears in the dark Penny Dreadful doorway of his reopened factory beaming like The Cat in the Hat. And proceeds to do mischief on his young visitors.
Upright military bearing, he blows hot and cold, mercurial in his changing moods. Keeps the children on their toes, and disposes of them unceremoniously.
Greedy Augustus Gloop in the waste pipe, Veruca Salt rejected as a bad nut by squirrels working a conveyor belt, gum-chewing Violet Beauregard blows up and pops, her bits cascading down on us, and Mike Teavee is reduced to a puppet that fits in his mother's handbag.
The children are awesome. Aged ten to twelve, three or four cast for each role, I'm guessing from their photos that my young companion and I are seeing Rhys Lambert as Charlie, the sweetest of boys, who holds the stage and his own against the tall Jennings with quiet confidence and scrumptious characterisation.
Dane Juler, getting pinker and pinker (on a hot night) in his fat suit, sings beautifully, does a good Bavarian accent and burps on cue as Gloop, Hannah Howland has her moment as a ballerina in a Nutcracker sequence, Rhianna Dorris hers in a vacuous celebrity rap dance, and Dylan Standen is now obsessed with computers rather than TV.
Updated, riffing on contemporary mores and fads, Marc Shaiman and Scott Wittman lyrics are full of wit and perspicacity, and David Greig has written a brilliant book, lines that zing and hit the mark.
Barry James is now Grandpa Joe, formerly played by Nigel Planer, and he is a delight, telling tall stories, a stimulus for Charlie the Inventor's imagination, as Roald Dahl has been in different ways for all involved.
Impossible to name-check everyone, the cast is large, suffice to say there is not one fly in the ointment.
Reviewer: Vera Liber