Check Up: Our NHS @ 70
Mark Thomas
Go Faster Stripe
Theatre Royal, Wakefield
–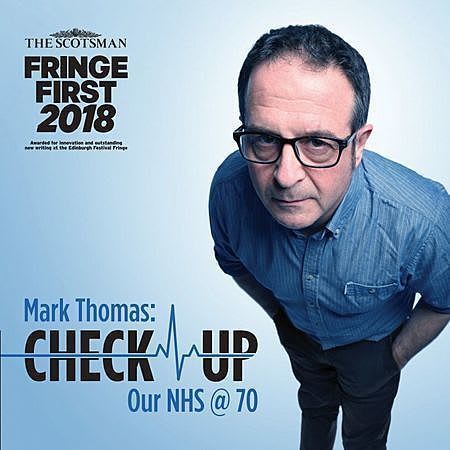 As our already cash-strapped NHS is being pushed way beyond its limits by the current coronavirus crisis, it's a very good time to look again (although I missed it first time round) at Mark Thomas's passionate and meticulously researched show celebrating our health service's seventieth anniversary, which appeared in Edinburgh in 2018 and subsequently toured the UK. He's made it easier to do that by making this recording of a performance at Theatre Royal Wakefield during that tour 'free' to download for a limited time, conditional on a donation to the food bank charity the Trussell Trust, "anything from a quid to a million."
The show begins with a public information film from 1948 to announce the beginning of the National Health Service, but the whole thing is framed by a conversation between Thomas and a GP in which he asks the doctor to explain all the ways in which he could die, as a 54-year old man in his current state of health and fitness. Part of the comedy comes from the glee with which the GP explains all of the potential devastating conditions he could contract, but for each, the conversation pauses as Thomas investigates further.
Thomas has spoken to doctors, politicians, health experts, nurses, administrators and other specialists to put together this show, as well as spending time in an A&E department, a renal unit and with a specialist nurse dealing with patients with dementia. Whether or not you agree with his conclusions, you can't argue that his opinions aren't well-informed, and so you would need to do a great deal of research to argue against him.
The energy of his performance is mesmerising as he recreates the various scenes and interviews he describes, adapting himself to play all of the people he spoke to, and bringing plenty of laughs into the dialogue but able to bring the audience down with a crash at a sudden tragic event or shocking piece of information. And there's plenty of shocking information, like the huge difference in life expectancy between people who live near Grenfell Tower and those who live near Harrods, in the same London borough. Or that opening up the NHS to tenders from the private sector costs over a billion pounds a year and brings no benefit in return. Or that Frank Field, the Labour politician who brought PFI (Private Finance Initiative) into the NHS, told Thomas that his biggest regret was PFI.
There's no pretence of balance—as with all of Thomas's shows, he is coming at the subject from his own left-wing perspective—but the information he does provide is difficult to deny. On the larger scale, more money into the health service has been shown to equal better health care out of it—the recent Tory 'gifts' to the health service don't begin to repair the damage that their cuts have already done. At the smaller level, the commitment of the people on the ground who work too hard for too long and for too little reward, which he shows through anecdotes of moments he witnessed while shadowing healthcare workers, can bring a tear to the eye.
Even on a small screen, Thomas comes across as a charismatic whirlwind, totally committed to the subject he is enthusiastically communicating to us with an actor's sense of character and structure and a comedian's sense of storytelling and timing. Get it while you can.
Reviewer: David Chadderton