Chef
Sabrina Mahfouz
Just for Laughs Theatricals
Soho Theatre
–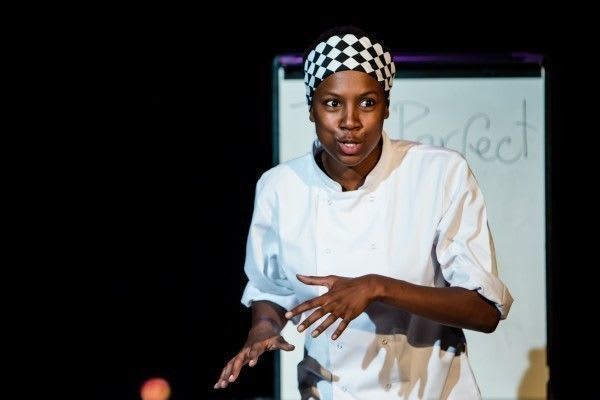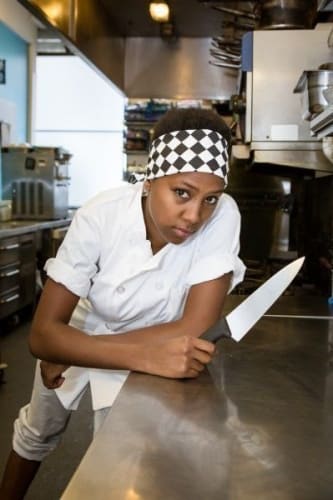 Seeing mediocre plays competing on the Edinburgh Festival Fringe can badly affect one's judgement when something that seems special comes along.
All too often, in the cold light of London a year later what had seemed exceptional is found out.
If anything, this award-winning monologue by the highly talented Sabrina Mahfouz is even better in its new incarnation in the smaller Upstairs space at Soho.
The piece benefits greatly from impeccable delivery by Jade Anouka under the direction of Kirsty Patrick Ward.
The emotive actress plays a chef with a background as chequered as the traditional headband of her trade.
To call her past troubled understates the case immensely. In particular, a violent ex-army father made life difficult, never more so than when the youngster accompanied him on a harsh boat trip around the Scottish islands.
That though was her initiation as a chef, a career that she clearly finds captivating. Indeed, her patter (borrowed from Ollie Dabbous) could compete with some of the best of those foodie experts that TV so joyously laps up.
It doesn't take too long to discover that the kitchen from which she is so captivatingly telling her story is not located in a classy Mayfair hotel or trendy West End bistro.
Instead, she now has the perilous job of preparing meals such as "calming" egg fried rice for her fellow inmates at an unnamed prison.
Only slowly does the playwright reveal the arguably generous crime that landed the fast-talking wizard of the kitchen there in the first place.
By then, we have learned about her favourite meals, the ups and downs of a generally successful career and the hardships that she so nearly overcame.
However, the drama of the night before the play takes place changes the nature of a presentation that lasts little more than three quarters of an hour but still packs a mighty punch.
Not only does this alter our perception of the protagonist's predicament but also our reading of her apparently sympathetic character, which becomes at best ambiguous.
Whilst the plotting is intriguing and amusing, the real strength of Sabrina Mahfouz's writing lies in her background as a poet. Words zing through the air from the mouth of Miss Anouka in delightful combinations that illuminate the story and should bring a smile to the face of every visitor to a short play that is well worth a look.
Reviewer: Philip Fisher