Chicken Shop
Anna Jordan
Epsilon Productions
Park Theatre
–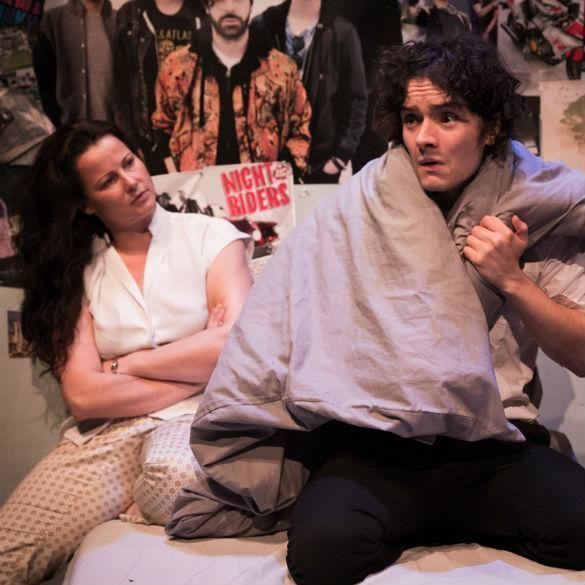 Those that have seen Freak in Edinburgh or at Theatre 503 will realise that Bruntwood Award winner Anna Jordan is an young playwright to follow. Her willingness to take on difficult issues combined with an ability to create and manipulate believable characters delivering convincing dialogue is rare.
This work, meticulously directed by Jemma Gross, the Artistic Director of Epsilon Productions, had its genesis further back but has only now been developed into its current form.
In its early scenes, Chicken Shop might not quite have the intensity of the shorter play but it still packs a solid punch while shining a light on the seamier side of contemporary London. Once it gets into its stride, this is a searing work with the ability to horrify as well as move.
On a cleverly compact studio set designed by Flo Hazard and comprised of three separate rooms at two locations, a pair of seemingly unconnected stories is set in train.
The first follows 16-year-old Hendrix, a typical bullied wimp played with appropriate sensitivity by Jesse Rutherford.
As if hateful classmates weren't enough of a burden, the lad is also having difficulties in coming to terms with Katie, his caring (earth) mother's dippy new, Australian girlfriend.
Life was never going to be easy with a trio of highly-strung characters under the same cramped roof, particularly when one of them is a desperately shy, seemingly friendless youngster.
The gender issue is not the problem, since this is one of the first plays to address the problems of teenaged boys born to lesbians and Katie is the third consecutive not-quite father/mother.
More difficult is Hendrix's continuing attachment to number two—biker Meg, who has departed to Vietnam for the ride of her life. By comparison, hysterical artist Katie is a very poor companion for his lonely mother, needing nearly as much support as the troubled teen.
Angela Bull is Mum Hillary, torn between the two and unwilling to accept that needy Katie, played by Millie Reeves, is bad news for all concerned, however cute she might be.
The third room on the set is a bedroom occupied by Moldovan prostitute Luminita, played with great commitment and feeling by Lucy Roslyn.
We initially see this kidnapped and duped sex slave with her horrible Hungarian pimp, John Last as Leko.
The hold that he has is so powerful that she will not even open the window over the eponymous takeaway emporium, let alone disobey this sleazy trafficker or attempt escape.
In a somewhat unlikely twist, Anna Jordan brings the two strands together when kind, caring Hendrix decides to pay Lumi a visit.
The sex is a disaster, but she helps the young boy to understand himself a little better and prepare for manhood, while he offers a thin shred of hope.
For the remainder of just under 2½ hours, Hendrix is torn between his own problems and those of the three women.
Chicken Shop fails to arrive at a very satisfactory conclusion, but at least Anna Jordan has the intelligence to avoid a happy cop out, which would have been all too easy.
She is indubitably one of the hottest young talents around, so race to both the Park and 503 to catch her two fine plays while you have the chance.
Reviewer: Philip Fisher