Chopiniana / Scheherazade
Choreography Mikhail Fokine, music Chopin, Rimsky-Korsakov
Abay Kazakh State Academic Opera and Ballet Theatre
London Coliseum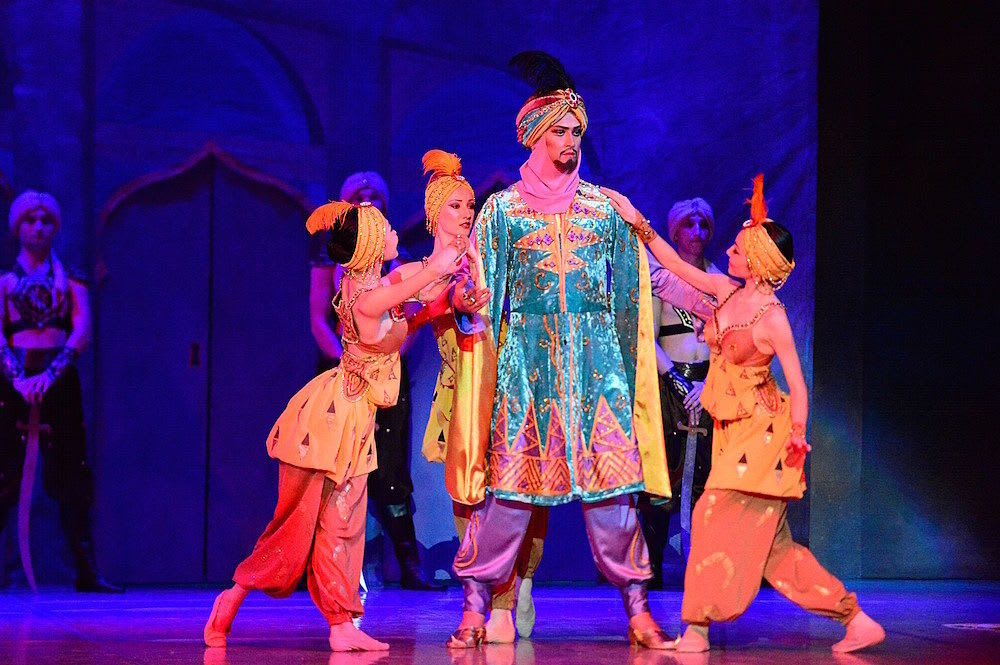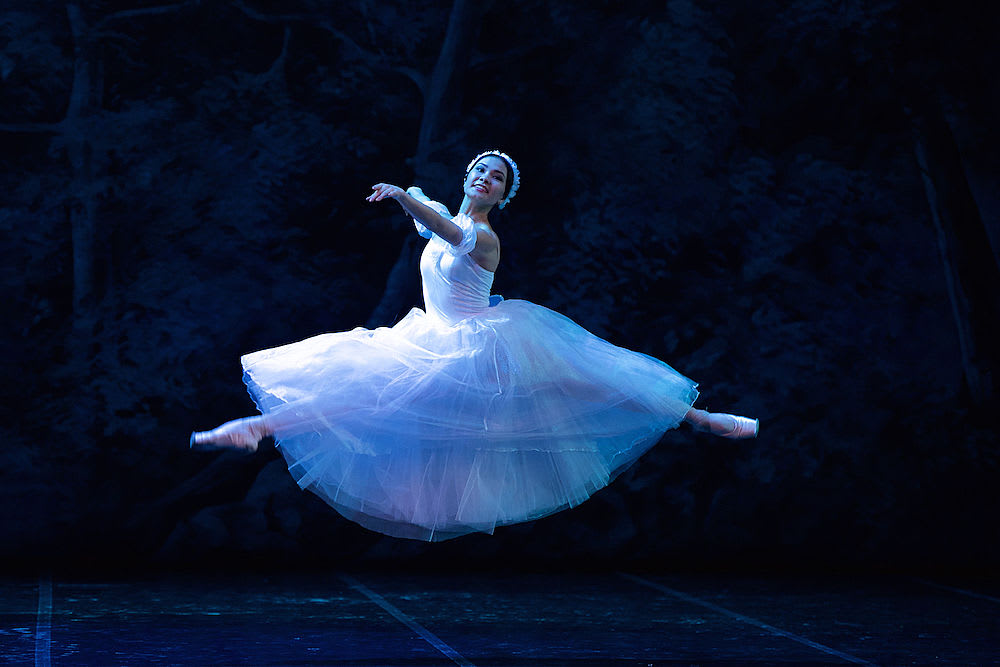 The Kazakhs are coming, so says their UK ambassador in his witty opening speech at the London Coliseum for the Abay Kazakh State Academic Opera and Ballet Theatre—or words to that effect—Astana Ballet a couple of months ago at the Linbury, and even the Lord Mayor's Show earlier this month. A charm offensive… Nomads, he says, with Attila the Hun as one of their ancestors, they want to show what they have absorbed of Western culture.
Emulating Diaghilev's Ballets Russes 1909 spectacular entrée into Parisian society and cultural milieu, selecting a contrasting double bill, Mikhail Fokine's 1909 one-act ballets Chopiniana and Scheherazade, must have seemed like a good idea. But what undermines the conscientious dancers is the bare stage (apart from Ineta Sipunova's video back-projection) and a tinny prerecorded soundtrack.
The dancers are no slackers and their footfall is beautifully soft, but there is something academic about the performances. Revived by Gulzhan Tutkibaeva, as a showcase it feels like a graduation performance, safe and sound.
Chopiniana, or Les Sylphides as we know it today, is all "ethereal sylphs in long white tulle dresses and tiny wings, flitting across a forest glade in bright moonlight, chased by a Keatsian poet—in the shadow of a ruined abbey—is pure Gothic romance"—as I once wrote… Maybe too brightly lit by Yuliya Karakaeva for any atmospheric sense of mystery and dreamy romance to be conjured.
Lucky poet (Rakhim Dairov solid rather than wistful) to have twenty-three sylphs surrounding him—no wonder the Trocks have taken it into their repertoire, it is made for parody. Parody this is not, but danced with a serious earnestness by the lead sylphs, Dinara Yessentayeva, Zhanel Tukeeva and Arisa Hashimoto.
Iconic classical ballet is followed by the equally iconic erotic and exotic Scheherazade—Fokine's move into dance theatre. Rimsky-Korsakov's evocative oriental melodies complemented by expressive upper bodies, soft torsos and soft shoes, vibrant costumes (Leon Bakst's designs restored by revival choreographer Toni Candeloro and Daniele Ament) and a few bright scatter cushions.
Tall, dark and handsome Nurzhan Baibusinov (great posture and pacing) is a cruel villain, Sultan Shahriar, who tests the loyalty of his harem of women by going off on a fake hunt with his brother. Of course, the women fail, bribing the Chief Eunuch (Ulan Badenov in a comic funny walk pantomime performance) to release the male slaves and a bacchanalia ensues.
Zobeyda (Dinara Yessentaeva) and the Golden Slave (well-built Azamat Askarov) lead the rather tame orgy. All are slaughtered on the Sultan's return except his main wife Zobeyda, who prefers to kill herself, and the Sultan is left weeping. "Arabian Nights" or to be more precise, the ancient Persian "One Thousand and One Nights", can be a bit of a dated non-PC panto cliché now, though the music (if only they could have borrowed an orchestra) resonates still.
Nijinsky danced the Golden Slave in the original, Ida Rubenstein was Zobeide in 1910, and apparently Rimsky-Korsakov's wife was not too happy with the adaptation of his music for the ballet. But it has endured. And well done Abay Kazakh State Academic Opera and Ballet Theatre for essaying it. Neither piece is easy for a touring company.
Kazakhstan's oldest theatre, named after Kazakh poet, composer and philosopher Abai Qunanbaiuly (1845-1904), the Abay Kazakh State Academic Opera and Ballet Theatre in Almaty, was built in 1934 in Almaty and extensively refurbished in 2000. The tour is supported by the Embassy of Kazakhstan in Great Britain and the Ministry of Culture and Sports of the Republic of Kazakhstan.
Reviewer: Vera Liber