Cinderella Games / Curing Albrecht / The Last Resort
Choreography and direction Jessica Wright and Morgann Runacre-Temple
English National Ballet
From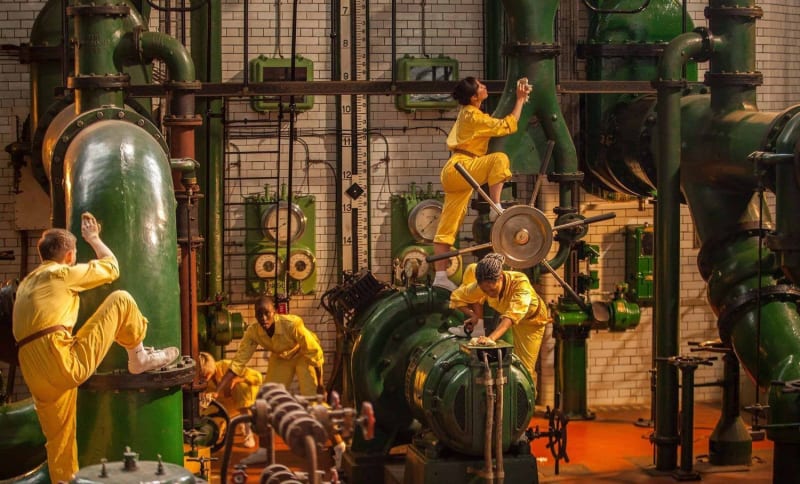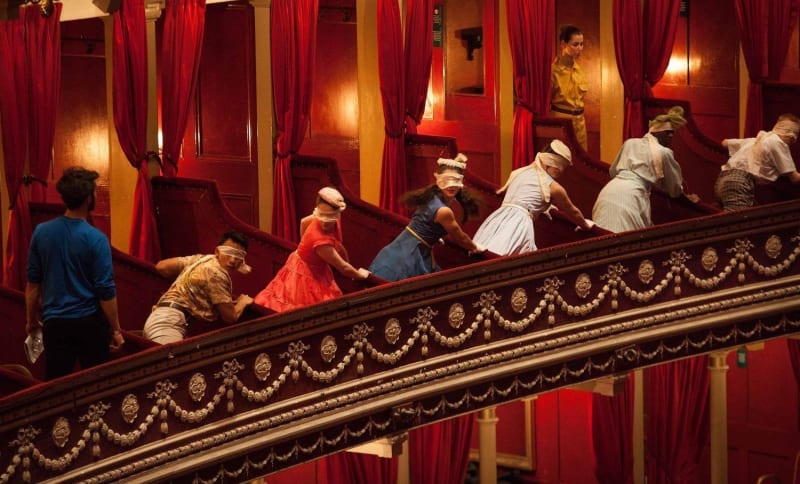 Jessica Wright and Morgann Runacre-Temple's very short (six-minute or so), wittily subversive dance films might just have found their moment in our peculiar times. And I'm only just catching up with them all.
Cinderella Games is their latest, their third produced by English National Ballet, screened during the autumn and winter 2019 tour as a curtain raiser for select performances of Christopher Wheeldon's Cinderella.
Filmed in the Royal Albert Hall and Kempton Steam Museum, with thirty-five inter-generational participants from a range of dance backgrounds led by professional performers Chihiro Kawasaki and Matthew Hawkins, Cinderella Games is a cross between Charlie Chaplin's Modern Times and Fritz Lang's Metropolis with colour saturation by Hollywood Technicolor.
Hawkins is the master of ceremonies, the judge and jury, the one with the finger on the bell and the buzzer—elements of the Wizard of Oz brought out by the red privacy curtains of the loges in the Royal Albert Hall. Chihiro Kawasaki is the Cinderella wannabe.
Contestants are guided through the games by many helpers in yellow one-piece overalls. A yellow brick road? Blindfolded, they have to find shoes, and balance them on their heads. And clean the green machinery in the Kempton Steam Museum, which looks amazing.
The visuals are stunning, the sets fantastic, and the concept is as winning as the winning contestant's view of her certificate which states "You Have Won / You Live Happily Ever After". She leaves it and the shoe—a brogue—on the steps as she chases after those in yellow. Losers get a yellow overall. But are they the losers? A tongue-in-cheek feel-good message.
The superbly drilled corps, their formations, sequencing, timing, the colour scheme, the grand sense of a musical in waiting, the overall stage pictures…. And Prokofiev's lovely waltz…
Framing, setting and a strong visual sense are Jess and Morgs's (as they are collectively known) strengths, particularly visible in Curing Albrecht, which was filmed in partnership with Manchester international Festival 2017 in Manchester's Edwardian Grade II listed Victoria Baths. Now, it's worth watching just for those.
Apparently influenced by Akram Khan's Giselle, with Adolphe Adam's music recomposed by Frank Moon, it tells of a young man suffering from St Vitus's dance, or something like. Almost danced to death by the Wilis—get it? Here they cure him… Again the colour scheme is great: green tiles, flaking blue paint, blue uniforms, red buckets to douse him. Synchronicity is of the essence.
Not quite Red Shoes, though with an element of Matthew Bourne's humour, Curing Albrecht has a young man sign in for water therapy at a spa. Here's where the fun begins. Nurses / assistants in blue are obviously the Wilis—if the music is anything to go by—who splash and water him down to almost drowning in the empty swimming pool. And dance him out of his disease. The female manager is a clipboard Queen of the Wilis.
The tale of The Red Shoes, incidentally, was partially taken from the dancing plague in Strasbourg in 1518, which leads me to digress momentarily, for here's another ten-minute film to watch on BBC iPlayer. The striking thing about Jonathan Glazer's eponymous film is that it feels like a prologue to a Pina Bausch production, especially with its clutch of veteran 'Bausch' dancers (including one of my favourites, Nazareth Panadero) performing in solitude, bouncing off the walls, obsessively washing hands—an obvious metaphor for our times.
The Last Resort, also from 2017, was inspired by photographer Martin Parr's The Last Resort series of forty photographs taken in New Brighton near Liverpool 1983–85. The power of suggestion, illusion and imagination…
The Magnet, a club illusionist, magician, and choreographer of needy souls—Hannes Langolf has his willing and eager participants under his spell right from the start. Suntan lotion is tomato ketchup, sand is a cardboard container for the feet, what can't he suggest… ice cream scoops fly into cones; sea air is a wafted fan. If you can't get there, he is the next best thing.
None of these three slight shows will take up too much of your time, but they just might put a smile on your face.
Reviewer: Vera Liber