Cinderella
Berwick Kaler
York Theatre Royal
York Theatre Royal
–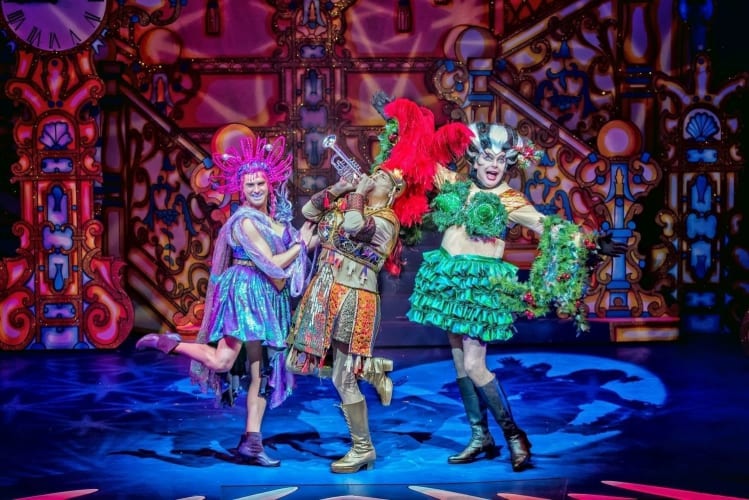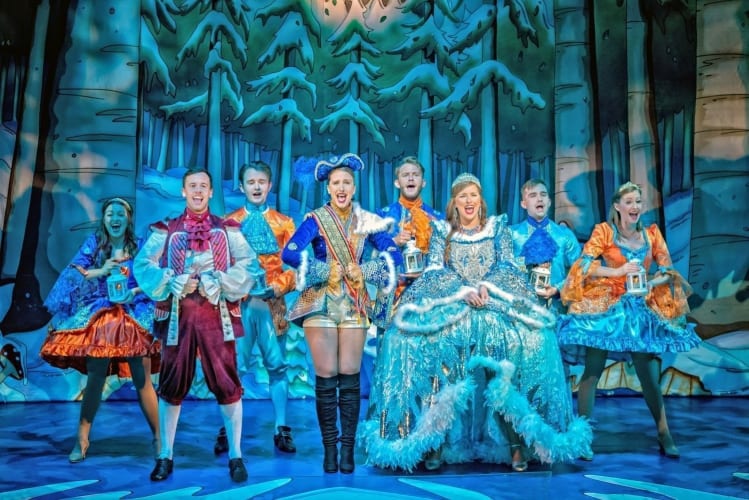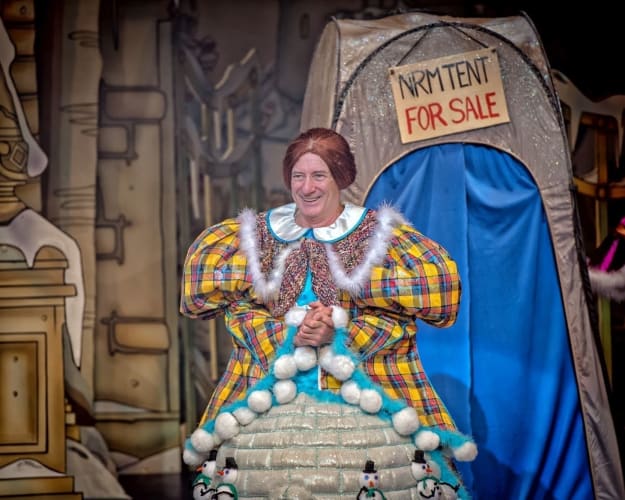 It's something of a cliché to talk of pantomimes offering a bit of light in the darkness, especially after the year to which we're now waving goodbye. But it's apt here: this Christmas's instalment of the long-running and well-loved York Theatre Royal panto has itself been troubled by grim shadows.
What should have been a triumphant return to its home venue after last year's (wildly successful) sojourn at the National Railway Museum was instead struck by dual near-tragedies when grand Dame Berwick Kaler required a pacemaker and regular comic foil Martin Barrass suffered a near-fatal road accident.
He's thankfully on the mend, but not in time to appear in this show, which required rewrites and a reshuffling of the cast. Even the usually slapstick directors' notes have been affected (Damian Cruden and Berwick Kaler, as usual, share directing duties). Cruden's note strikes a suitably serious—and grateful—tone, stressing the importance of 'family' at times of trauma, change and stress.
And that is, after all, what this feels like: a family show, in several senses. In the obvious sense, Kaler's script steers clear of the 'adult' humour of some pantos. He avoids the smut which tends only to exclude the youngest while causing nervy squirms rather than full-bellied laughter in their older relatives.
More crucially, there's a real sense of family care among those onstage, working together and enjoying themselves: grateful to be in the position they are in, and not—as Kaler points out at the end—ever taking an audience for granted.
It's an endearing trait. The plot of this Cinderella is the straightforward (and threadbare) one of the classic fairytale (or Disney film, complete with extremely cute helper-mice). But out of this material, Kaler spins his usual self-aware zaniness from the get-go: so Cinders (Suzy Cooper), fetching wood for the fire, strides on in protective gloves, chainsaw thrumming away.
The metatheatrics of the opening are among the most hilarious. We're speedily introduced to all of the characters, and much is made of the casting issues this particular choice of story presents for the regular ensemble. In Cinderella, there's a baddie, but no (one) dame. Even David Leonard, as stepmother Baroness von Naff, appears at first to be suffering a personality disorder, as he insists, "this year I'm a goodie!" and instructs us to "get off the boos", parodying the audience's Pavlovian reaction to the apparent pantomime villain.
Order (if you can call it that) is soon re-established, with A J Powell stepping confidently into the shoes of one Ugly Sister, Priscilla, and Kaler taking on the role of the 'younger' one, Hernia. Baroness von Naff doesn't last long as the good stepmother (wicked fits Leonard's strutting and sneering so much better), and Hermione Lynch appears as a traditionally clean-cut Prince Charming.
The source material is thin, then, but the dynamism and talents of the cast shine through. Suzy Cooper is a game and sprightly performer and powerful singer. She injects energy into the show with her every move, and she is the one around whom the production truly centres (not to detract from Kaler's long-earned and masterly mix of comic timing, physical presence and unpredictability).
A J Powell is brilliant, too: an unselfish but similarly skilled comic performer with a returning and barely explicable catchphrase of his own ("yow're luvly" in a thick Brummie accent). And there is strength and depth in the whole cast. Special mention might go to Jack Lansbury, who demonstrates not only the same impressive physical feats as the rest of the all-singing, all-dancing troupe, but also great physical comedy in the (literal) shadow of David Leonard.
As always, David Leonard himself is another jewel in this pantomime's crown and no one can stare, gurn and high-kick quite like him. He lights up the stage and projects a real sense of enjoyment, especially in the couple of numbers he sings at the beginning of the second act.
Laudably, the script avoids the lurches into some questionable territories of taste which have sometimes plagued this production team in recent years. Yet it also fails quite to hit the same levels of insanity and excess. There are touches of the Goonish humour aplenty, but it feels a little more restrained on that front this time round: nothing to match the punning oddities of Robin Hood and his Merry Mam, for example.
Similarly, only one or two of the song choices really hit home this year. They are well orchestrated and performed, mostly fairly trad, but there are no stand-out subversions or adaptations—though a film segment does offer some—um—surprises.
Still, there is a lot of pleasure to be had on this front, especially in the playing of the band (under musical director Rob Castell) and the wonderful choreography of Grace Harrington, mixing street dance with lyrical and quite a lot in between.
And let's not underestimate the sheer joy of watching this cast—this 'family'—performing slickly together, even if under strained circumstances (Kaler, in the end-of-show messages section, says that three months ago, he wasn't sure there would be a show).
An enormous amount to enjoy, then, and—as Cruden, Kaler et al. express—an enormous amount to be thankful for from this year's production.
Reviewer: Mark Love-Smith