Paul Auster's City of Glass
Paul Auster, adapted by Duncan Macmilan
59 Productions, HOME and Lyric Hammersmith
HOME Manchester
–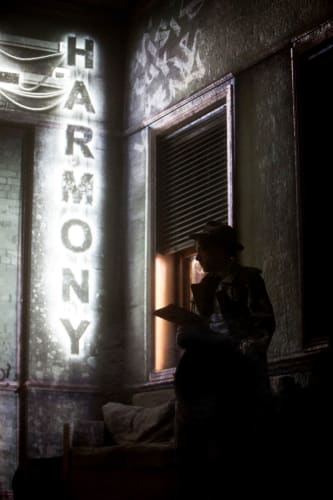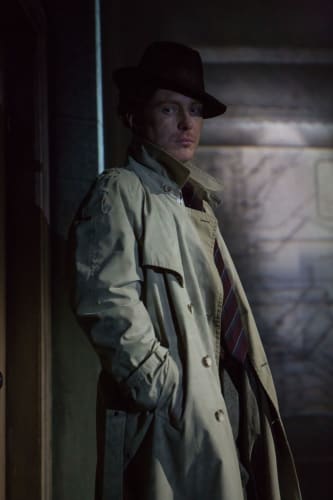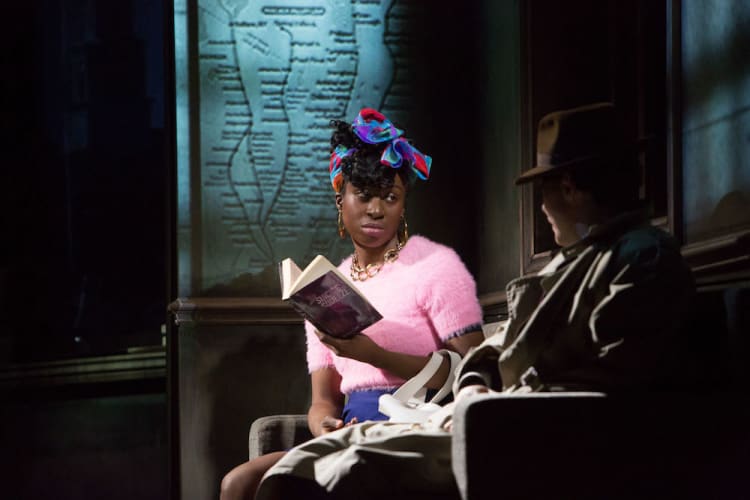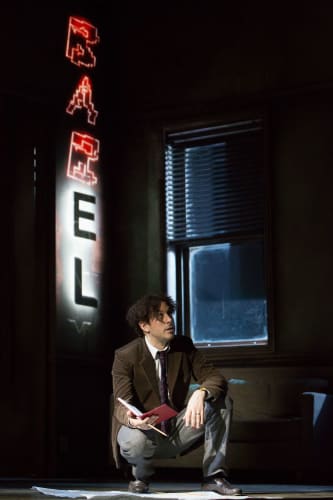 City of Glass was published as the first part of Auster's acclaimed New York Trilogy thirty years ago and was also adapted into a graphic novel, but bringing Auster's unique and unpredictable form of postmodern fiction to the stage is quite a challenge.
That challenge has been taken on here by writer Duncan Macmillan and video design specialists 59 Productions, whose work has ranged from wonder.land at the National Theatre and Get Carter at Northern Stage to the David Bowie Is... exhibition in London and Bologna and the video design for the London 2012 Olympics.
Auster's tale begins, as many of them do, apparently conventionally with a writer, a typewriter and a desk, when a 'phone rings. It seems to be a wrong number, but the caller seems desperate to contact a detective called Paul Auster. The writer, Quinn, writes detective fiction under a pseudonym and is unable to put this call out of his mind, but the caller rings back. He decides to impersonate Auster and try to help.
The caller is Peter Stillman who, as a boy, was imprisoned for nine years by his father in a room with no windows, only escaping when there was a fire. Peter Stillman senior is about to get out of prison and the son fears for his life. Quinn (as Auster) decides to follow Stillman when he is released.
Up to this point, there are oddities in the tale that are easy to justify and accept in a naturalistic mode, but then things start to splinter. There appear to be two Peter Stillman seniors, and he can only follow one. Quinn tracks down the real Paul Auster, who is a writer (as we know), not a detective.
Then the client disappears and Quinn's obsession turns to madness as he stakes out his apartment for an unspecified number of weeks or months, growing a shaggy beard and discarding his clothes through the window, until he disappears completely. Auster eventually arrives to find nothing but the red notebook in which Quinn recorded his progress on the case.
Auster's writing takes fractured elements and ideas and packages them up to give the appearance of a familiar, accessible style of storytelling, but the oddities and resonances linger to haunt the reader. Macmillan's adaptation combined with the style of 59 Productions largely succeeds in translating this to the stage to create a piece that is sometimes slightly baffling but always gripping.
Whether the play itself appeals to you or not, the technical accomplishment is absolutely stunning. Jenny Melville's set design at first looks like a fairly dull and unglamorous New York apartment, but Lysander Ashton's video designs transform it into other locations instantly. This isn't just a projected backdrop but 3D locations that warp and transform into something completely different before your eyes.
Director Leo Warner's production is slick and compelling throughout. The performers all play multiple parts and in some cases share the same part, occasionally at the same time: Vivienne Acheampong, Mark Edel-Hunt, Chris New and Jack Tarlton, with Lochlan White and Riley White sharing the part of the young boy. It's one of those productions where you are surprised at how few people come to take a bow at the end.
Technically, this is extremely impressive (Nick Powell's music is another essential part of the jigsaw that helps to make this production more immersive than so-called "immersive" theatre) but the digital wizardry isn't gratuitous—it's part of the storytelling. It brings some of the techniques of film into the theatre in a very theatrical way to translate to the stage a story that would lose so much from a conventional staging.
While the production itself is one to get to see if you possibly can, don't miss the VR machines in the foyer. You wear a headset to be projected into the world of Auster's story, but you can also look around you at the rest of the apartment and even down at a cartoon version of yourself. It's a strange but fascinating experience, like the show itself.
Reviewer: David Chadderton