wonder.land
Damon Albarn (music), Moira Buffini (book and lyrics) and Rufus Norris, Inspired by Alice in Wonderland and Alice Through the Looking Glass by Lewis Carroll
Manchester International Festival
Olivier Theatre (National)
–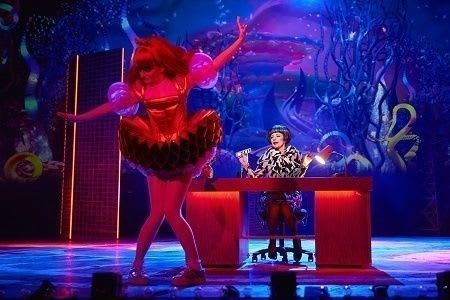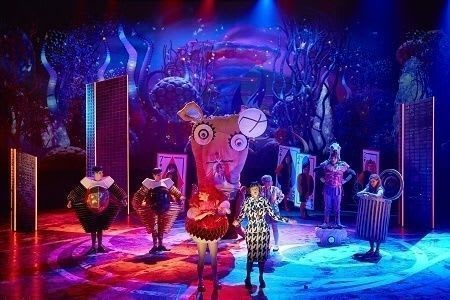 wonder.land (pronounced wonder-dot-land) was a summer presentation for the Manchester International Festival but in a new incarnation is the National's Christmas show intended for all ages.
In essence, the creative team has attempted to replicate the pleasures of online gaming in a show loosely based on Lewis Carroll's pair of Alice books.
Those expecting to bring the kids to a sweet musical about a little girl tussling with eccentric animals and genteel, OTT adults getting angry may be in for a surprise.
The effluxion of time means that a modern take on Alice is considerably hipper and nastier than the originals, while the (limited) swearing and blue comedy would not have been permitted when our own dear Queen was still on the throne.
The plot follows the troubles and travails of Lois Chimimba's Aly Hatton, a teen whose family has disintegrated after Paul Hilton as father Matt carelessly gambled away what was probably never much of a fortune online.
Unsurprisingly, that riled Matt's temperamental wife, Bianca played by Golda Rosheuvel. The problems are exacerbated for Aly when she begins to get bullied at school and in cyberspace.
Her escapism takes the youngster into a computer game as avatar Alice, Carly Bawden looking like the Tenniel illustrations of the girl who went to Wonderland (without the dot) with a touch of Barbie thrown in for luck.
There, the two Alices seek friendship and find a modicum, learning about self-esteem, which is otherwise sadly lacking in the Hatton family from a bunch of teenaged losers.
Things hot up and turn darker when another Alice, the Headmistress, Ms Manxome vindictively confiscates first Aly's smartphone and then her avatar identity with almost murderous consequences. This irascible bully comes straight from the glorious line of Millicent Fritton and Mrs Trunchbull and is portrayed with a wicked gleam in the eye by Anna Francolini.
Suddenly sugar-sweet avatar Alice becomes scarlet fiend Alice, confusing friends and building the evening to a battle that inevitably heralds the upbeat denouement.
In a spectacular production, directed by the NT's Artistic Director Rufus Norris, there is a striking contrast between Aly's drab grey existence and Alice's spectacular virtual world, in which the 3-D projections created by video designers 59 Productions can at times take the breath away.
While Moira Buffini's Book and Lyrics, complemented by the music of Damon Albarn, best known for his work with Blur and Gorillaz, provide some useful insights into the loneliness at the sharp end of teenage life, there might be a concern that too significant proportion of the 2½-hour running time is devoted to rather directionless fantasy, which only partially covers a rather thin storyline.
Reviewer: Philip Fisher