Cleansed
Sarah Kane
Dorfman Theatre (National)
–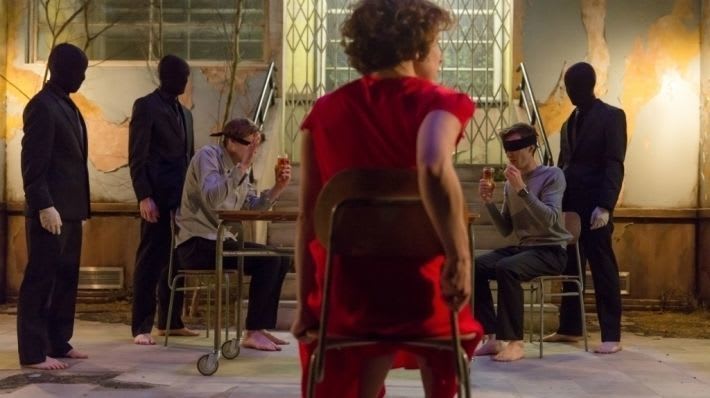 Pairing the late Sarah Kane, making a very belated National Theatre debut, with director Katie Mitchell was always likely to prove potent and possibly explosive.
Cleansed is not an easy play but judging by productions to date, most recently on the Edinburgh Fringe last year, it does give directors considerable room for interpretation. One could argue that this is inevitable where the underlying meaning is so clouded.
Miss Mitchell has rarely needed an invitation to put her own veneer on a play and this time around creates a work which is significantly different from any previous version, particularly James Macdonald's more darkly humorous original vision at the Royal Court almost twenty years ago.
Set in a dilapidated hospital or prison, it is hinted in some Blasted-like war zone, from the opening scene Michelle Terry's Grace remains on stage throughout, grieving the loss of her much-loved brother, Graham Butler as Graham.
Whether she is taking a central part in the gory drama while trying to discover hidden truths about her brother/alter ego and his death or merely observing, what is on display appears to be Grace's dream or, more accurately, her nightmare.
During a compelling but intense and terrifying hour and three-quarters, we follow her through an institution controlled by chilling Tinker, played by Tom Mothersdale. The torturing doctor becomes obsessively besotted by Grace, although his innate evil tendencies overwhelm normal expressions of love.
He and a series of black-masked henchpersons jump around to Pavlovian bells. These control every aspect of the deprived lives endured by Graham, prior to his early death, Grace and a trio of unfortunates.
Matthew Tennyson sensitively portrays Illiterate Robin, who becomes devoted to Grace as she seeks to recover whatever she can of her brother, starting with his clothes and memories.
At the same time, the other pair Carl and Rod (respectively Peter Hobday and George Taylor) swear undying love, before being made to pay for their reciprocated passion in ways that were symbolically displayed in the original production but are gruesomely depicted in this shocking revival.
Viewers would be well advised to forego a big dinner prior to witnessing scenes that could well churn even hardened stomachs.
Cleansed is simultaneously a play about evil and love. Indeed, if viewers are going to take away anything positive from what can be a truly unsettling evening, it is the lengths to which people will go to prove the love that they feel for others.
In Katie Mitchell's eyes, Sarah Kane becomes a cross between Harold Pinter and Quentin Tarantino, if that is conceivable.
The acting, led by the peerless Michelle Terry, is first rate and courageous, as the performers are asked to look deep into their souls while performing acts of horror, complete with dissonant musical accompaniment.
Rufus Norris has shown considerable bravery in programming a controversial Sarah Kane work. While those interested in the In-Yer-Face phenomenon and the innate inhumanity that seems to afflict society will welcome this striking production; the challenge of making it into a commercially viable project could prove too much even for the National.
Reviewer: Philip Fisher