Close the Coalhouse Door
Alan Plater, based on stories by Sid Chaplin, songs by Alex Glasgow
Oldham Coliseum Theatre
Oldham Coliseum Theatre
–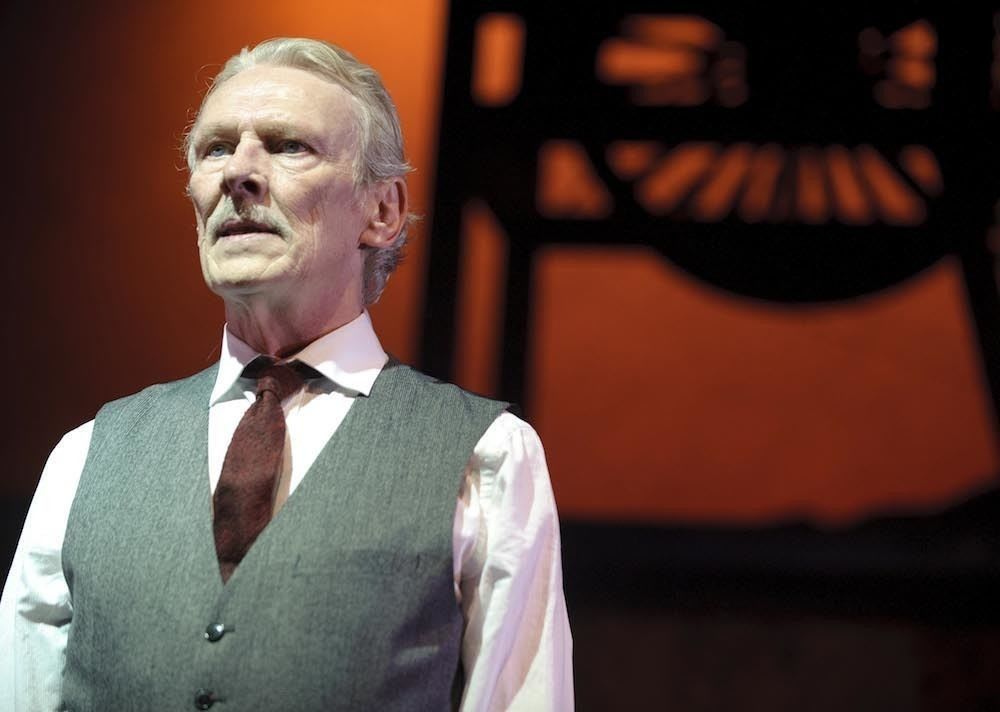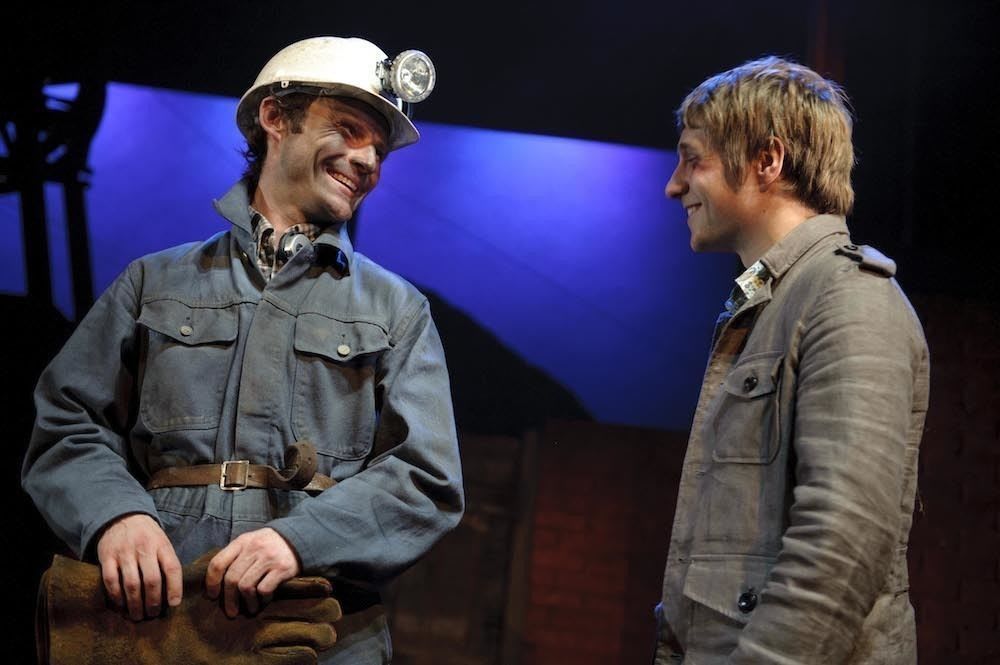 This is the second pit head wheel we've seen this month on stage in north Manchester after Brassed Off came to the Octagon, but this is a very different style of performance that delivers similar political lessons in a more direct way.
Kevin Shaw directs the updated version of Plater's 1968 piece that Northern Stage and Live Theatre toured two years ago adapted by Lee Hall (although Hall isn't credited in the programme except in the director's message). Hall opens the play in front of a poster for the film of Margaret Thatcher: The Iron Lady and and ends by showing the main source of employment in the north east since the Lady in question succeeded in killing off most of the UK mining industry.
Plater presents a series of set pieces telling the rather bleak history of the battles between the miners and the pit owners from the mid-nineteenth century. The men kept striking for reasonable conditions but the bosses always starved them back to work.
The performance style is heavily influenced by Brecht via Joan Littlewood, but it centres on a fairly believable portrayal of a family gathering in 1968. Thomas (Cliff Burnett) is a retired pitman and he and his wife Mary (Jane Holman, who played the same part for Northern Stage) are celebrating an anniversary with former colleagues, Jackie (Andrew Vincent) and joker Geordie (Phil Corbitt), and his grandsons, John (James Hedley) and Frank (Samuel Hargreaves).
John has carried on the family tradition by working down the mine, but Frank has escaped to university, causing some family resentment. Frank brings back post-graduate feminism student Ruth (Maeve O'Sullivan), well-spoken and resistant to playing any traditional female roles. The characters therefore all have specific dramatic and political functions while being largely believable as people.
The men in the family tell stories of past disputes, which are acted out by the whole cast of talented actor musicians, often in a cabaret style with songs, comic routines, running gags and lots of physical business. This is a style that seems a little old-fashioned now, but can still work when done well.
Alex Glasgow's folky songs are still very effective, running from the comic to the powerfully emotional, all telling fascinating human stories. There are some well-performed solo routines, but the really powerful moments are when the whole ensemble sings and plays in harmony straight to the audience. There are no microphones in evidence, which gives a more authentic and intimate tone to the songs.
The production is very much an ensemble piece with some slick collaboration between the performers, but for me there are some standout performances from Hedley and Burnett, plus a special mention should go to Matt Connor who filled in many different parts very effectively.
Shaw's production has cut one of the intervals, which makes the night pass rather more quickly but does run together the storytelling first act with a second act that is largely cabaret routines, which was a bit too repetitive and pantomimic for me. There is one very convincing fight routine between the two brothers, directed by Renny Krupinski.
Like any political theatre, removed from its original time and place it can't possibly have the same power, but this is a slick and impressive production that still teaches valuable lessons about the working class struggle while still managing to communicate the human suffering through characters about whom we can care—not an easy combination to achieve.
Reviewer: David Chadderton