Clybourne Park
Bruce Norris
Wyndham's Theatre
(2011)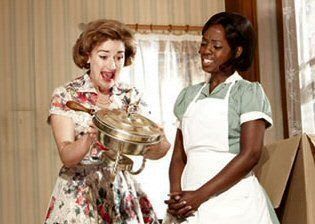 Clybourne Park was undoubtedly the most successful new play of 2010. Bruce Norris's edgy comedy with a political undercurrent has already won Best Play awards from the Evening Standard and Critics' Circle and, having earlier this week been nominated for an Olivier, must be hot favourite to complete the set.
In some ways, this is surprising, since its subject matter is controversial - racial integration and the raw exploration of taboos - viewed from the perspective of a Chicago suburb first observed in 1959 and then half a century later.
Dominic Cooke now brings a partially re-cast production from his home theatre, the Royal Court to the West End, still bravely relying on strong acting ability and a great script rather than household names to sell tickets.
The two new cast members slot into the ensemble perfectly and the joins are invisible. Stuart McQuarrie playing Russ is as good as Steffan Rhodri, while compared to Martin Freeman, Stephen Campbell Moore brings a slightly different, softer but more bumptious quality to the two parts that he plays.
The play itself comes across with just as much power to shock but also move, which owes much to a tremendous script but also Cooke's finely honed direction.
We first see the 1950s version of life in a proud neighbourhood on the brink of change. Initially, McQuarrie's Russ and Bev played by Sophie Thompson resemble a couple from of a TV ad of the period, such is the apparent perfection of their existence.
This is soon shown to be an inadequate cover for a couple at their wits' end after suffering from the tragic loss of their son, a Korean war anti-hero who committed suicide following a dishonourable discharge for overstepping the mark by killing the wrong kind of natives.
Their decision to leave throws the neighbours into uproar when it is discovered that the purchasers of their house are "Colored". The embers of racism are stirred up by Karl Lindner, a character originally created by Lorraine Hansbury in her seminal drama, A Raisin in the Sun.
He is the kind of racist whose reasonable demeanour soon disappears when he is crossed, much to the embarrassment of his profoundly deaf and profoundly pregnant wife, Sarah Goldberg's Betsy, and the tiresomely good-natured vicar (Sam Spruell).
Moving on to the present day but subtly alluding to the past, the second half views the same set-up with everything reversed, as it worries away at contemporary political correctness in terms that every audience member will recognise but naturally shy away from.
The residents of a now predominantly Black neighbourhood are concerned about what will happen to the community if Campbell Moore's belligerent Steve and the memorably versatile Sarah Goldberg as his "Oh My Godding" pregnant wife Lindsey move in.
A civilised community debate eventually leaves legalese and politeness a long way behind as it dissolves into a stream of extremely funny but filthy jokes guaranteed to offend everyone equally. However, Bruce Norris in doing this makes a significant point about the frailty of the veneer which covers ingrained feelings that so many of us are now obliged to hide from ourselves, let alone the outside world.
The whole cast is magnificent throughout, with Lorna Brown and Lucian Msamati playing the two Black couples symbolically getting better opportunities in the later period when they have more influence, in contrast to Stuart McQuarrie and Sophie Thompson who excel in the 50s.
Clybourne Park is as good as the awards suggest and deserves to fill Wyndham's for the longest time. In only two hours, it incisively and insidiously taps into our fears and behaviours with uncanny skill. As such, the work is simultaneously funny and vicious, at times leaving audience members uncertain whether to laugh or leave.
Philip also reviewed the orginal production at the Royal Court
Visit our sponsor 1st 4 London Theatre to book tickets for Clybourne Park
Reviewer: Philip Fisher