Come From Away
Book, music and lyrics by Irene Sankoff and David Hein
Phoenix Theatre
From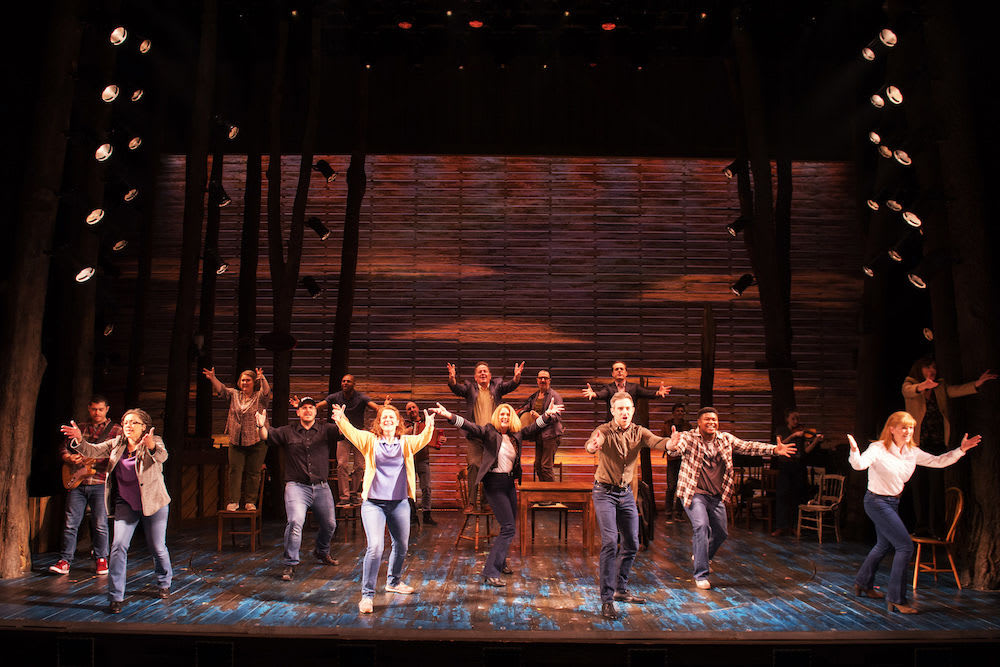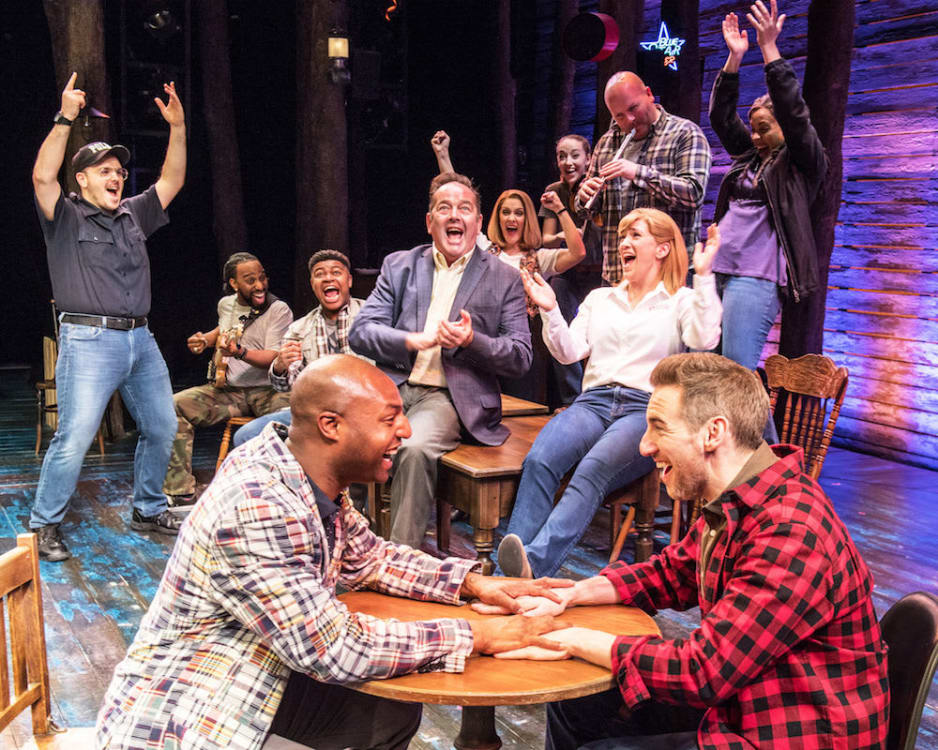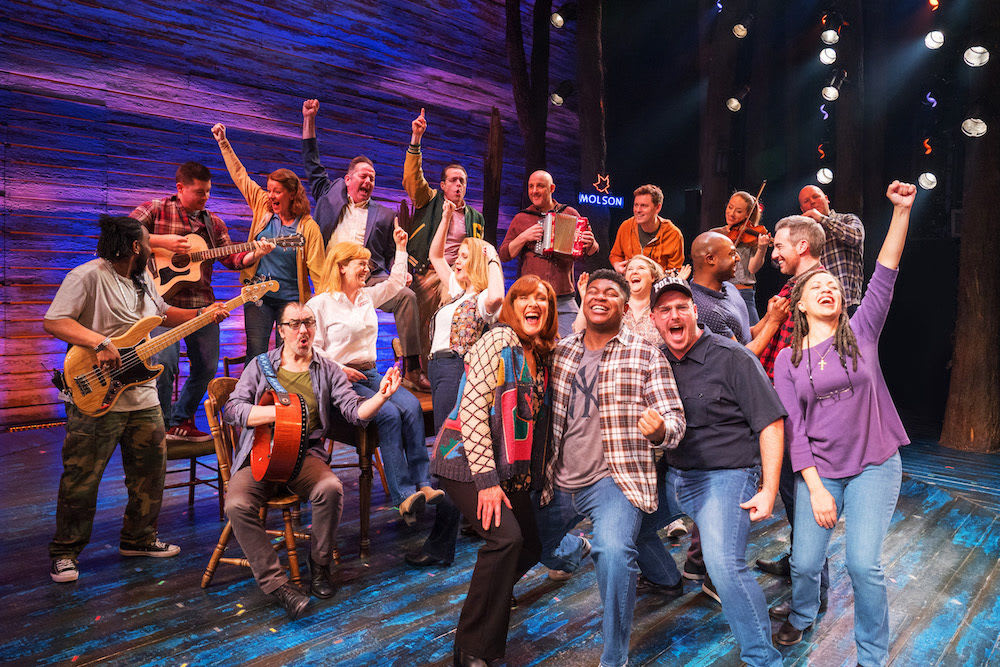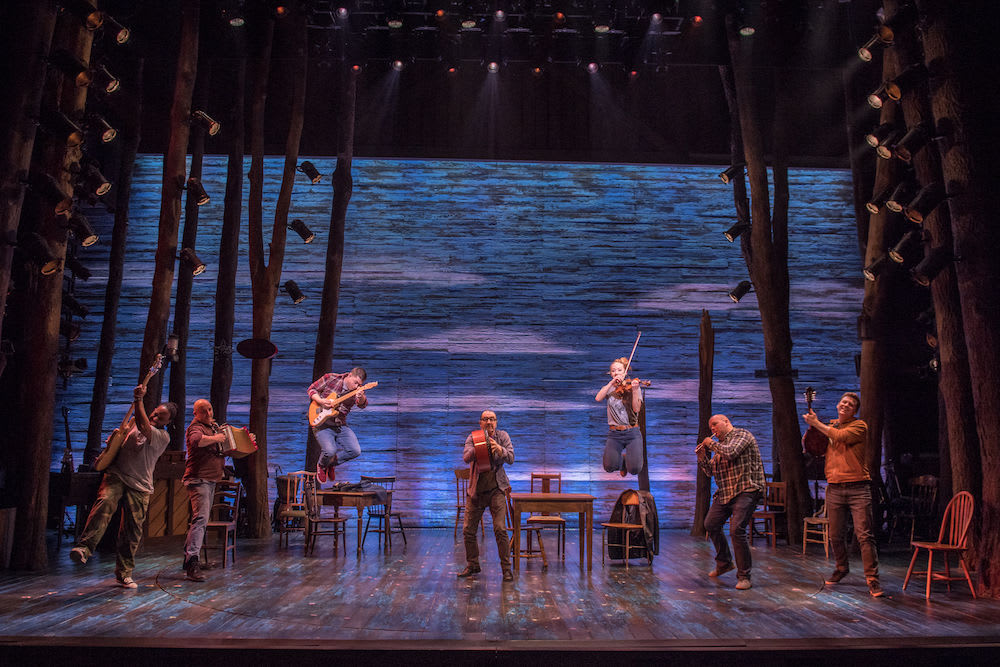 Tonight the audience is the showstopper in Come From Away, which originally opened in the West End in March 2019. First night after being closed for 495 days, emotions are running high on stage and in the auditorium: an explosion of sound and a standing ovation greets the company, and there is no end to it. Claude, mayor of Gander (James Doherty), has to fight his way to authority over the crowd. But what a wave of emotion and euphoria for the actors to ride… I bet they won't sleep tonight.
Ovations continue throughout—I've rarely seen anything like it. Pent-up feelings are released. Clapping in time to the music—there are fifteen song and dance numbers—and the Irish band of eight is on the stage throughout. A musical encore at the end sends us out on a high into the humid London dusk.
The reception is a heart-warming experience, as is this award-laden critic-proof show. I suspect many in the audience are regulars returning for a feel-good fix. And they get it from real life stories told over 100 minutes with no interval in this snug theatre. Some punters wear masks, half don't, there is no social distancing but proof of vaccination and / or negative tests are de rigueur.
A cast of twelve plays the townspeople of Gander, a transatlantic refuelling stop in Newfoundland "on the edge of the world", and a selection of the visitors imposed on them, nearly 7,000 visitors from all over the world (from nearly a hundred countries I read) in thirty-eight grounded planes, so many that after a while the planes start to sink into the tarmac.
The population of this small town almost doubles. But the townsfolk down to every man and woman rise creatively to the challenge. Their welcome is incredible, taking on the logistics of feeding, bedding, clothing, personal needs, interpreters and attending to every dietary and religious requirement without a flinch. Then there are the animals in the holds, not least a pregnant bonobo chimpanzee.
Sleepless in Gander… stress, fear, but also solidarity… what a community: permanent friendships and common bonds are formed that are still in place some twenty years on since 9/11. This was the catalyst for these unusual events—a five-day unplanned stopover with no access to belongings in the hold, not least for security reasons, when American airspace was shutdown.
Passengers were kept on the planes for nearly thirty hours, without phone contact with loved ones, batteries running dry. Imagine the fear and confusion, though some comedy is mined from one woman's claustrophobia and an English chap changing seats—noisy drunken lot at the back—to sit next to a woman from Texas—isn't chance a fine thing… they are still happily married.
There are many stories, from visitors and locals, some that they never told before. There's an unexpected late blooming love affair, a sad break-up of a gay couple and a strong solo from Beverley, the first female pilot at American Airlines. There's comedy pulled up short by tragedy and tragedy leavened by empathy—isn't that the human condition, then and now?
We learn of the Newfoundland "screeching in" ritual: a drink of whiskey and a kiss of a dead fish. Strange custom, but most strange in these wary times is how immediately without a second thought the warm, kind and concerned Gander folk embrace these strangers from all over the world into their homes and hearts.
I'm surprised there's not been a rush to emigrate to Gander, where the scenery is fabulous and the people are astonishing—car doors are never locked, barbecues are borrowed no questions asked. One cautious visitor gradually loses his fear of being robbed or shot—this is played for comedy.
Lives are changed: a simpler way of life with no prejudice is a wake-up call for some. On the back of tragedy, many remember their time in Gander as a happy time. Back in the real world, the Muslim Egyptian high-class hotel chef going through customs is pulled out for a strip search, humiliating but very real in those fearful post 9/11 days.
I won't single anyone out as it is a team effort, but the current London cast is Jenna Boyd as Beulah, James Doherty as Claude, Mary Doherty as animal lover Bonnie, Mark Dugdale as Kevin T / Garth, Alice Fearn as Beverley / Annette, Kate Graham as Diane, Alasdair Harvey as Nick / Doug, Jonathan Andrew Hume as Kevin J / Ali, Gemma Knight Jones as Hannah, Harry Morrison as Oz, Sam Oladeinde as Bob, and Emma Salvo as Janice. They all play other roles.
An amazing feat all round, they had only two weeks to get this show back on its feet. The director and producer make emotional speeches at the end, thanking everyone. The creatives (and the COVID Compliance Officer) are brought on for a bow and the musicians play a jig. There are tears in many people's eyes. The NHS is cheered, and those that had to find other work, and those who left us too soon—there have been losses—that's a reality check.
Hope, resilience, community, trust, generosity and love, Come From Away is a musical theatre production for our times. And there's dancing in the aisles. What more could you want? I read in the New Yorker that Justin Trudeau took Ivanka Trump to see the show in New York in 2017. I wonder if it worked for her...
Reviewer: Vera Liber