Company (2018 London Cast Recording)
Music and lyrics by Stephen Sondheim, book by George Furth
Warner Classics / Elliott & Harper Productions
Released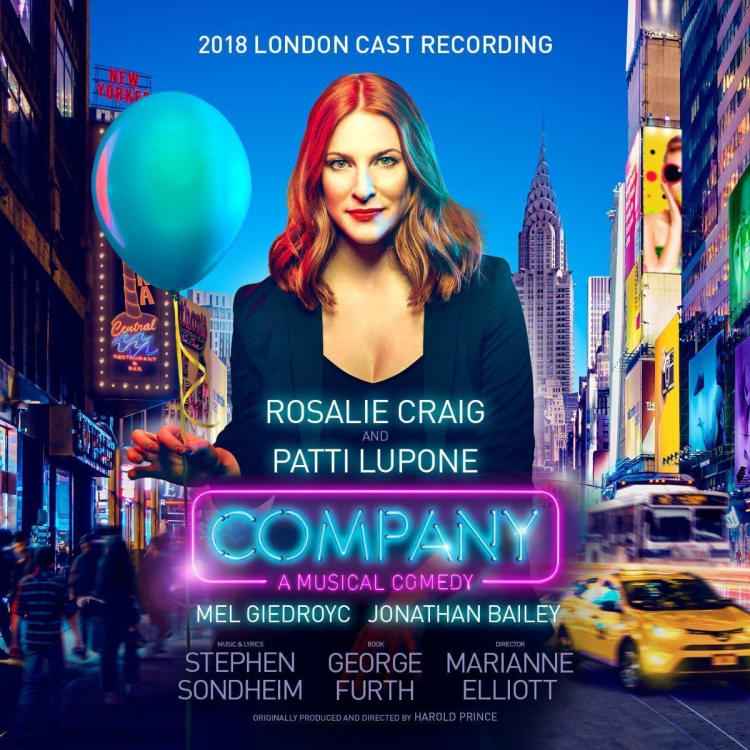 It may be entirely coincidental but the cast recording of Marianne Elliott's new production of Company was released in the week that the show was voted Best Musical by the Critics' Circle.
Listening to the music, it isn't difficult to understand why this revival, reinterpreted and rewritten for the 21st century, has proved such a winner. The risk of changing the leading man, Bobby to Bobbie, a leading woman along with other re-characterisation, for example making one heterosexual relationship gay, pays off handsomely.
It is hard to imagine that even those musical addicts who see shows 20 times and know every word, move and intonation would object to this well-honed, vibrant new version.
Over and above George Furth's poignant book, the principal attractions lie in Stephen Sondheim's musical compositions and witty lyrics, the latter amended and updated, as appropriate.
One advantage of a CD or download over a trip to the theatre is that it is possible for listeners to enjoy songs repeatedly, relishing the lyrics and hearing them fully, perhaps for the first time.
Anyone favouring this approach will not be disappointed, since that is where Sondheim has always excelled from the days of West Side Story onwards.
Company features a stream of much-loved classic songs, almost all of which are delivered in fine style by the prize-winning ensemble that has effortlessly filled the Gielgud Theatre.
Leading lady Rosalie Craig has a great voice and lashings of personality, which come across repeatedly from the second (title) song through "Side by Side by Side", hitting full power in "Marry Me a Little" then building to the triumphant "Being Alive". She also has the ability to convey some of life and love's sadder (and wittier) aspects with feeling, for example with Richard Fleeshman in "Barcelona".
While she gets a hand in many of the album's (if the word still remains in current jargon) high points, the best of the songs are spread around generously, allowing others to enjoy their three minutes of fame.
"Getting Married Today" is still remarkably funny when turned gay, especially when Jonathan Bailey freaks out as Jamie, while Alex Gaumond playing Paul tries to calm him down. Broadway diva Patti LuPone justifies the Equity-approved transatlantic trip with a witty rendition of "The Ladies who Lunch" and while George Blagden may not be the most tuneful songbird in the flock he conveys the urgency of "Another Hundred People", a delicious view of contemporary American life.
Anyone who enjoyed the stage production will undoubtedly have great fun listening to the music, probably many times over. Those who did not have the good fortune or the financial resources to visit the Gielgud can get a good flavour of the experience by downloading the music or buying the CD.
Reviewer: Philip Fisher