The Convict's Opera
John Gay, adapted by Stephen Jeffreys
Out of Joint and Sydney Theatre Company
Salisbury Playhouse
(2009)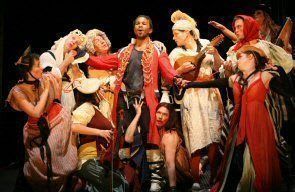 John Gay's long-planned sequel to his 18th century ballad entertainment The Beggars' Opera came at last to the English stage at Salisbury Playhouse this month, courtesy of a lively text by Stephen Jeffreys and a fine production by Max Stafford-Clark and members of Out of Joint and Sydney Theatre Company.
The Convict's Opera is, as Stafford-Clark points out, the latest in a line of sequels to the famous triumph of 1728, the best known being Brecht and Weil's Threepenny Opera with its memorable score crystallised in "Mac The Knife".
And, as Gay himself planned with his own banned successor, Polly, published at his personal expense to frustrate Walpole's censorship, Jeffreys has our latter-day miscreants transported - to Australia rather than the West Indies of Gay's concept.
Why, someone didn't long ago rescue Polly from the dustbin of unperformed work is surely a valid question today - the more so in the light of this excellent, tuneful recapitulation?
First performed at Sydney Theatre in September last year, The Convict's Opera follows Gay's pattern in many respects, not least the score which lifts popular tunes ranging from the original 18th century ballad "Over the hills and far away" (sung by Olivier in the film version) to strains of Leonard Cohen, Neil Young and the Gypsy Punks. A fine tradition which is a distinct improvement on the tuneless number of so many so-called "original" musicals.
Who could improve upon the popular "We are sailing" as the scruffy cargo bound for the Antipodes sets out upon their tortuous journey with only the modest delights of on-board amateur players to ease their passage?
Moreover, solos and choruses are excellent, thanks to the casting of first class singers and musicians.
Ali McGregor (Polly) is a Royal Northern College graduate with a string of Mozart and Gilbert & Sullivan roles behind her while Amelia Cormack (Lucy) has appeared in Joseph and Cabaret. And there is a fine soubrette in Catherine Russell (Mrs Peachum).
Excellent performances too from Nicholas Goode (a splendid balance of hats between the captain and the cleric), Peter Cousens (Lockit), Glenn Butcher (Gay and Matt) and Australian singer Juan Jackson who lends his splendid physique as well as his fine tenor to the favourite role of MacHeath.
Musical direction is by Felix Cross, choreography by John O'Connell, the designer Dale Ferguson and costumes by Tess Schofield.
The production runs in Salisbury until January 24th and will be at Cheltenham Everyman (27th-31st January), Manchester Library Theatre (3rd-7th February), Oxford Playhouse (10th-14th February), Southampton Nuffield ( 17th-21st February), West Yorkshire Playhouse (24th-28th February), Warwick Arts Centre (3rd-7th March) and Liverpool Playhouse (10th-14th March).
This production was reviewed in Manchester by David Chadderton
Reviewer: Kevin Catchpole