Così fan tutte
Music Wolfgang Amadeus Mozart, libretto Lorenzo Da Ponte
English National Opera
London Coliseum
–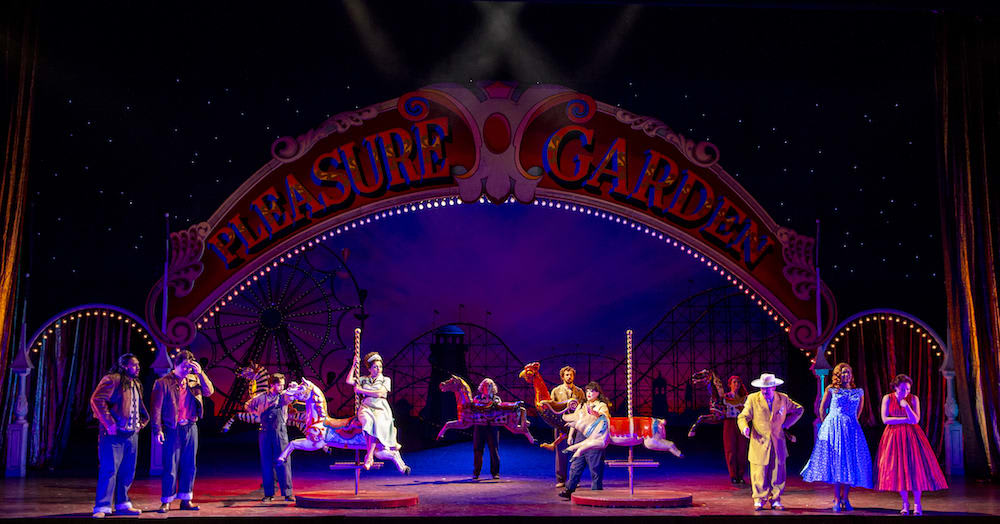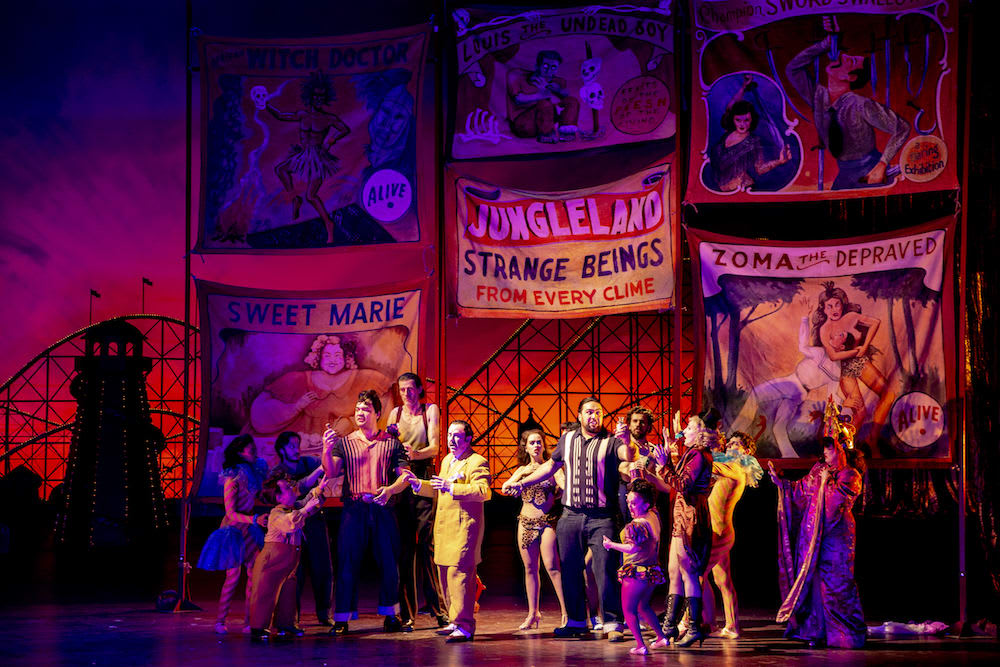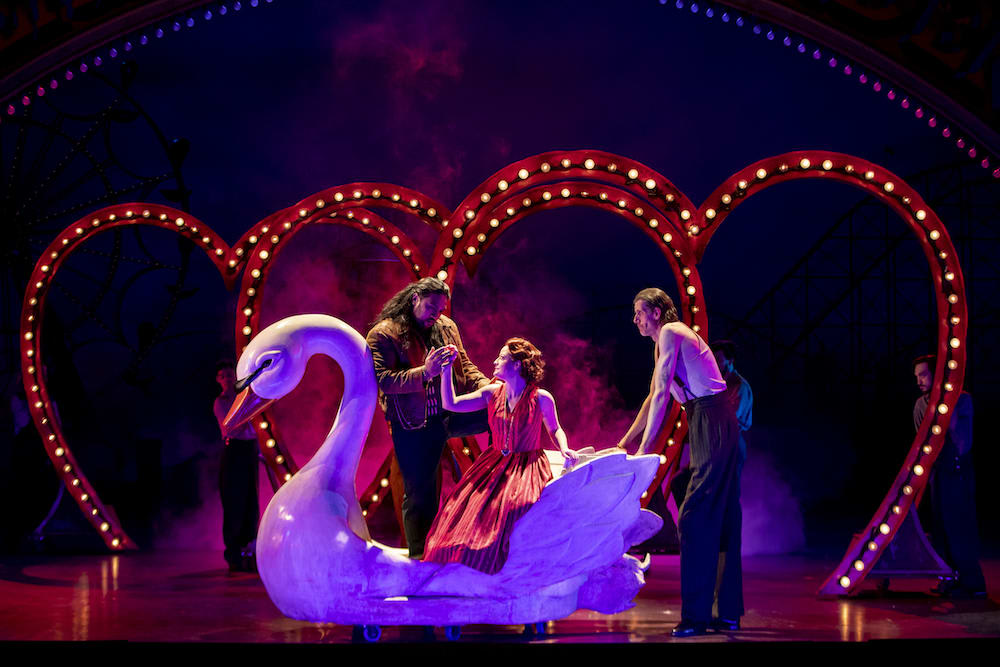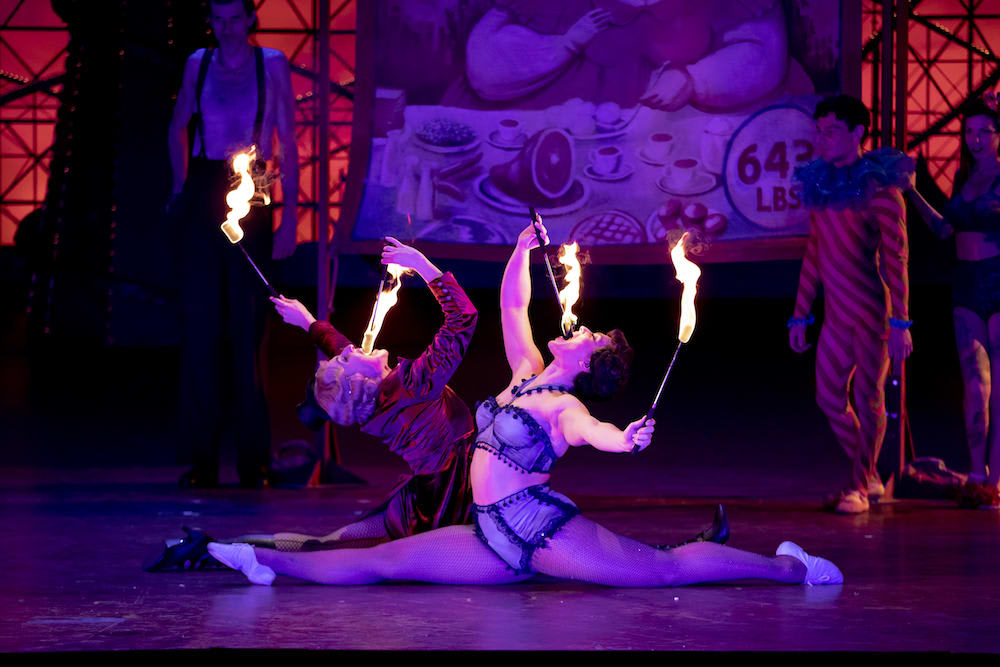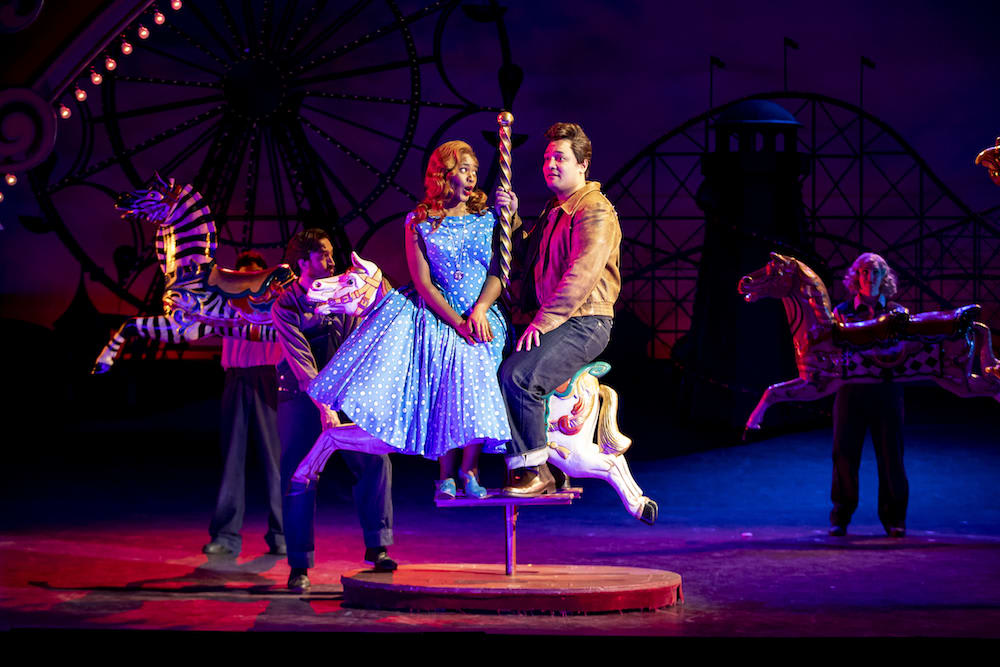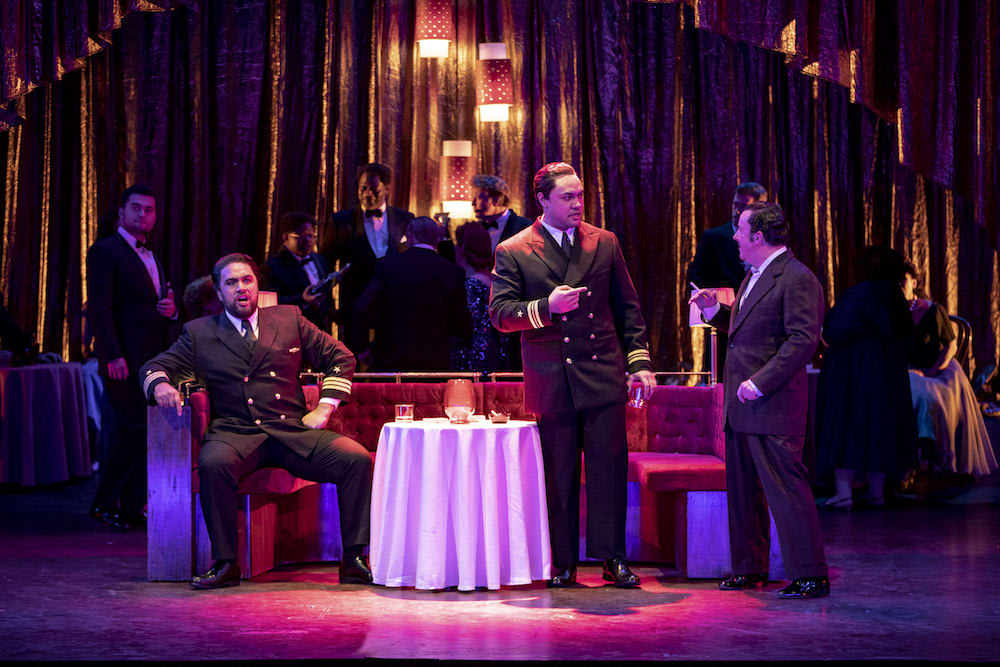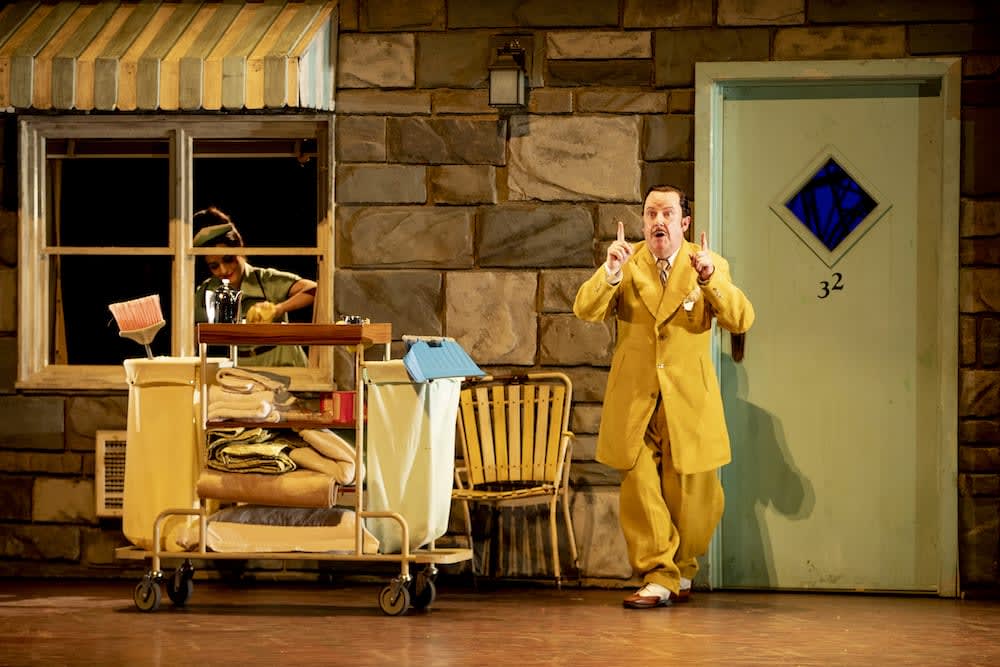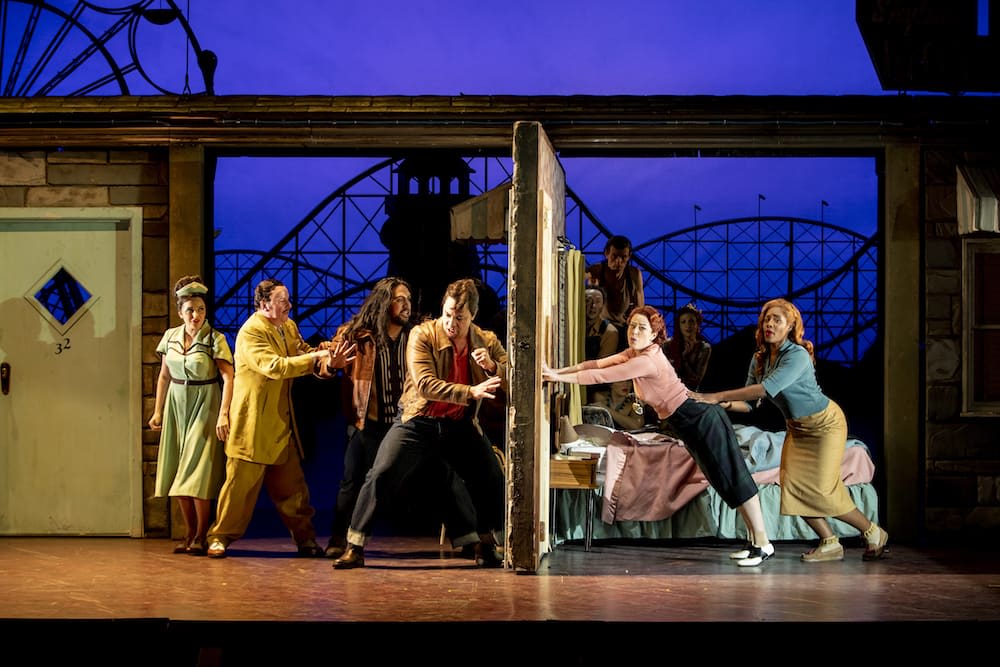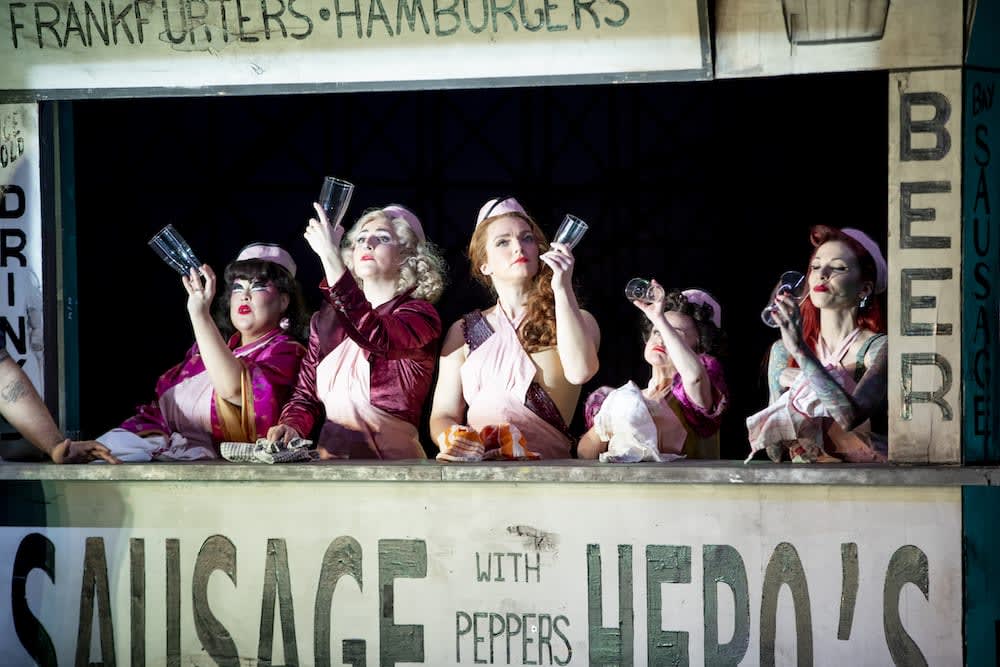 ENO continues its season with another audience pleasing show. Cheers and standing ovation for director Phelim McDermott's (of Improbable fame) 1950s American burlesque take on Mozart's 18th century opera buffa, Così fan tutte. Sisters Fiordiligi and Dorabella, on holiday with their fiancés Ferrando and Guglielmo on Coney Island, are tripped up by the devious Don Alfonso and his creatures of the night entourage—it feels Shakespearean. And the cast play up to the audience like the good thespians they are.
A co-production with the Metropolitan Opera, it was streamed during lockdown from the Met with a different cast. Today's cast includes ENO Harewood Artists soprano Nardus Williams as Fiordiligi and New Zealand / Samoan baritone Benson Wilson as Guglielmo, and a fine job they make of their roles. Wilson gives a wonderfully physical performance, and I can't take my eyes off Williams, though her lower register gets a bit lost to the orchestra.
Polish mezzo Hanna Hipp sings Dorabella and Samoan tenor Amitai Pati makes his ENO and UK debut as Ferrando with vocal charm. The naughty schemers and pranksters, Welsh bass-baritone Neal Davies as Don Alfonso and another ENO Harewood Artist Soraya Mafi as the wickedly amoral and pragmatic Despina ("show me a man I'll show you a monster"), take to their roles with relish. Laura Hopkins's costumes help: he's a bit of a wheeler-dealer, she's prepared to don disguise to suit his purposes. The sisters don't stand a chance.
Tom Pye's set designs, Coney Island pleasure gardens and circus sideshows, are way over the top, and visually distracting from the action and the singing. I don't know whether to read the banners or tune my ear to the singing, or juggle all the senses. Try as I might, the circus attractions—fire-eaters, sword swallowers, contortionists, little people and a seven-foot man—a dozen-strong skills ensemble, fabulous as they are, make the head and the eyes spin. The attractions are distractions in every sense.
The attention to the set detail is precise and amusing, spot the apostrophe error. But where is Mozart… I expect he would have loved its naughty and randy raucous style. Don Alfonso, a music hall act in spiv's baggy mustard coloured suit and two tone shoes, later in red sequin suit, is the villain of the piece, egging on Guglielmo and Ferrando to test and not trust women's love, for as we know from Shakespeare, "frailty, thy name is woman". Women have long had a bad reputation in literature.
The girls hold out, Fiordiligi ("I'll never deceive him") more than Dorabella, but succumb to the bit of rough trade that comes their way. Not 'Albanians', but Coney Island wide boys Luigi and Giuseppe. Though Dorabella does get to kick Guglielmo in the balls just before the end of act one—that goes down well.
Alfonso has mercenary Despina, here a motel chambermaid, in his pay, why can't women be more like men and take their pleasure where they can. She tells the sisters they must "beat them at their own game". A battle of the sexes, then... plus ça change.
It's all look at me, but I'd like it to be more listen to me. The familiar arias are some of the best, and are beautifully sung, voices blending and melding in youthfully sublime solos, duets, trios and quartets. Moreover Jeremy Sams's rhyming couplets ("Fiordiligi—Whore-diligi") translation is savagely witty with a touch of Gilbert and Sullivan—"spectacular… vernacular"… Captions held up by the skills brigade spell out the contents and themes of the opera. We are spoon-fed and manipulated for three hours plus, value for money. Roll up… roll up...
Spectacular vernacular this over-produced production is, but given with such verve and joy, that it would be churlish to resist it. Two shows (10 and 12 March) had to be cancelled due to COVID and press night was delayed. Anything can happen at the circus, illusion and subterfuge. Poor naïve sisters Fiordiligi and Dorabella are deceived, but they learn a serious life lesson. Hmm... They've been taken for a ride—in a hot air balloon (Fiordiligi's long "I have sinned" solo aria trapped in that balloon is wonderful) and a tunnel of love—will they ever trust anyone again...
The Ukrainian anthem opens proceedings, which rather puts Mozart's comic opera into some sort of perspective.
Reviewer: Vera Liber