Così Fan Tutte
Wolfgang Amadeus Mozart with a libretto by Lorenzo Da Ponte
The Royal Opera
Royal Opera House, Covent Garden
–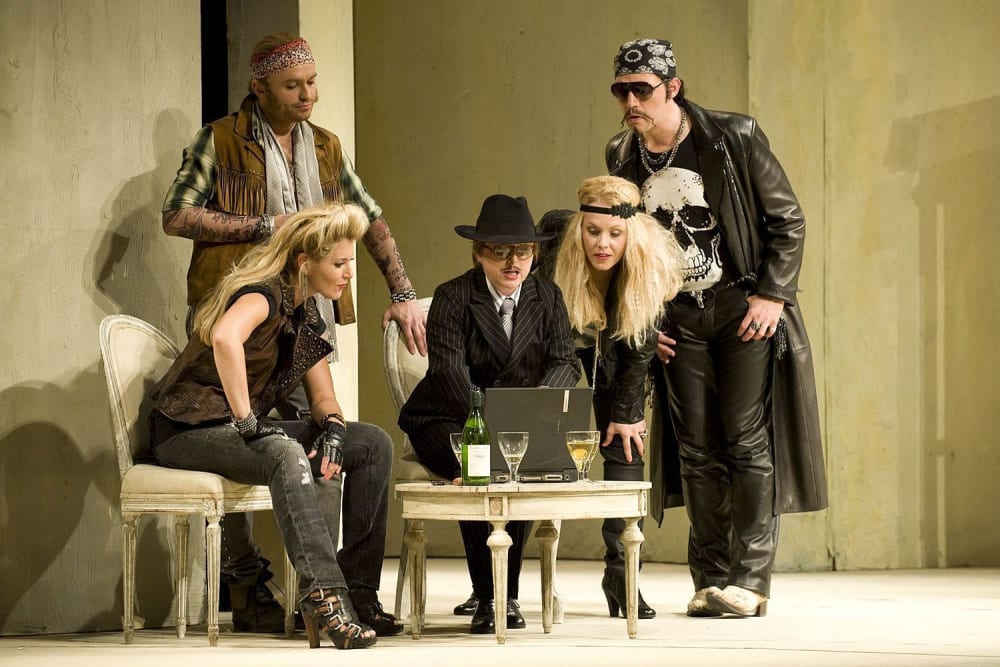 Having reviewed Phelim McDermott's 2018 version of Mozart's comic opera at the Met, with its 1950s Coney Island fairground settings, the opportunity to compare it with the classic Royal Opera House production directed and co-designed by Jonathan Miller was irresistible.
Like his fellow Englishman, when he envisioned Così Fan Tutte for this production in 1995, Dr Miller chose to update the setting to contemporary Naples. As a result, this film first broadcast in 2010, makes judicious use of mod cons, especially mobile phones which become integral to the plot.
The setting, designed by Jonathan Miller, Tim Blazdell, Andrew Jameson, Colin Maxwell, Catherine Smith and Antony Waterman, is somewhat bland, looking like a cross between an artist's studio and an apartment in the midst of refurbishment.
The costumes though look stylish and should, having been created by no less a fashion guru than Giorgio Armani.
Rather than army fatigues, the leading men, tenor Pavol Breslik as Ferrando and baritone Stéphane Degout playing Guglielmo, first appear in sharp suits, chatting amiably with legendary baritone Thomas Allen's Don Alfonso about the fidelity of the sisters with young army officers are engaged.
In an opera house, most viewers might well have mistaken Fioriligi and Dorabella as twins, although seen in screen close-up the blonde siblings can be distinguished, as can their voices since Maria Bengtsson offers a lovely soprano, while Jurgita Adamonytė is a mezzo.
After a wager is accepted by the confident young men, they enter a world of subterfuge, conning their loved ones into believing that they are heading off with a United Nations peacekeeping force.
Following the introduction of the excellent Rebecca Evans playing Despina as a kind of long-suffering, well-dressed PA, mischief ensues.
In this case, the young women are enticed by the dubious charms of Ferrando and Guglielmo rather incongruously reappearing in the guise of a pair of Albanians who look like scruffy renegades from a 1980s heavy metal band.
By the end, their cool, elegant fiancées have not only been turned from the path of righteousness and fidelity but recreated as sexy rock chicks with those unforgettable but thankfully unrepeatable big 1980s hairstyles.
As you would expect from an iconic production that was deemed good enough to record, even if the acting can sometimes be overly 'operatic', the singing throughout is of the highest quality, accompanied by the opera's orchestra conducted by a stylish but casually dressed Thomas Hengelbrock.
Between them, the Met and the Royal Opera House had presented two very different but almost equally satisfying visions of Così Fan Tutte, either of which will provide three hours of pleasurable entertainment.
The American version was recorded more recently and appears to have slightly higher production qualities, not to mention a significantly bigger budget featuring a larger cast and greater spectacle.
However, that is now behind a paywall while this film, which contains great humour and character and also features an appearance by the late Jonathan Miller taking the curtain call, remains freely available on YouTube, which is a pretty strong selling point.
Reviewer: Philip Fisher