Curtains
Book by Rupert Holmes, Music by John Kander, Lyrics by Fred Ebb
The Al Hirschfeld Theater, New York
(2007)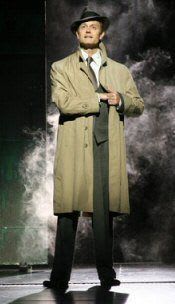 Kander and Ebb are best known for hit musicals with titles beginning with the letter "C". Curtains follows Cabaret and Chicago, two shows that became legendary movies featuring big stars.
Their new work is a kind of mix of Noises Off and Theatre of Blood with 1940s Film Noir. A comedy thriller that follows tried and trusted principles and is none the worse for that.
Its popularity owes a great deal to some big names, as well as a likeable book and an abundance of witty lines. There is also outstanding and very sexy choreography courtesy of Rob Ashford, familiar to British audiences fo,r amongst others, Guys and Dolls and more recently Parade.
The story is set in Boston where a second rate cowboy musical is trying out prior to a Broadway transfer. It has the usual political-artistic background. A pretty ingénue loved by every man on and off stage, producers who want Broadway for non-commercial reasons, writers (and several others) in a love/hate relationship and a leading lady who can't sing, dance or act but doesn't let that stop her.
What does stop Jessica Cranshaw is a poison pellet, as she becomes the first victim of many in this 2½ hour show. The abrupt departure of the leading lady offers opportunities to several characters and brings into play Frazier's David Hyde Pierce who has already won a Tony for this performance as Lt Frank Cioffi. He is a dryly humorous, star-struck policeman who sounds like Sean Connery.
The Lieutenant simultaneously investigates a heart attack that becomes a murder, falls for the ingénue, played by the lady who is to be London's next Scarlett O'Hara, Jill Paice, and eventually becomes by default the company's dramaturg. At the end, he even gets his girl.
The dramatis personae include a prissy, English director (Edward Hibbert as Christopher Belling); a tough as nails female producer, played by New York star Debra Monk, who really belts out her songs and has a great sense of humour; and Megan Sikora playing her daughter Bambi.
Karen Ziemba is excellent as Georgia Hendricks who leaves lyric-writing behind to take over as leading lady, while Jason Danieley makes her lover and musical partner believable, as he suffers agonies after she falls for the bland, matinee idol, leading man.
Curtains has much to commend it. The lyrics are often funny, the choreography is great and there are several true Broadway performances, primarily from the ladies with Mesdames Monk and Ziemba complemented by Jill Paice as the kooky, simpering blonde Niki Harris helping to solve the murder and hook the cop, and Megan Sikora truly irritating as dumb Bambi but tumbling like a professional gymnast.
The plot is predictable but gently entertaining and, unlike the other two "C" hits, for the most part the songs are not too memorable, though The Woman's Dad and He Did It are examples of several numbers that make viewers laugh.
This black comedy with music has already had a good run and looks set to last at least a little longer. Whether with its large cast it has what it takes to transfer to London or become a film may be more questionable, although with the right casting, anything is possible.
Reviewer: Philip Fisher