Cut and Run / Carnaval / Mid Century Modern
Choreography Martin Lawrance, Richard Alston
Richard Alston Dance Company
Sadler's Wells
–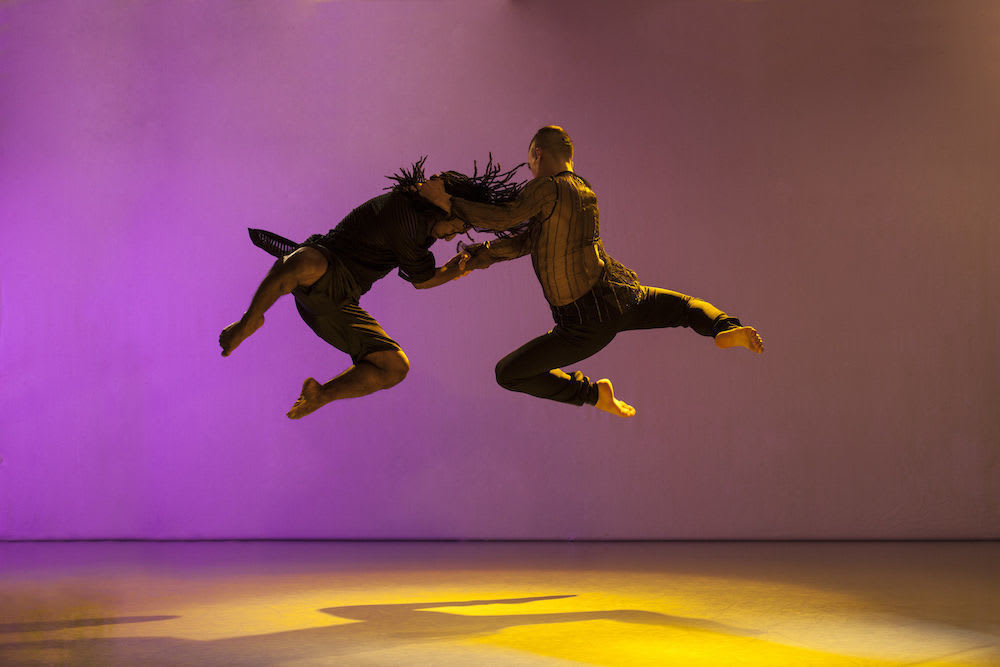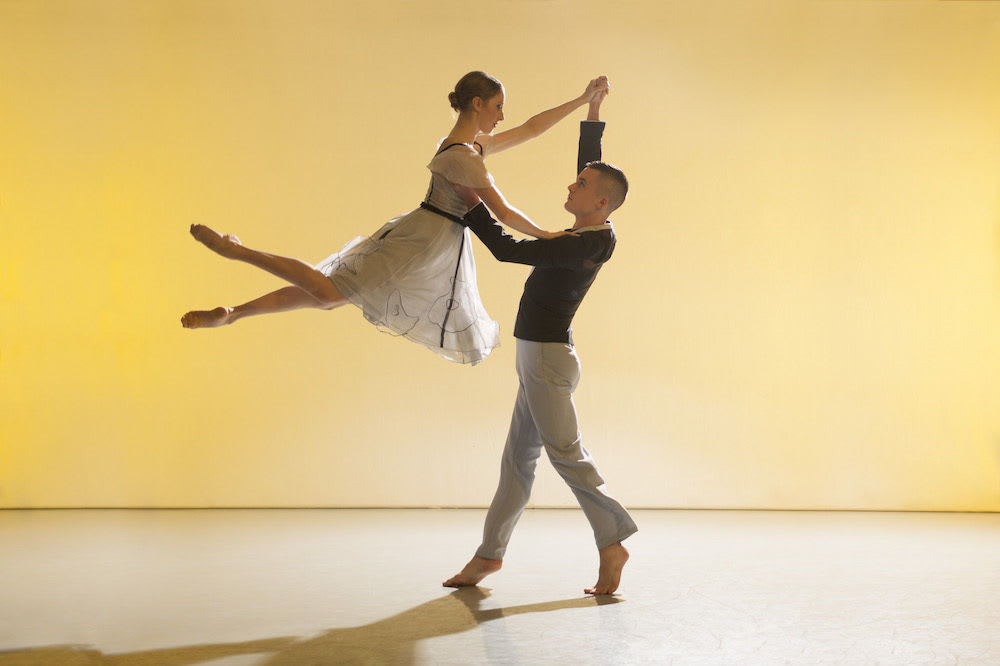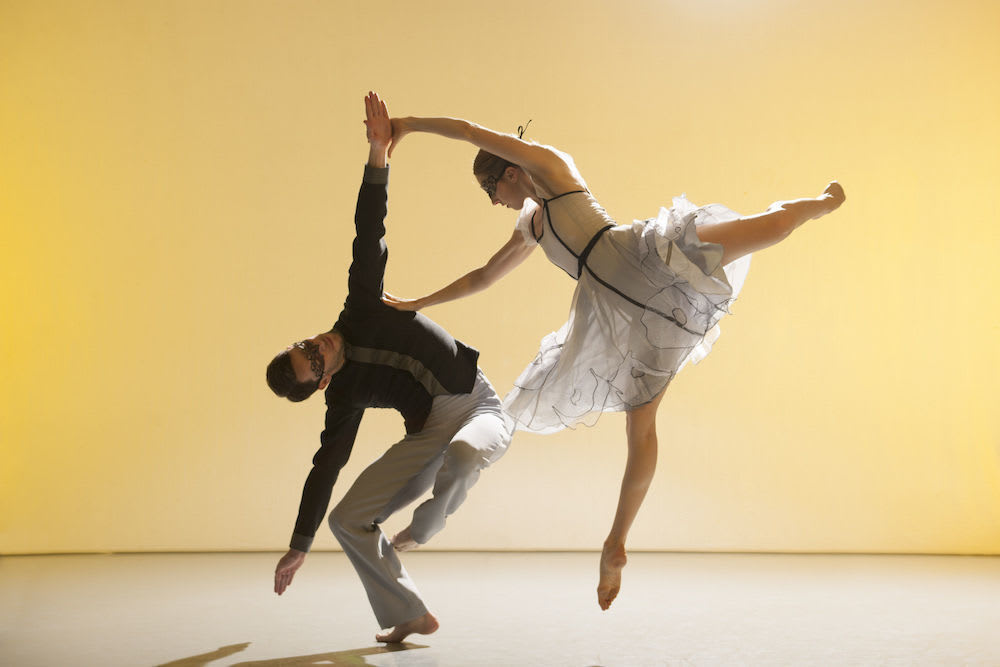 Fifty years creating dance, Richard Alston, artistic director of The Place (home to the London Contemporary Dance School), formerly AD and resident choreographer of Rambert, formerly a student of LCDS, with his small troupe of fine dancers reaches parts that many larger, wealthier companies sometimes fail to do.
A mix of contemporary and classical: acknowledged admiration of Frederick Ashton and two years studying with Merce Cunningham in the 1970s inform his hybrid style. His forte lies in communicating an uplifting lifelong pleasure in dance, responding joyously to music's pulse and pull.
To celebrate Alston's half-decade in the choreography business, we are treated to contrasting new pieces from him and his long term associate Martin Lawrance, respectively Carnaval and Cut and Run, and a medley of extracts from Alston's old works marking each decade under the portmanteau title of Mid Century Modern.
Lawrance's dynamic Cut and Run opens and lives up to its name. To Michael Gordon's Yo Shakespeare and Damian LeGassick's Evol (from Icebreaker album Terminal Velocity), one exuberant, jazzy, theatrical, the other 'Philip Glass' minimalist, it's a mix of Broadway dash and avant-garde dissonance and hyperactivity.
Twenty minutes non-stop—with a brief moment to stand still and listen to the musical shift—lit darkly, purple and red, by Zeynep Kepekli and street style costumed by Jeffrey Rogador, five men and five women dance a marathon storm. Pairings change, groups reform (is Crystal Pite an inspiration?), on and off they race. I love its energy: the dancers must be on some adrenalin rush.
I can't take my eyes off Liam Riddick, his precise clean moves, his classical bearing, poise and swiftness. He and Ihsaan de Banya, very different dancers, together represent the broad spectrum of contemporary dance as they spar in duet, driven by insistent scores.
Carnaval couldn't be more different. For a start it's Robert Schumann's 1834/5 very personal piano solo Carnaval, subtitled Scènes mignonnes sur quatre notes. Romantic, virtuosic, emotional, twenty-one short pieces referencing characters from his circle, his wife Clara (Elly Braund) and not least Schumann himself in bipolar mood, Riddick the calm 'Eusebius' half, Nicholas Bodych the passionate 'Florestan'.
With waltzes, coquettes and sphinxes, male friendships, nods to Chopin, Paganini and commedia dell'arte characters at a masked carnival ball, it's a good Alston fit. I might add Alston is not the first to be tempted by Schumann's score: Fokine choreographed Carnaval in 1910 for Ballets Russes.
Young debutante girls in Folina Dimou's knee-length black-ribbon-trimmed white floaty chiffon dresses, men in tight cadet style suits, for half an hour we are transported by Jason Ridgway's playing on the grand piano in a high society salon.
Ensemble in period dance formation, solos a delight, duets of every variety echo the music's form and content. Formal and skittish, we see Alston's debt to Ashton in the fleet footwork (Riddick again outstanding), the classical port de bras, and the airy lifts.
The final potpourri of dance spanning the decades from the seventies to today shows the "earnest young man" as Alston calls himself in an introductory speech, his consistency and staying power. An extract from the silent (are they dancing to inner music, these 'Alexander Calder' stabiles and mobiles?) Rainbow Bandit (1977) blends swiftly with Nowhere Slowly (1970) danced by a spinning Jennifer Hayes, with a Gypsy Mixture (2004) 'Fantasia for Clarinet' extract for two couples, with a brief full company extract from Proverb commissioned in 2000 for Steve Reich's seventieth birthday.
Cunningham, John Cage and perhaps Judson Dance Theater inevitably are there in the seventies pieces—two years in New York left their mark—but the academic swiftly makes way for an evolving vocabulary all his own, one that absorbs and assimilates, as evidenced by his beautiful new piece for serene Kathak dancer Vidya Patel to Debussy's solo flute Syrinx. Still learning then, Richard Alston takes a bow with an L-plate on his back.
Over 140 works to his name, if anything shows his eclectic taste it's the final two pieces: the all-too-short witty solo, Dutiful Ducks, made in 1982 for a seventeen-year-old Michael Clark to Charles Amirkhanian's sound text, and here danced by Riddick—I'd like this on a loop.
And an extract from The Signal of a Shake (1999) to Handel's exultant Baroque sounds—where better to end than on a note of classical rigour and vigour danced with a spring in their steps by the whole company in black shorts and grey singlets? Much is demanded of the dancers and they just keep on giving. Tremendous. A smile does not leave my face throughout the whole evening.
Reviewer: Vera Liber