Cyrano de Bergerac
Edmond Rostrand translated by Edwin Morgan
Lyceum/National Theatre of Scotland/Citizens Theatre
Lyceum Theatre, Edinburgh
–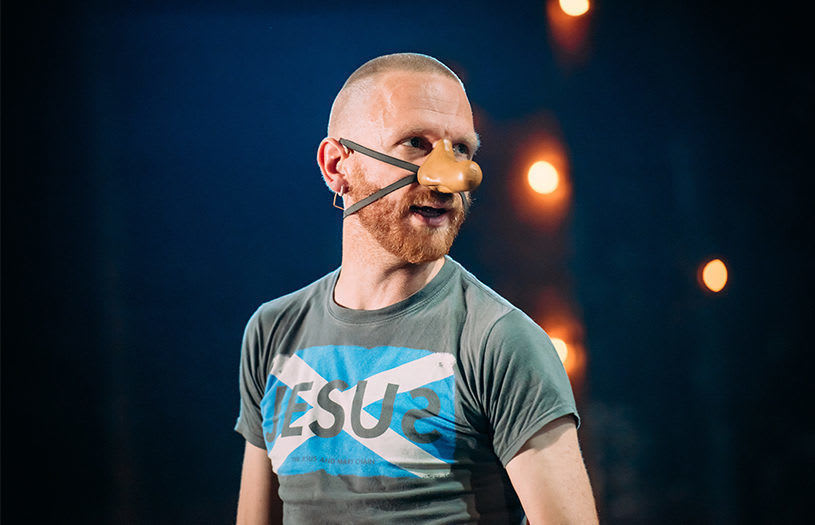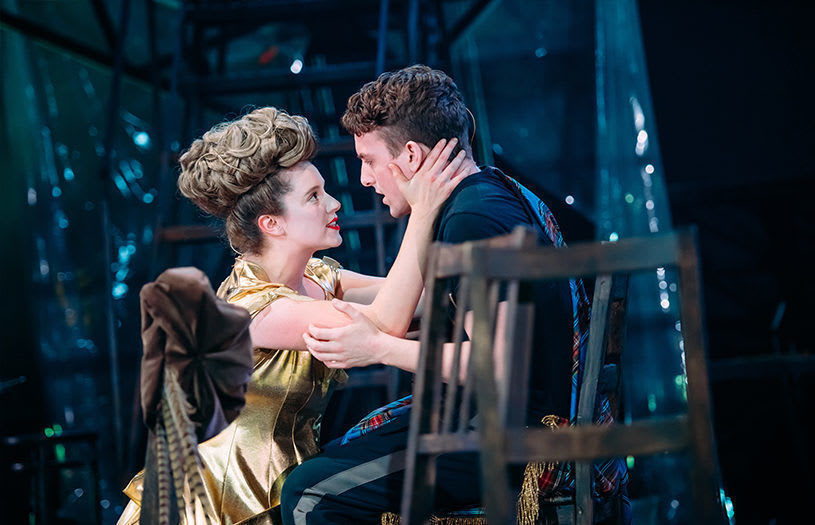 Everyone knows of the story and the balcony scene is almost as famous as Juliet and Romeo's. It has been told in many ways and many languages; here though it's Rostrand's original play but in Glaswegian.
Edwin Morgan's 1992 translation gets a well deserved revival. What better way to tell the story than in a dialect that feels so confident, so gallus?
Cyrano (Brian Ferguson) is a soldier and a poet, showing off both his skills in a duel with Valvert (Maggie Bain). Which is both funny and edgy, setting the tone for the play.
It's a huge part and to top it Ferguson has been given a huge appendage covering his face, a mask almost, yet through this comes a wonderful character. A world away from his recent performance in A Number.
There's fighting and swordplay, but most of all there's this delightful rogue eloquently delivering Morgan's poetry.
Christian (Scott Mackie) is the young cadet who Cyrano assists in his wooing of Roxanne (Jessica Hardwick), both of whom are more than just pretty faces.
With this Christian, we see not only the tongue-tied youth, but also later the anger that Roxanne loves "his" letters more than him.
On the surface, a young lover like his Florizel in A Winter's Tale but in fact this is a more complex character who illicits our empathy in this tragedy too.
Roxanne is spirited, witty and fun, although only appearing intermittently. The feast she sneaks into the siege of Arras is a joyous episode amidst the dark times.
Over-indulgence is certainly a theme, from De Guiche (Keith Fleming) getting steaming at the beginning. Fleming as always gives a great display of the effects of the bevvy.
Food though is the main indulgence, Ragueneau (Gabriel Quigley) the chef being a key character throughout. The play even begins with the usherette handing out sweets and ginger (in Glasgow a term for any fizzy drink).
It is certainly a performance to make the tummy rumble, thick with delicious descriptions. This richness is further enhanced by the sumptuous work of Pam Hogg.
Hogg's candy floss creations of the opening act look almost edible. Roxanne is blessed with some fabulous dresses, while Cyrano has a down-to-earth cool in his outfits.
The Lyceum always excels in wardrobe but this is exceptional, particularly Roxanne's changes over the play.
Although the play revolves around three main characters, this is quite a large-scale production, with a sizable ensemble and powerful effects for the siege of Arras.
Cyrano de Bergerac is so much more than a story about a nose. A love and war epic in the inimitable Glesga tongue with a great ensemble and mouthwatering costumes.
Reviewer: Seth Ewin