Dames at Sea
Book and lyrics by George Haimsohn and Robin Miller, and music by Jim Wise
The Union Theatre in association with Jameson House Productions
The Union Theatre
(2011)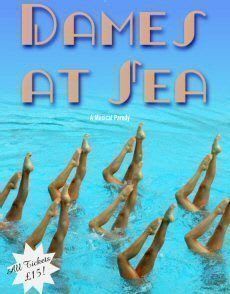 Dames At Sea is a delightful spoof of Hollywood's golden age playing at the Union Theatre, the first place to look these days for fringe scale musical revivals, its recent credentials including Fings Ain't Wot They Used T'Be, Godspell and On the Twentieth Century.
In this tale we have young and hopeful Ruby arriving from provincial Utah to make her name on The Great White Way. She is befriended by Joan one of the chorus girls in a musical headed by the carnally voracious star Mona Kent, but their show is destined for disaster. Ruby meets and falls in love with song writing sailor, Dick, whose compositions save the day and, against the odds, Ruby becomes a star overnight in a musical theatre sensation.
Dames at Sea visits all the plots we have come to know and love from this era. Similarly the songs borrow, steal, send up and celebrate the musical genres of the period blatantly and wittily referencing popular songs. The Latin "The Beguine" and the oriental "Singapore Sue" are cases in point, with "Raining In My Heart" obviously demanding a dance number with umbrellas, and President Roosevelt being the addressee of Ruby's letter in the place of the well-known Mr Gable.
Writers George Haimsohn and Robin Miller and composer Jim Wise have taken inspiration from a host of Hollywood's greatest films and the story of Dames at Sea is as predictable as it is feel-good. And so it should be for such a parody. But Dames is also as innocent and sweet as its source material and sometimes poking fun means the poke feels sharp, and this piece would be all the better if the saccharine sweetness had an edge from time to time.
Director by Kirk Jameson has assembled a first class team for this revival. The choreography by Drew McOnie (assistant Lucinda Lawrence) is laugh-out-loud funny, fits the piece supremely well and is well executed by a cast and support who clearly know their stuff.
Libidinous Mona Kent is played by the wonderful Rosemary Ashe rustling up Merman and throwing out certain looks with spot on comic timing. Excellent performances also from Gemma Sutton, recently seen as the charming Constance in The Kissing Dance who wins hearts as naive Ruby, Catriana Sandison as her streetwise and engaging friend Joan, and their beaux played by Daniel Bartlett and Alan Hunter. Ian Mowat and Anthony Wise add to the comedy and song and dance support from the three Sailors and three Dames top off the display of talent in this fun and endearing show.
Whilst our own mini Depression unfolds outside, Dames at Sea offers escapism on a premium scale. It warms the heart and shows what can be done if you have a sense of adventure, a song in your heart and a pair of tap shoes in your suitcase.
"Dames At Sea" plays until 20 August 2011
Reviewer: Sandra Giorgetti