Dances of Death
August Strindberg, in a new version by Howard Brenton
Gate Theatre, Notting Hill
–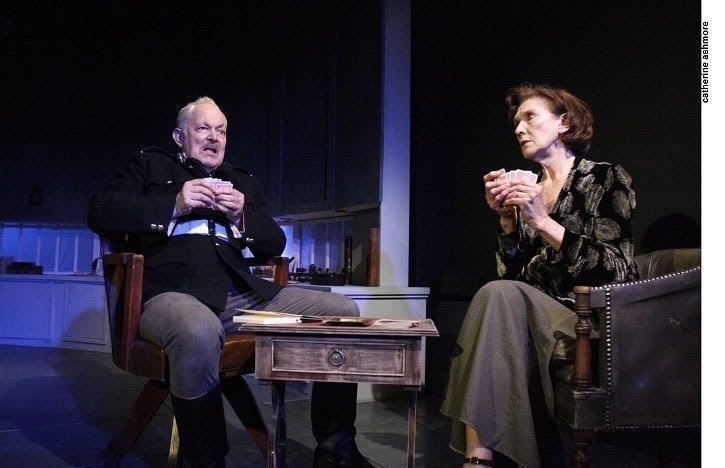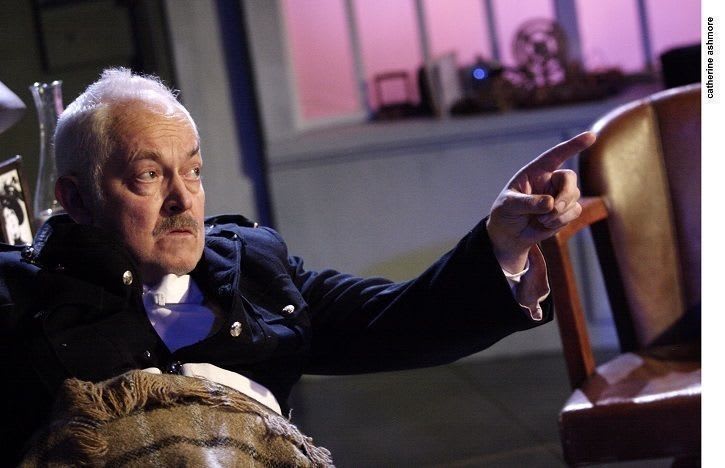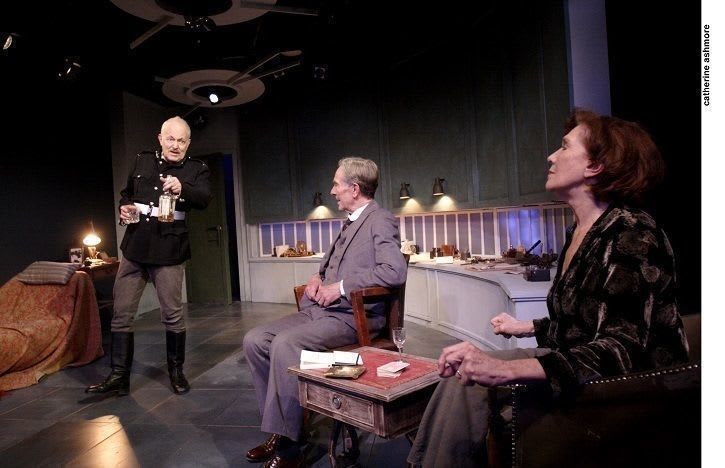 Howard Brenton has worked wonders with his new and at times radical version of a well-known classic.
The Dance of Death has already been presented once in London during 2013, directed by Titus Halder in the Donmar Trafalgar Season, but this fresh and exciting version still demands to be seen.
While the early scenes will be familiar to those who know the play, Brenton has sexed it up and kept the first part to 75 minutes in order to add in the rarely performed Part Two in a combined running time of only 2½ hours, hence the plurality of the title.
The second part diffuses but also sharpens the focus by replicating the actions of the parents through their children.
Before that, audience members can enjoy being horrified by what might be the nastiest couple to appear on stage, arguably even overcoming the Macbeths, although their murders are psychological rather than literal.
Edgar is an old soldier filled with bile and played to perfection by Michael Pennington. He makes life hell for his wife of thirty years, Linda Marlowe, who rather postures as ex-actress Alice in the early scenes, gives as good as she gets in the marital warfare stakes.
The couple are trapped on an island and seem to thrive on their mutual antipathy and energetic vindictiveness while revisiting a marriage built on schadenfreude, which is underpinned by something as close to love as hatred.
The catalyst for renewed warfare is the return from 15 years of exile in America of their weak friend Kurt, Christopher Ravenscroft making the wimp believable, even when he briefly becomes manly in response to Alice's goading.
A strong staging in a curved, claustrophobic room is set off by a truly terrifying dance and explosive scene changes before the interval and frequent, gushing sea changes in Part Two.
After the interval, many viewers will have found themselves in new territory as they witnessed Edgar and Alice's daughter Judith, mischievously played by fresh-faced Eleanor Wyld, lasciviously toying with Kurt's timid son Alan (Edward Franklin), not to mention a handsome Lieutenant, plus reputedly an unseen colonel and maybe even the island's octogenarian general.
At the same time, wicked Edgar slowly but surely denudes Kurt of pride, wealth, family and any hope of happiness, as he had once before, ensuring that the play's second denouement is received as it should be.
Under the direction of Tom Littler, the cast does a fine job of portraying passions overflowing in the presence of evil, presenting a new way of seeing Strindberg of which the playwright would surely have approved.
Reviewer: Philip Fisher