Darkness, Darkness
John Harvey
Nottingham Playhouse Theatre Company and New Perspectives
Nottingham Playhouse
–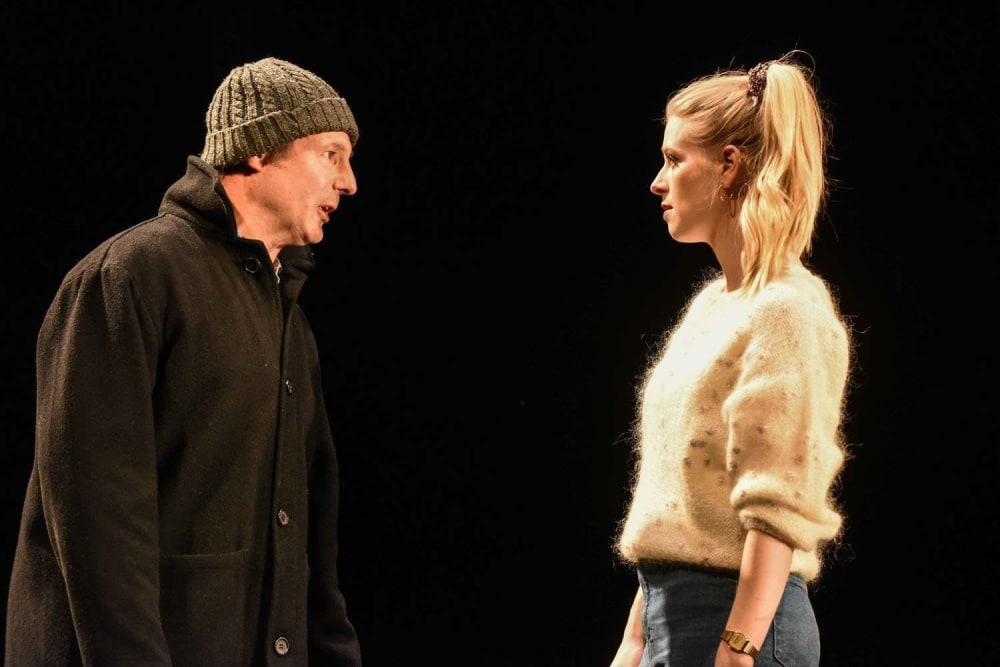 There's a trend developing at the moment for crime authors to adapt their work for the stage. International bestseller Peter James was one of the first to do it with his plays about his fictional detective Roy Grace; he and Shaun McKenna adapted The Perfect Murder, which took to the stage in 2014, and followed that with Dead Simple the following year.
Now, John Harvey has brought his most well-known character Charlie Resnick into the theatre. Darkness, Darkness is Harvey's 12th novel featuring the curmudgeonly Nottinghamshire detective. It seems strange that it has taken Harvey so long to come up with his first stage play: Darkness, Darkness is in fact Resnick's last case before he retires. But the wait to see Resnick live is definitely worth it.
It is hardly surprising that Darkness, Darkness is such a success on stage: Harvey has also written for radio and television, penning the 1992 TV series which was a dramatisation of the first two Resnick books and featured Tom Wilkinson in the title role.
Harvey and Jack McNamara of New Perspectives, who directs the play, worked on Darkness, Darkness for nearly two years before its première. The stage version is basically the same as the novel although Harvey has ingeniously found a way for Resnick to reveal his inner thoughts as he tries to come to terms with past events.
Darkness, Darkness involves the discovery of a body in a garden in the north Nottinghamshire village of Bledwell Vale. It turns out to be the remains of Jenny Hardwick, an activist during the miners' strike 30 years previously. She campaigned for the miners to get justice while her husband was a scab, continuing to show up for work at the pit.
Newly promoted Detective Inspector Catherine Njoroge heads the team looking into whether Jenny was murdered. She asks Resnick for help because he knew the miners as well as the area where there were so many divisions during the strike.
I remember Tom Wilkinson's television portrayal of Resnick as a sad, melancholic character. But David Fleeshman is nothing like that in Darkness, Darkness. He presents the world-weary detective as the man who has come across every possible flaw in the human condition yet is still driven to bring criminals to justice. He wants to experience the good things in life, although there are occasions when his troubled life comes back to haunt him. It is a thrilling portrayal by Fleeshman.
Fleeshman and Simone Saunders who plays Njoroge are a good combination; she is totally comfortable as the go-getting career woman who realises that modern policing methods are not necessarily better than the old ways.
The cast of eight all produce memorable performances. Elizabeth Twells is superb as Jenny Hardwick, the feisty activist who puts the miners' cause before everything no matter what the personal consequences might be. Emma Thornett shines as Jenny's sister Jill Haines who is more family-oriented yet has a conscience. Both have commendable Nottinghamshire accents.
John Askew excels as Yorkshire flying picket Danny Ireland, swaggering and strutting around as a youngster but highly vulnerable 30 years on when he is questioned about his relationship with Jenny.
Also impressive are Martin Miller as retired cop Keith Haines who went out of his way to help everyone in his community, Jonathan Woolf as Njoroge's former fiancé who will not admit that their relationship is over and Chris Donnelly as both Jenny's husband Barry who is unable to understand her motives and former striking miner Peter Waites who built up a friendship with Resnick despite their differences.
Designer Ruth Sutcliffe produces a simple yet effective set while black-and-white footage conjures up the horrors of the 1984 strike.
John Harvey's adaptation of his own work means the grittiness, the shock and the reality of the novel have been retained and in some ways heightened by being transferred to the stage. Darkness, Darkness is gripping stuff and one of the best pieces of theatre I have seen in years.
Reviewer: Steve Orme