Daytona
Oliver Cotton
Richmond Theatre
–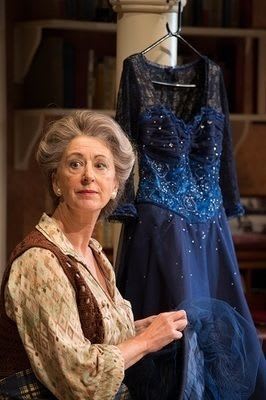 With its 2013 Park Theatre stint followed by a short tour and then by a West End transfer this year, Oliver Cotton's Daytona is a new play that's done rather well for itself.
So well, in fact, that David Grindley's production is now undertaking another UK tour following its just-completed West End run. This success comes despite mostly indifferent reviews that branded the piece a somewhat hackneyed drama that floundered due to unlikely revelations and excessive speech-making.
Whether some of those speeches got snipped, or the actors are simply delivering them with more gusto than they were previously, Daytona seems to me a much more engaging, rewarding work than it's been painted by some. The play is certainly flawed—with some structural problems and undeveloped themes—but its limitations are compensated for in Grindley's fine production by a detailed attention to intimate moments and the excellent efforts of Maureen Lipman, Harry Shearer and Cotton himself in their roles.
An elderly Jewish couple in Brooklyn, Joe (Shearer) and Elli (Lipman), pass their days quietly, and seemingly contentedly, in their Brooklyn apartment. Joe still works as an accountant, and Elli occupies herself with the seniors' dance competitions in which she and Joe participate.
But when Elli goes out to her sister's in Queens to collect the dress that she's to wear in an upcoming competition, Joe receives an unexpected visitor: his long-estranged brother Billy, who arrives wearing a Hawaiian shirt, bearing a Chinese takeaway, and with a florid confession of a homicide that's connected to the trio's shared past.
Identity, self-reinvention, guilt, the Holocaust, thwarted passion… Weighty themes are broached in Daytona but not always with the intensity that they deserve. Though often perceptive and vivid, Cotton's writing is sometimes sketchy and casual where it counts and, having set up some pressing moral issues in its first half the play, then changes focus somewhat in its second.
And yet, despite these shortcomings, the play sustains interest, at its best achieving a thoroughly involving intimacy. Grindley proves himself adept at bringing out small domestic details that give texture and humanity to the drama so that, even when the Big Revelations and their fallout fail to fully convince, the play still feels thoroughly inhabited.
A well-detailed set by Ben Stones helps. But what counts the most are the nuances and the absolute naturalness that the performers bring to their roles. To say that Grindley's production is well-acted doesn't do Lipman, Shearer and Cotton justice: the production is exquisitely acted by these three performers who work together wonderfully well throughout.
Lipman in particular is magnificent as Elli, gradually picking away the character's wry briskness to reveal the depths and sorrows beneath. Her delivery of the show's standout speech—Elli's painful memory of a surreal journey through New York streets in pursuit of the man she loves—galvanises the theatre.
Such moments showcase Cotton's writing at its best and make Grindley's production well worth your time.
Reviewer: Alex Ramon