Desh
Direction, choreography & performance by Akram Khan
Akram Khan Company
Sadler's Wells
–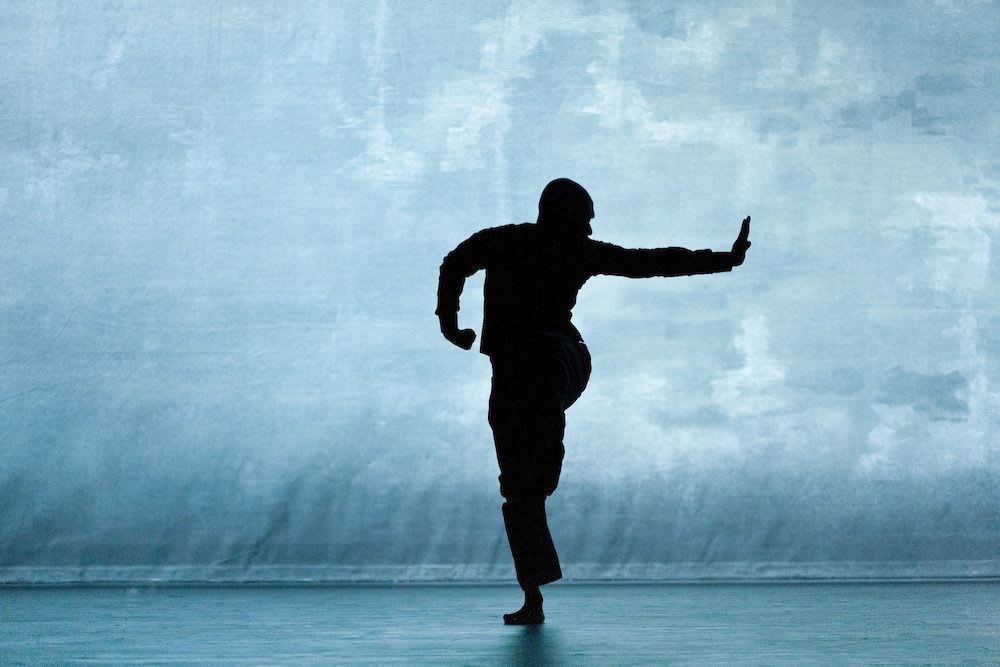 History, myth, folk tales and family legend intermingle to inform Desh, Akram Khan's eighty-minute dance theatre drama exploration of his ancestry, his parent's homeland (desh).
And he is a natural storyteller, an actor dancer, who speaks not only with his articulate body and expressive clay-moulding hands but also with quiet voice and vivid metaphors.
A dawning acceptance of heritage, of identity, of growing up, of generational conflict and misunderstanding, Khan unpicks in a collage of striking images, juddering soundscape (Jocelyn Pook and Nicholas Faure), and flowing form.
From rejection to the acknowledgement of self, alone on the stage, bathed in sweat, he confronts his childhood, his ancestors' physical struggle for a good life, with humour and grace.
Only in burgeoning maturity does he visit Bangladesh, a stranger in his parent's homeland, and begins to understand the complexity of being, that he is a small cog in the machinery of life, and stories are all we have to explain us.
Identity, displacement, independence, national and individual, culture clash, an immigrant life, tales from the old country, take on magic form when a shoelace grows into a rope, a boat, a river, a tropical forest that a young boy climbs to get at the honey guarded by a sleepy snake.
Yeast Culture's animation and Tim Yip's visual design turn Desh into a graphic novel through which Khan stumbles, tumbles, twists and turns. Confronts a tank, an elephant, runs through a monsoon, takes part in a political demonstration. Relives another's life.
Like Hamlet he at last understands what it is to fight for a patch of land. Hardships and atrocities are invoked, he hobbles on flailed feet through the long grass, swings upside down, scaling the trees to escape, the little boy that once was the essence of his father.
A multi-sensory invocation, a moving Alice in Wonderland coming of age tale, a solitary tour de force, a touching climax—Khan, sodden buttoned shirt removed, pulls on a clean kameez, dug out from the soil of his forefathers, and faces the wind, the wind of time travel.
Kathak trained, with a fluid fluent body, limbs that articulate independently, digits that open like petals, Khan speaks with voices from the past and present. He climbs into his father's body and into his soul, the soul he once denied as a teenage boy on his own journey.
A man suspended between two cultures he finds his way through a dense white dream forest, where one can't see the wood for the trees. Lit by the incomparable Michael Hulls.
Brought back to Sadler's Wells for a third time since premiering there in October 2011, and only a few weeks after his latest work iTMOi (in the mind of igor) opened at the same venue, for me Desh, a work from the heart, remains his masterpiece, and the audience give it a standing ovation.
Not privileged with a press ticket for iTMOi the second part of Sadler's Wells String of Rites series to follow after Fabulous Beast Dance Theatre's offering in April, and hence spared (seeing it as a paying punter) giving an opinion about the mind of igor (such first name familiarity...), I am delighted to report that the award-winning Desh (written by Karthika Naïr, PolarBear and Akram Khan) reveals the mind and body of Akram to be in fine form. He has done his parents proud.
Reviewer: Vera Liber