Dick Johns - Let's Talk About Death, Baby
Dick Johns
Chapter, Cardiff
–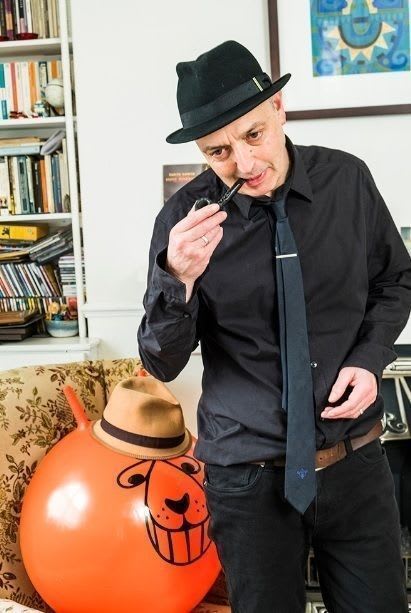 Dick Johns—Let's Talk About Death, Baby is effectively a sequel to 2016's Dick Johns—What Midlife Crisis, in which the actor also known as Dick Bradnum reflected on his life and career and delivered short stories dealing with the stresses of family life. The new show, as the title suggests, digs just as deeply into his personal joys and traumas.
The audience is sat at café-style tables as he bounces in on a space-hopper, immediately evoking the gleeful innocence of childhood. A comfy-looking armchair is to one side of the performance area and various items hang from the ceiling: a World Cup 1978 sticker-book, a framed family portrait, a cricket trophy, a collection of men's ties.
He picks up a microphone and tells the tale of a young boy taking up smoking, having discovered his father's cigarettes in the bathroom during the early hours of workday mornings. He then confesses that he still smokes, despite the toll it took on his father.
The spine of this show is a narrative focussing on the slowly declining health of Mr Johns Senior and the ways in which he and his family dealt with it. This is interspersed with a variety of other musings and recollections.
Thus, Johns gives us a number of conversations with projected images of his younger self, as a schoolboy, holiday-camp worker and aspiring actor, highlighting his declining optimism and growing insecurity. He also, amusingly, addresses a manifestation of his future self.
As well as this, he utilises the aforementioned props as prompts for further reflections: the Panini sticker-book (completed) turns out to be a treasured possession; the ties have been passed down from his father and he wears them on formal occasions; the bandanas placed on each table are a reference to the image he adopted for an old Spotlight photograph.
Music is also utilised to nostalgic effect as he recalls his father's love of Al Jolson (anachronistic for a man born in 1937) and family car journeys soundtracked by Dawn's "Tie A Yellow Ribbon".
Johns's acting career is referenced in terms of the show's grand theme: legacy. He wonders if his appearance in an episode of Ricky Gervais's The Office (an extract from which is shown) will be what he is best remembered for. He also ponders on what has been passed down from his father to him and his siblings, and from him to his own offspring.
There are a few apparent cul-de-sacs—reflections on the identity of the photographer who took their family portrait in the 1970s; an edgy, goblin-inspired interlude, which provides brief respite immediately before the most painful portion of his tale.
On the whole, though, this is a charming, poignant journey, with much to relate to; and Johns is an amiably magnetic storyteller.
Reviewer: Othniel Smith