Die Fledermaus
Johann Strauss
OperaUpClose
The Kings Head Theatre
–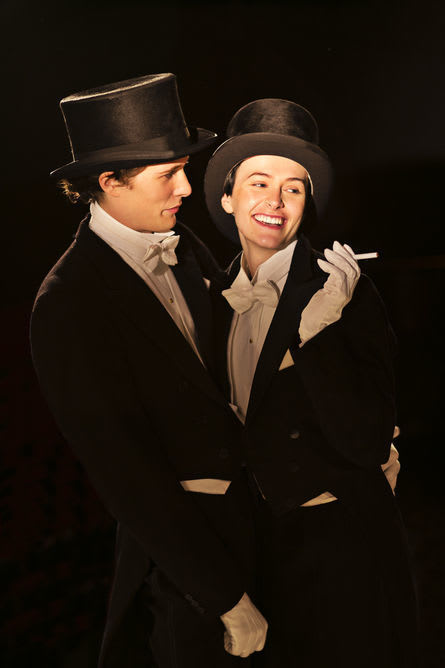 To quote the popular sitcom Miranda: 'such fun!'. Die Fledermaus proves to be a very silly evening indeed; brought up to date and poking fun at celebrities and the operetta construct as a whole. Operaupclose confirms once again its status as master of reduced operas.
Operaupclose reunites stars Louisa Tee and Alistair Sutherland, who shone in the company's La Traviata and L'elisir respectively. Set in a grungy warehouse type set, Die Fledermaus finds its sparkle in the charismatic delivery from all the cast.
Hilarious Adele (Elinor Rolfe Johnson) maintains her east London accent in song and speech. Director Robert Chevara plays with stereotypes, but alongside his wonderfully updated libretto these archetypes are hailed from a modern society.
Plastered and clad in a superhero costume, party boy Eisenstein (Jan Capinski) tricks his best mate Falke (Alistair Sutherland) after an escapade at a fancy dress party. Pulling down his batman trousers to leave him bare-cheeked for all the world, Eisenstein films the stunt and the opera opens with him giggling at the YouTube clip.
Slow-witted Eisenstein is pulled from Made in Chelsea, whilst Adele could feature in The Only Way is Essex and many contemporary references are shoe-horned into this giggle-inducing libretto. Tax evading Eisenstein is due a short prison spell, but Falke plots his revenge by inviting him to Prince Orlofsky's party, promising to deliver him later without trouble. His wife Rosalinde (Louisa Tee) can hardly wait for him to leave her as her ex-lover Alfredo has returned and is bewitching with his top Bs.
Tee is the star of this show. Her initial acting training at RWCMD shines through, a flustered sex pot housewife. Arriving at Orlofsky's party flimsily disguised as a Hungarian countess (with a hilarious accent to boot), she professes herself the Nigella Lawson of Hungary and Chevara gets her cooking onstage. Don't go into act 2 feeling hungry! The partygoers are clad in gold sparkles from head to toe, with even gold spray-painted superheros.
The fun and frippery is injected into every second of Chevara's brilliant updated interpretation, and the audience laugh constantly. Instead of ballet as party entertainment, Orlofsky presents an impromptu karaoke, with different performers promised each night of the run. This derails the opera somewhat, despite being a brilliant performance from the guest singers. The change into pop genre with no reference to the situation felt crowbarred in and thrusts us back into the real world.
There are so many highlights in this Die Fledermaus: battles with office chairs, Adele's aria atop a piano, Tee's chocolate tones whilst stirring a sizzling frying pan. On stage is a young cast worth watching providing a fantastically uplifting night of fun for the festive season.
Reviewer: Louise Lewis