Dr Dolittle
Book, music and lyrics by Leslie Bricusse
Lyceum Theatre, Sheffield, and touring
(2008)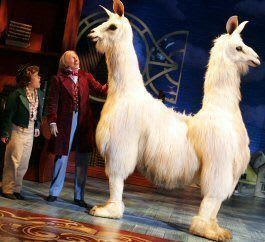 A jolly evening out for kids and for adults - Yes. A musical - no.
Tommy Steele captivated the Sheffield audience, and rightly so - stylish, polished, an accomplished singer as well as animal talker, holding elegant conversations with the many creatures scattered round the stage and up in the air. This was a very clever show, capturing on stage the homely, the wild and the imaginary animals to whom Doctor Dolittle learned to talk. The audience appeared entirely convinced by all they saw, even the Push mi - Pull yu which stood outside the theatre entrance greeting them as they arrived.
It was full of magic, both literally and figuratively, with changes of set and site, though not always magically smooth in transition. The attempt by Dr Dolittle to greet the Island Chief in pidgin English was clever but pointed; it has happened in real life, too.
The singing was sweet, especially Abigail Jaye as Emma 'Bellowes' as Dr. D continually mis-named her, though she certainly did not; her unpleasant cousin, General Bellowes - Halcro Johnson - did, often. The problem was that while there was a vague attempt at a traditional 'boy meets girl' implication, neither the story nor the age of the doctor encouraged this and it was all a bit uncomfortable.. But much more important, and the reason it fell short of being a musical was that many of the songs lacked the clever composition and the catchy music to justify this description. The vigorous Dr Dolittle band, invisible, though vaguely waved at in the encores, were at times too loud for the singers, but did their best under the direction of Stuart Pedlar to brighten up the evening. Not the best of Leslie Bricusse's compositions.
Many older members of the audience obviously felt it took them back to their childhood, with the list of Dr. Dolittle books in the programme, and the remarkable biography of Hugh Lofting, the author, a pacifist with a conscience described in great detail. They clapped and encored and Tommy Steele obliged, holding the audience in his hand - certainly the adults. I'm not so sure how the children reacted.
This production was also reviewed in Manchester, by David Chadderton, in Woking by Sheila Connor and in Newcastle by V Mitchell
Reviewer: Philip Seager