Dr Dolittle
Book, music and lyrics by Leslie Bricusse, based on the stories by Hugh Lofting
A Bill Kenwright production
New Victoria Theatre, Woking, and touring
(2008)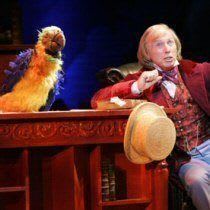 Tommy Steele has now reached the ripe old age of 72 but he isn't letting a little thing like a number stop him, and he seemingly thinks nothing of being wafted up to the flies on the end of a rope carried by doves. True – his voice may have lost a little of its strength and his dancing might be a little less energetic than it was, but his cheeky charm is still very much in evidence and the audience warm to him instantly as they have ever since the beginning of his career when he sang at the legendary 2 'I's coffee bar, becoming Britain's first Rock and Roll idol.
The title role of Dr. Dolittle is ideal for Tommy – a true family entertainer, who is always cheerful, happy-go-lucky, and never lets anything get him down, which is just as well in this show which at one point sees him thrown into prison for the crime of murdering an old lady by throwing her into the sea. Of course this isn't an old lady at all.....it just happens to be a seal that he is returning to the wild so that she can re-join her husband, and this is the whimsical aspect of the whole show depicting a man, an 'animal doctor', who is not only kind to animals but – with the help of his pet parrot, Polynesia – learns how to talk to them in their own language.
The first animal to appear is his adorable shaggy dog, Jip, performed very realistically by James Deverell, but it isn't very long before a whole host of animals are ensconced in the doctor's home, all needing some medical attention. There is a pig on the sofa, a squirrel and a badger on the bookshelves, a ewe and her lamb baaing from one corner and even a short-sighted horse looking over the window sill. Also making appearances are a duck, a hen, an ostrich, a fox – the list goes on and on. All the animal puppets are amazingly lifelike, and all constantly moving and sometimes 'speaking' – in their own language of course!
The legendary Pushmi-pullyu, a llama with a head at both ends, is delivered to the doctor, leading to appearances in a circus with a very ebullient and energetic David Anthony as the ringmaster, and this connection comes in very useful when the amazingly lifelike elephant helps him break out of prison.
The love interest is Abigail Jaye, who looks delightful and sings beautifully, her voice as clear as bell rising above the rather overloud orchestra, which was not the case in the opening chorus number where the volume made the lyrics incomprehensible.
Steele is ably and excellently supported by Joanna Forest playing Tommy Stubbins, and by friend Matthew Muggins, played by Conor Michael Sheridan with his own brand of Irish charm, while Paul Farnsworth's story book sets are enchanting.
The rather unnecessary message at the end is "Be kind to animals", but I rather think Steele was preaching to the already converted.
Entertaining, enchanting, and very much 'The Tommy Steele Show' – but there's nothing wrong with that, and this is a truly feelgood family show enjoyed by young and old alike.
Touring to Birmingham, Edinburgh and Newcastle-on-Tyne.
David Chadderton reviewed this production in Manchester, V Mitchell reviewed it in Newcastle and Philip Seager in Sheffield
Reviewer: Sheila Connor